Photo courtesy of Maritime Aquarium
You probably know Norwalk as the home of the kids-friendly Maritime Aquarium. And while the aquarium is definitely high on the lists of things to do, this Connecticut city offers so much more — for the whole family. Just a 40-minute drive from White Plains, Norwalk is an ideal spot for Westchesterites to get away, whether it's for the an afternoon or the weekend.

Photo courtesy of Yoga 203
Get an early start up I-95 to beat the infamous Connecticut traffic, and to start your day right at Sherri Gallina's Yoga 203 on Wall Street. With classes like Heart and Soul Candlelight Vinyasa, Morning Sunrise Yoga, and Rise and Grind Yoga, Yoga 203 offers the authenticity of a genuine practice in a rustic space. Skilled instructors guide classes through mindfulness and flow, and with peaceful views of the water from one studio, you'll be sure to find your Om.
Norwalk abounds with plenty of restaurants and spots for a quick bite. After your yoga session, Peaches Southern Pub & Juke Joint a couple of doors down beckons with Southern-influenced pub grub, including shrimp and grits and low-country bouillabaisse. If you stop by around noon on a weekend, you might be greeted with live music entertaining a large crowd. At Peaches, from 11-1 a.m. on Friday and Saturday, a reverse happy hour is offered.
For a more nautical lunch, South Norwalk (SoNo)'s location of Beach House awaits. With wood décor and a rustic vibe, this café offers a cool spot in the SoNo area to grab an appetizer like a spring roll or roasted Brussels sprouts and a cocktail. (Pro tip: Try the Pear Necessity.) The seafood-centric restaurant and bar has a fairly extensive wine menu, and for beer, Narragansett American lager and Belgian White Ale are on tap. During the warmer months, outdoor seating is available.

Photo courtesy of Simple SoNo
Washington Street is home to Simple SoNo, a lifestyle shop offering casual, yet sophisticated clothes and products for men, women, and the home. High quality and natural fabrics are the focus, including cashmere cardigans and cotton pajamas imported from Egypt. Lindsay Bartlett of Simple SoNo says the shop's typical customer is not brand-oriented, but is appreciative of fine quality, sans flashy label. Bartlett explains there is no e-commerce store, as you can't grasp the quality of their products, without a physical touch.

Photo courtesy of Cigar Factory Outlet
Not a shopper? New England's largest selection of cigars is just a short walk from Simple SoNo. Family-owned since 1932, Cigar Factory Outlet boasts 4,000 square feet of warehouse, and cigars hand-rolled on site by an artisan, and the world's largest selection of Oliva cigars.

Photo courtesy of Pedego Electric Bikes
For those seeking a more active day, just around the corner from The Cigar Factory Outlet is Pedego Electric Bikes. Owners Mike and Jen Heslin opened the chain in SoNo after falling in love with electric bikes and their versatility. Hop on an electric bike to tour Norwalk's harbor side and new developments.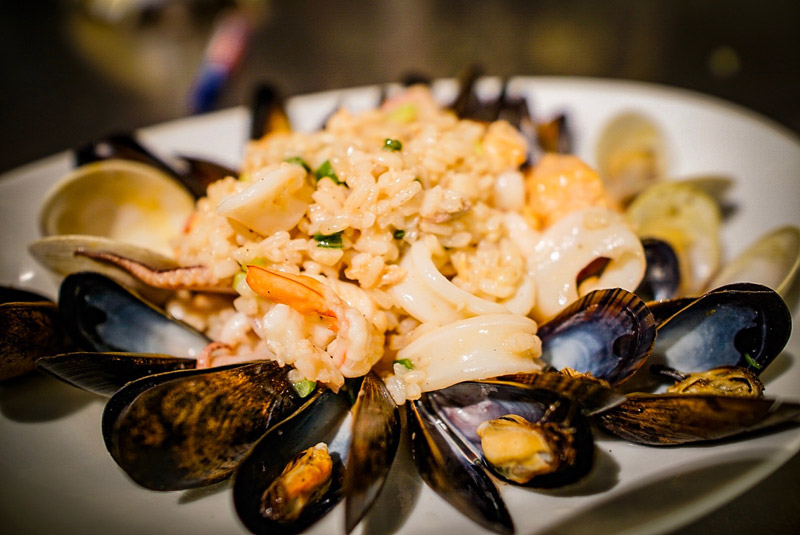 Photo courtesy of Saltwater SoNo
Dinner at Saltwater SoNo is a must. The fresh raw bar is worth the trip alone. Also on the menu is grilled Narragansett squid with beans, tomato, and parsley, and seafood risotto packed with all sea-dwellers. Happy hour goes until 7 p.m. Wednesday to Saturday, and brunch is served until 3 p.m. on Sundays. If you're not a fish fan, Evaritos is a short walk away, where you'll find Mexican fare in a stylish space and lively atmosphere.

Photo courtesy of Our House SoNo
There's plenty of entertainment for night owls. Check any pretentiousness at the door of Our House, as this spot has an intentional dive-bar feel, complete with games like beer pong and darts. The bar hosts a New Year's Eve party every Saturday night (and will celebrate its one-year anniversary on Dec 31). A local favorite, The Wall Street Theater provides locals and visitors with performances and concerts like Hairspray, The Garcia Project , and Imagination Movers.
There is no shortage of places to stay the night in Norwalk, if you decide you don't want to trek back to Westchester. Hotel Zero Degrees on Main Ave is just a short drive or Uber away from the downtown happenings.
Norwalk Now is a collaborative marketing group that involves local businesses to promote the city. For more dining, shopping, and activities in Norwalk, check out www.norwalknow.org.