By the time you read this, frosty weather may be at hand, and thoughts of ice cream will be, well, gone with the wind (if they aren't already). But on one of those unseasonably temperate November evenings, we passed Penny Lick Ice Cream's new storefront in Hastings, sprung from the success of its carts. It was the cuddly-soft blankets on the wooden benches outside the store that drew us inside—where, to our surprise, their pushcarts were pressed into service as the front counter.
The blackboard menu didn't fail to present us with the difficult choices we had hoped for, including seasonal flavors such as Drunken Pumpkin (made with pure pumpkin and imperial ale) and maple salted caramel, as well as favorites such as Ethiopian macchiato (made with Yirgacheffe coffee beans), Nonni's licorice (organic black licorice, star anise, and vanilla bean). Ten little tasting spoons later (honey graham, Earl Grey, chocolate malt—bingo) and we were ready to order our cup and cone. But next time it'll be a float—for the non-alcoholic "butterscotch beer" alone (or Manhattan Special coffee soda).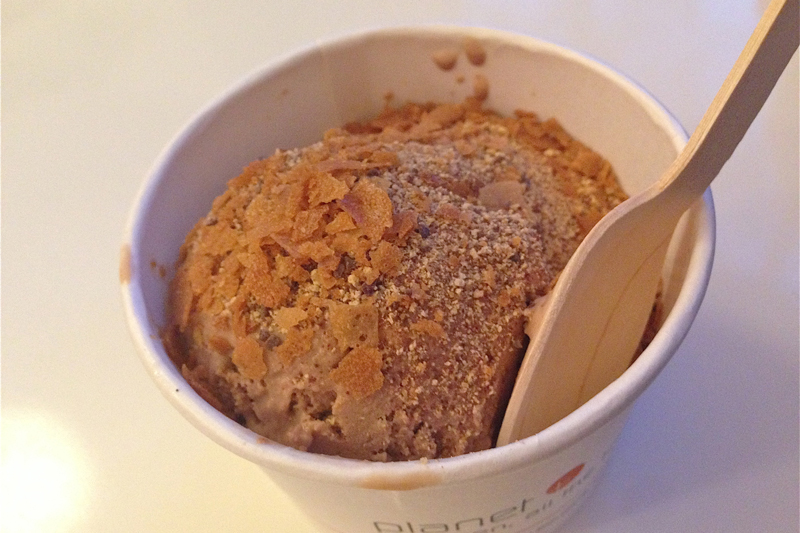 Two flavors here—chocolate malt and Nonni's licorice. Plus, of course, two toppings—s'mores dust and feuilletine.
Rainbow and chocolate sprinkles are free, but why stop there when you can have "s'mores dust" (more of an idea than a flavor) and feuilletine (crêpe flakes), something we would like to see in all ice cream stores and pretty much everywhere from now on. The cone was so loosely packed that it fell over (my daughter insisted I mention that "there was no ice cream in the cone"), but my full-size wood spoon and Planet+ compostable cup (printed with "Contents Hot"—what a hoot) were appreciated. We sat at one of the few tables, next to a chair rail lined with millions of glued-on pennies. "Let's go outside," she said. The lamplights of Warburton Avenue came on while we huddled under a yellow blanket, eating our ice cream, a new nip in the air. Five minutes later, we were back inside.
Penny Lick Ice Cream Company
580 Warburton Ave
Hastings
(914) 525-1580
www.pennylickicecream.com