Living in a small Westchester town comes with its fair share of headaches: nosy neighbors, Joneses to keep up with, and for young adults, a disheartening lack of peers to socialize with.
Larchmont, through the eyes of independent filmmaker Ben Zuckert, is one of those towns. In his recent 97-minute film of the same name, co-produced by friend and fellow Mamaroneck High School graduate Will Seife, Zuckert molds personal experience into a convincing depiction of life in the single-square-mile town populated by nearly 6,000 people.
Subtle yet smart comedy set in scenic county locations makes Larchmont a worthwhile watch, but it's the use of high-profile actors, like Tony-nominee Gregg Edelman (rocking a sweet pair of tennis whites) and Rescue Me's James McCaffrey, that shows off Zuckert's potential as a screenwriter and director. (To further that point, Zuckert handled all necessary legal work himself, and composed the film's soundtrack, while Seife handled payroll and taxes.)
Featured in several film festivals over the past few months, including YoFi Fest and Twin Cities, and currently available on Vimeo on Demand, Larchmont is definitely getting its share of attention; check out our chat with Zuckert below to see how it all came together.
You have some professional talent on your bill. How did you manage to fund this project?
It was a self-funded project from my own savings, and my friend Will Seife's savings as well. He co-produced and shot the movie with me. My family also provided some funding. The biggest items on the budget were the camera, the actors, and all the talent going into it, like the casting director.
Once I got a casting director, we were able to reach out to better talent and then I was able to get the script to [the Screen Actors Guild] actors like Gregg Edelman, James McCaffrey, and Betsy Aidem.
They took a chance on me and worked for a lower rate on the project because they connected with the script. It was really lucky because I hadn't really much experience.
You use Larchmont's picturesque scenery to your advantage in the film. How do you feel the landscape shapes your story?
It definitely affects both the father and son, Ethan's, story in the movie. When I moved back home to Larchmont, I felt like I was the only person in my 20s. There's this weird gap of age where no one else is your age and you kind of feel out of place. I was trying to capture that and so I decided to share that in a few scenes.
And growing up in a town like Larchmont there's a lot of pressure to really achieve the highest you can achieve and go straight through school, straight through college, and just kind of keep pushing through at a high level. I tried to portray that in a character who wasn't sure if he could keep going straight through medical school and needed time off. I was trying to capture that professional pressure.
For the dad, he doesn't want anyone to know that he lost his job. I think the population [of Larchmont] is 5 or 6 thousand people: I tried to capture how in a small town it's hard to stay private about your own life. But then one person finds out and then it gets out.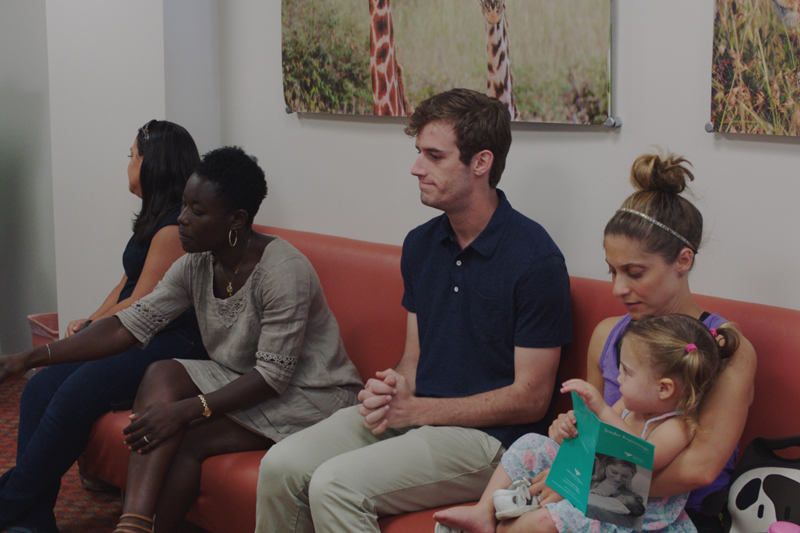 Ethan, Larchmont's main character, feeling out of place in a Pediatric office.
Do you feel that Ethan's experience is common for young adults in Westchester?
I've talked to a lot of people who have come back home after being at college and feel out of place, not sure what they're doing with their lives. It's really disorienting, in college everyone is your age. I was trying to capture that and hope it resonates with people who have gone through that. It's definitely a strange feeling.
Ethan struggles with finding a career where he can give back to society in some way. Do you feel you've given back by making Larchmont?
When I graduated I felt like doing film was a very selfish pursuit, I wanted to do something that was more outward looking, but I still wanted to make a movie.
I wrote about what I was feeling of that guilt about not doing something that was helping people in a really concrete way and put that in a perspective of someone thinking about medicine, which to me is the epitome of an outward looking job that really helps people.
I think that movies do help, maybe in a less concrete way, but I think it can be useful to see different relationships on screen and different things. And I think the most powerful thing is when you have a thought and then you see a character in a movie or book say the same thought, that can create meaning in people's lives. I guess it's still less helpful than being a doctor, but I think its still as relevant in society, hopefully.
Any upcoming projects?
I took some time to write a new script about two musicians who are trying to make it in New York. I finished that script and now I'm trying to figure out how to put it together, looking for a producer and starting to get the ball rolling on casting.
I'm hoping to shoot in Park Slope in the fall, but I have to get a lot of stuff together to make it happen.
Zuckert at the Twin Cities Film Festival
How is the movie being released?
We premiered at Twin Cities Film Festival in October, then later that same day we had screened at the Yonkers Film Festival. Then we had a screening in Brooklyn, and then we had one for Larchmont Library. That was pretty fun, when the library came onscreen everyone started clapping. And then we sold out Emelin [Theatre] with about 275 people there and had a Q&A after. That was a really great screening, and that night we released the movie on Vimeo.
RELATED: Yonkers on the Big Screen in No Alternative