The colors we choose to surround ourselves with subliminally mirror who we are and influence our mood. White cabinetry is popular for its clean lines and calming palette, but is it reflective of your warm personality? If your standard white room feels a little lackluster, adding pops of color that embody your cheerful characteristics should restore vitality to the space. Incorporating colorful pillows, throws, and objets d'art are easy additions to any room.
But why not take it a step further and think beyond these usual decor elements? An interesting and unexpected way to do this is with custom cabinetry. Here's how to bring more color into your space with three of this season's trending shades.
CREATING A CALM ATMOSPHERE. There has been a tremendous resurgence of blue cabinetry at this year's design shows. Sherwin-Williams even announced the serene blue hue Oceanside as its color of the year. If you like to use white as a pacifier, blue is a wonderful alternative. This cool tone is just as calming and available in a vast variety of shades. Choose a vivid blue to brighten up your space or a classic navy for a more elegant approach. The addition of blue high-gloss doors and drawers in this laundry room is a good balance for neutrals and creates a tranquil location for managing the family wash.
CRAFTING A VIBRANT ROOM. Orange is an invigorating color that has been known to improve happiness, optimism, and creativity. What better place to incorporate it than a part of your home where you play host to a multitude of festivities. The high-gloss orange backing of this entertainment wall system pairs nicely with the unit's mixed materials and adds to the fun, energetic atmosphere of the space.
DESIGNING A VIVID SPACE. Red is a classic color often equated with power, strength, and passion. In the design world, it has been resurrected for those who love a robust shade. Even Benjamin Moore has donned Caliente, a striking red with dramatic flair, its color of the year. If you are confident, what better way to make a statement than with a bold red. The high-gloss red doors, drawers, and backing of this entertainment wall unit make it the focal point of the room and symbolizes the homeowner's fearless and upbeat spirit.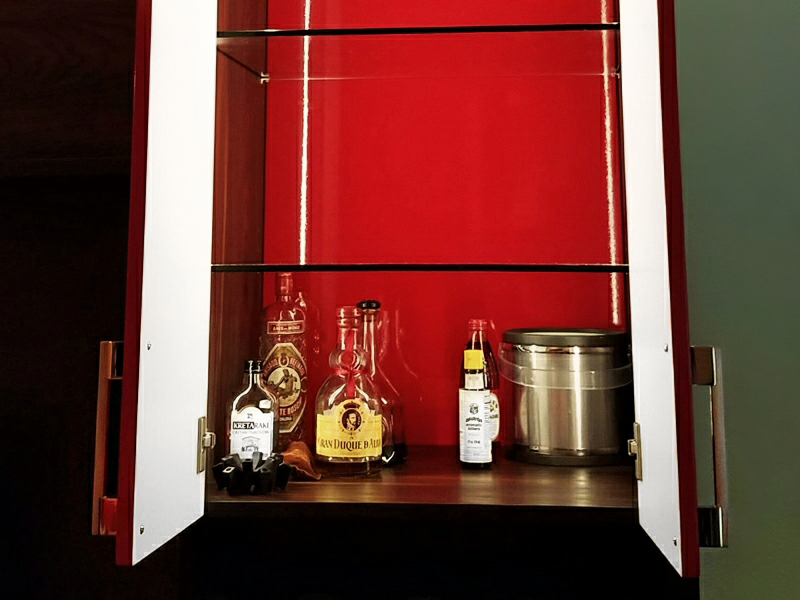 When designing your home, think about what your power colors are and decide how you want to inject them into your space. Are you going to go all out and paint your walls in your favorite hue, or do you prefer to incorporate them as accent colors in your custom cabinetry? The goal is to improve the mood of your home and those of the people within it. Live how you should, and transform your space accordingly.
---
As the name hints, transFORM excels at taking the banal and turning it into something special and unique, seamlessly integrating custom built-ins with the homeowners decor and lifestyle. These products include closets, dressing rooms, wall beds, home offices, libraries, wall units, pantries, media centers, mudrooms, utility rooms, laundry rooms and more. The unique thing about transFORM is that they design, engineer and manufacture in one central location. They also have their own team of professional installers. And while the the products are crafted locally, transFORM sources some of the most luxurious materials from throughout the world. To schedule a free in-home consultation visit transformhome.com or call/text (914) 500-1000.