Photos courtesy of Jump Visual & Corcoran Legends Realty.
This one-of-a-kind home was designed by renowned New York City architect, Eugene J. Lang, most famously known for "The Stone House."
Location: 20 Beech Lane, Tarrytown
Asking price: $3,150,000
Specs: 6 Beds, 5 Full Baths, 2 Half Baths
Situated in the heart of Tarrytown, the colonial estate known as the "Beech Lawn" is up for sale. The 7,213-sq-ft home boasts views of the Hudson River, high ceilings, and an array of outdoor entertainment. Stone pillars lead up to this remarkable property, which is a fully renovated family home with a high-level design. The home was built circa 1917 and was designed by renowned NYC architect Eugene J. Lang whose "The Stone House" was featured in the National Historic Registry.
The home's colorway is a mix of blues and whites with gold accents. At first glance, it's notable that the traditional features from over 100 years ago are woven into the newly renovated designs. In the living room, the walls surrounding the fireplace and on the ceilings are uniquely textured. In the spacious dining room, rustic blue walls add a much-needed pop of color. Even the fireplace (which is one of four) is painted blue.
The sizeable eat-in kitchen has two granite islands, a sleek white oven, and gold knobs to accent the teal colorway. With plenty of cabinets, counter space, and stainless-steel appliances, this is an ideal kitchen for any homeowner. Moving upstairs, there's a cozy sunroom with light pouring in through the decorative windows.
The classic stucco home also has its original staff or guest quarters. The property shows off its eccentric style through its wall structures and decorative woodwork. Since its renovation, the home boasts a sleek style while sticking to its roots.
It would be a shame if we didn't mention the five lavish bathrooms. Each one has a unique style with clawfoot bathtubs and colorful tile, yet they all admirably tie together.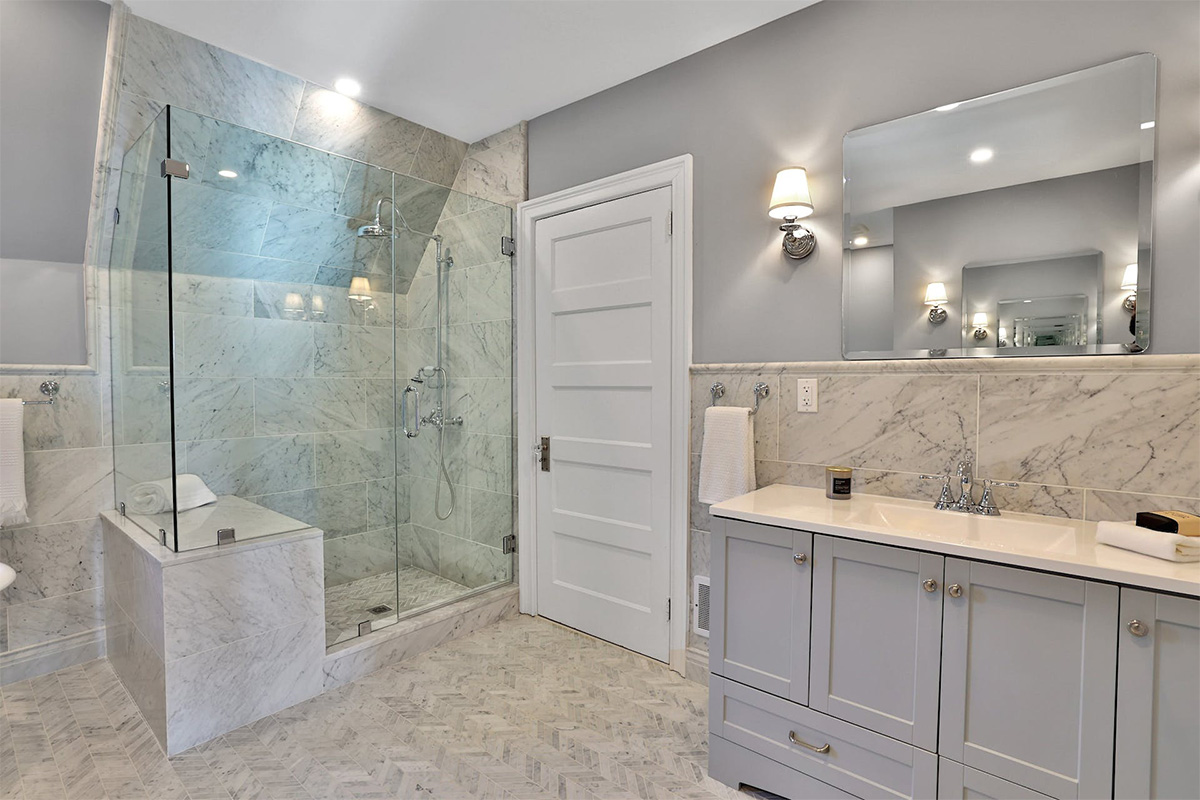 Outside lies the resort-style swimming pool, ample patio space for entertainment, and views of the Hudson. Enjoy all of this and the historic Village of Tarrytown, which is just a quick stroll from the house.
Listing Agents: The Kief Team of Cindy A Kief, Randy Hersh Hanlon, and Joel Poznanski of Corcoran Legends Realty.
Related: Discover Fine Dining at Westchester's Most Beautiful Restaurants