They were built for wealthy homeowners, made of solid masonry with elaborate decorative stone and brickwork. They were sometimes called "Stockbroker Tudors" because their well-off owners had frequently made their wealth in the booming 1920s stock market.
Tudor homes are characterized by steeply pitched gable roofs, embellished doorways, playfully elaborate masonry chimneys, and decorative half-timbering with masonry or stone between the timbers. The most prevalent building material for American Tudors was brick.
Let's take a look at five Tudors currently on the market in New Rochelle, Mount Vernon and Pelham.
Address: 328 Central Pkwy, Mount Vernon
Price: $1,398,000
Size: 3,595 square feet
Bedrooms: 4 
Baths: 4
Listing: Valmarie Zorila and Diane Hackett, Houlihan Lawrence
Address: 100 Wellington Avenue, New Rochelle
Price: $945,000
Size: 3,019 square feet
Bedrooms: 5
Baths: 3.5
Listing: Janet Seligman, Better Homes and Gardens Rand Realty
Address: 185 Paine Avenue, New Rochelle
Price: $835,000
Size: 2,325 square feet
Bedrooms: 4
Baths: 3
Listing: Gay E. Rosen, William Pitt Julia B Fee Sotheby's International Realty
Address: 1 Brier Lane, Pelham Manor
Price: $839,000
Size: 2,240 square feet
Bedrooms: 4
Baths: 4
Listing: Maria Valliades, William Pitt Julia B. Fee Sotheby's International Realty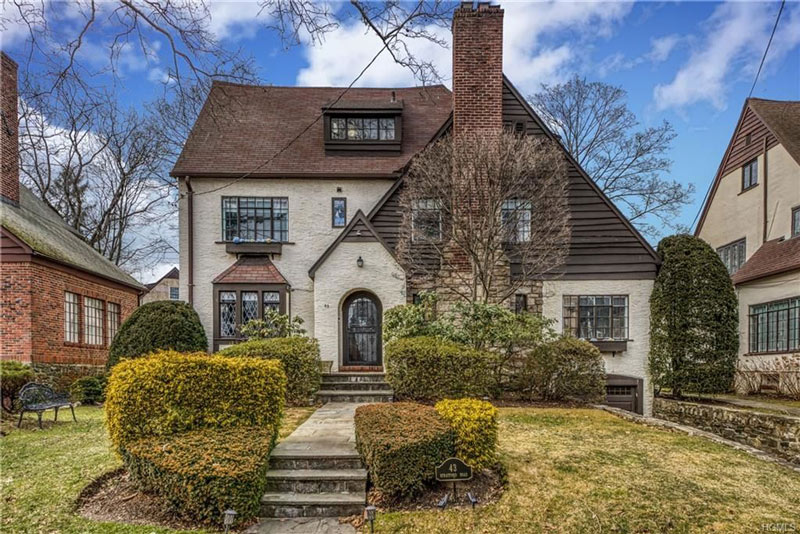 Address: 43 Stratford Road
Price: $799,000
Size: 3,204 square feet
Bedrooms: 5
Baths: 4
Listing: Elizabeth Esti Winkler, Better Homes and Gardens Rand Realty