If you follow the world of interior design, then you know High Point furniture market is the biannual furniture-industry trade event that takes place in October and April of each year in High Point, North Carolina. It's the largest furniture trade show in the world, and, as you can imagine, buyers, designers, and manufacturers from all over the globe descend on the area to shop, exhibit, sell, and see what's new in home fashion. There's a lot to cover. And often, even if I spend four days at the show, I still feel that there's more to discover. Here are several top trends that emerged at the fall 2014 market that you can implement in your home now.
Quatrefoil
This is a historic and classic shape made of four foils resembling a leaf or flower. Often seen in Gothic and Renaissance architecture, the quatrefoil is now a darling of interior design. Why? It can work in a traditional setting, go more global with a Boho look, or fit right in with Hollywood glamor. You can use it to accent or use it as the primary focus of an interior to make a bold statement. Quatrefoil was spotted in fabrics, decorative pillows, mirrors, table bases, lamp designs, and much more.
Basil flush mount light; available at www.houzz.com, $483
Gold and brass
Vintage and modern come together with these warm metal hues. From light fixtures, table bases, and pillow accents to vintage-inspired wall art, brass and gold are both classic and contemporary.
Woven
Wicker, rattan, and seagrass are back—not that they ever really went away. But the focus now is on mixing natural materials and textures indoors. This is not your old-school patio furniture, however. The look is clean and pared down and can go Boho, nautical, Palm Beach, or traditional. Stay natural or choose a fun, bright color with a lacquered finish.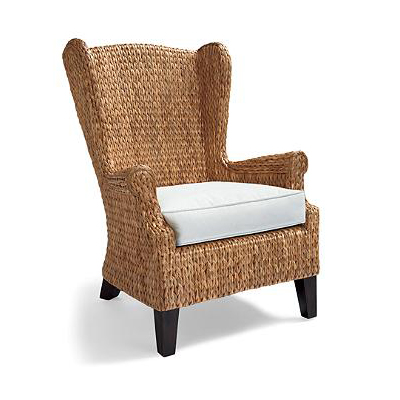 Santino wing chair with cushion; available at www.grandinroad.com, $399
Knit and knot
The influence of the handmade artisan movement is definitely being seen in home design. Chunky, knit-inspired throws, pillows, poufs, and chairs are hot. Right behind them is macramé—and not just for hanging plants. Pared down with modern tones and style, macramé is making its way onto lamps, table bases, wall hangings, and flooring.
Nantucket throw; available at www.loopymango.com, $545-1,250
Nailhead
Nailhead is a trim detail for outlining the curve of a furniture frame. It's not a new design component—in fact, it's been around for centuries. However, it was everywhere in High Point this fall. Brass, silver, and antique finishes were seen throughout the market. Polished-silver nailhead can turn a traditional wing chair into a more contemporary piece, while a classic brass nailhead can work on a modern sofa.
9' Collins upholstered sofa with nailheads; available at www.restorationhardware.com, $3195-5510
Animal Hides and Accessories
Real and faux animal hides are still a big trend in flooring, however, we are seeing more hide on chairs, pillows, poufs, and tables—and often with a metallic accent or sewn in a patchwork or herringbone pattern. The look can go global chic, mountain style, Hollywood glam, urban loft, or modern masculine.
Cowhide rug, beige; available at www.restorationhardware.com, $599
Sapphire Blue
From jewel-tone rugs to floral fabrics to velvet tufted chairs, deep sapphire blue was everywhere.
Lacquer
Lots of beautiful lacquer was seen on everything from tables, chests, and bookshelves to home accents and light fixtures. Go white for a sleek look or select a bright color for a fun, Boho-preppy vibe.
Chappy dining table; visit www.dunesandduchess.com for retailers