Photos by Costas Picadas
What was once a carriage house now serves multiple purposes, including as a garage, pool cabana, and attic complete with hangout suite, thanks to local architects Keller/Eaton.
"The structure was already there — originally built as a carriage house," says architect Robert Keller of Keller/Eaton Architects. "We lifted it off the foundation and rotated it 180 degrees. The original area for horses now faces the adjacent road as an updated garage. The large storage room behind now faces the new pool and water view beyond the pool cabana."
The goal was to have this structure work in harmony with the main home and restore the original, but dilapidated, structure. Keller calls the overall style "turn-of-the-century cottage."
Keller/Eaton is well known for its restoration of older homes, creating something beautiful and modern while retaining many of the original details that made these homes stand out when originally built.
"Most of the exterior siding and roofing needed to be replaced due to the poor condition of the building," says Keller. "Every effort was made to match the original. Existing materials were salvaged and reused wherever possible, including restoration of some of the smaller original windows. The interior was either restored or the existing was reused and modified to fit the new layout."
Inside, the original, never-painted, interior beadboard walls are on full display and represent Keller's favorite part of the design. He adds, it "sets the tone for the pool house."
Keller says it is also important to have homeowners who share the vision of preservation. "The homeowner's dedication to preserving this building was extraordinary," says Keller.
The inspiration for restoration was the view of the pool and Long Island Sound beyond. Even from inside the home, this became a focal point. Beautiful leaded windows were used throughout the space. "[The homeowners wanted] to create a visual and physical connection from the pool house and water view beyond while maintaining a sense of history of the original building," says Keller. "The window design is an attempt to do that."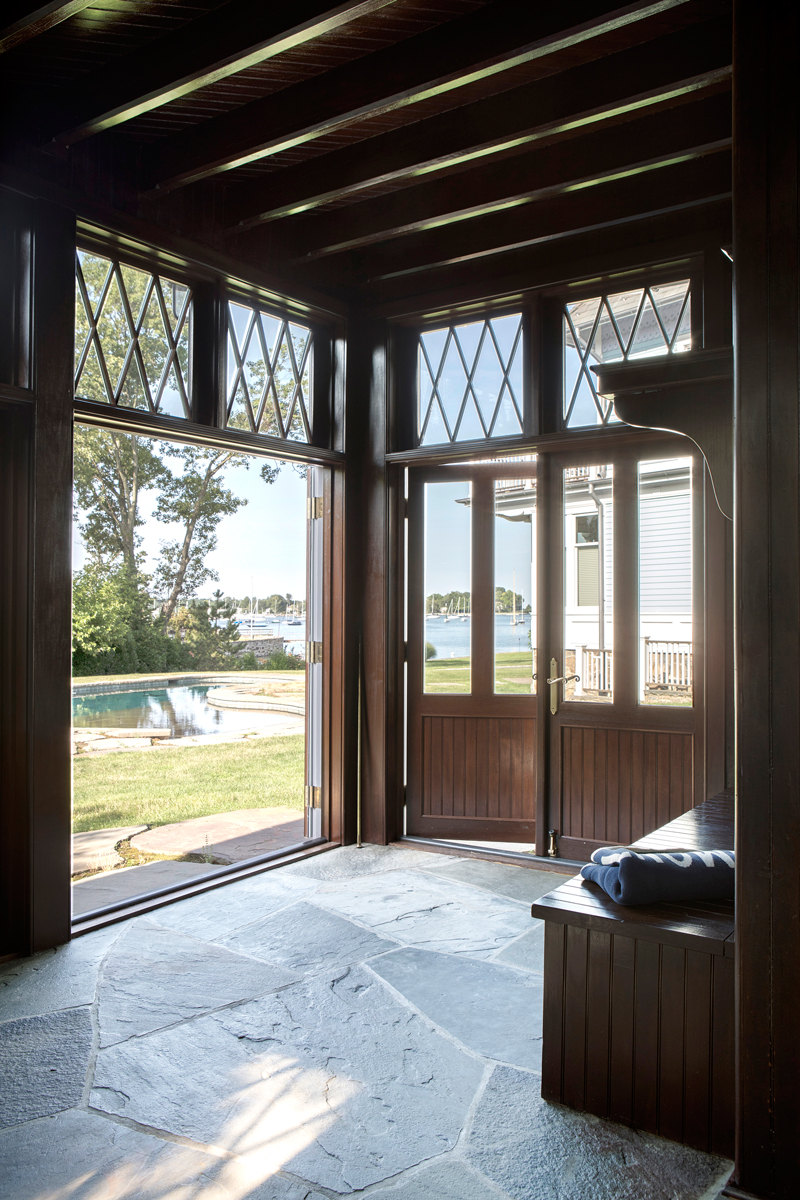 Large glass doors fold and swing away to open up to the pool, giving the family and guests easy access. To join the main home with this updated structure, a pergola walkway was designed.
No matter what the style, Keller says every good pool house should have "a comfortable place to lounge out of the sun that has a relaxing, low-stress vibe. Good storage for towels, sunscreen, et cetera, and privacy for showering and dressing." And, he says, don't overdo it. "Keep it simple."