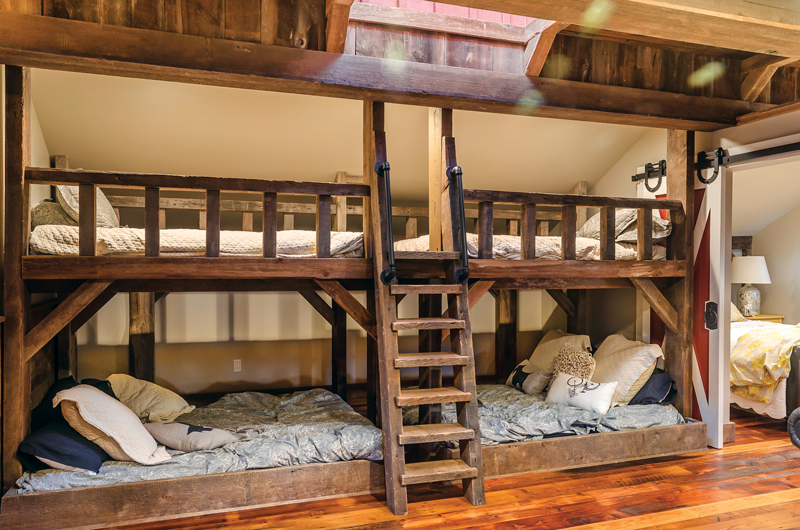 Daniel Contelmo: Daniel Contelmo Architects
Location: Pleasant Valley
This bedroom is part of a larger barn/outbuilding renovation. The main feature of this child's room are the custom-designed bunk beds — a favorite for weekend sleepovers. The bed frames and rails are made from antique barn beams; the bottom bunks are double beds to maximize use of the space. The design is rustic, all-American, and fun.
Photography by Philip Ennis
Lisa McTernan: Lifestyles and Interiors by Lisa
Location: Scarsdale
This bedroom, which was designed for a young teen, was made to be "playful enough for her to enjoy yet sophisticated enough to grow with her," explains designer Lisa McTernan. McTernan started with the wallpaper, which inspired the color palette, and the artwork is by Sandy Shapiro, which added a bit of modernity. Clean lines and a mixture of textures give the room a cozy feel.
Photography by Aggie Photography
Lisa Tessler: Link Interior Design
Location: Scarsdale
The 10-year-old girl this bedroom belongs to loves purple, and it shows in the sweet design by Lisa Tessler. The little girl is also sporty, so Tessler opted for a bold, graphic print on the walls rather than something overly girly. The ceiling was painted in a deeper purple, to draw the eye up to the Robert Abbey chandelier. Other details were kept in grays and whites, to soften the room with a touch of maturity for the child as she grows.