Photography by Ken Gabrielsen
These talented creators proffer unique collections crafted from a variety of mediums to beautify local homes and 914 at large.
By Jessica Jafet, Laura Joseph Mogil, Stacey Pfeffer, and Laurie Yarnell
Christopher Rios
PAINTER AND MURALIST
As a student at Somers High School, Christopher Rios was focused primarily on sports, but he was also interested in art. "My art teachers were always encouraging and made me feel like a standout," he recalls. Recruited to play lacrosse in college, it wasn't until he was a junior that he declared his fine-arts major. "I knew it was hard to make it in painting as a real job, but I had a passion," he says. After moving back home to his parents' basement after graduating from college in 2016, Rios experienced a crisis of faith. "I felt really lost and kind of anxious," Rios recalls, "so I started using my art as therapy, painting every night until 3 a.m." while listening to hip-hop, country, and rock music.
Rios began working local day gigs, installing glass showers and removing oil tanks to support himself. He adopted the work ethic he had developed as an athlete and applied it to his art, seeking to constantly improve.
The Somers resident sold his first paintings at sports memorabilia shows. He would paint athletes, like former Yankees Bernie Williams and Don Mattingly, who he knew would be there, have them sign his work, and then sell them to attendees. He started building a reputation, and his paintings were purchased by celebs such as Ice-T, Coco, and other athletes, including Dwight Gooden and ArDarius Stewart.
"I remember just telling myself to stick with it, to keep working and it will pay off." He also sought therapy to better his mental health. In a fortuitous twist of fate, his therapist's husband was a professional painter who volunteered to teach art to underprivileged kids in the Bronx (Rios' home for the first eight years of his life). He became Rios' mentor. Rios, in turn, helped work with his mentor's young students. His mentor helped him get back to basics and fine-tune his craft.
With his art, Rios wanted to go bigger, literally and figuratively. "My dream is to paint big murals in New York City," he says. In 2019, he got his first commercial commission — a 3′ × 4′ mural of an intricate lion for his client's garage. As his client grew his business, Rios created increasingly larger versions of the same lion for him for each new and bigger space. (The most recent is 15′ × 20′.)
Around that time, he created murals for local businesses Iconic Lash Lounge in Yorktown Heights and Reveal Hair Studio in Rye. In March of 2020, his supportive parents offered the brick side of their Katonah home for him to paint a mural featuring Bob Marley, Babe Ruth, and Frank Sinatra. He then created a mural for a restaurant in Connecticut. After posting his finished results on Instagram, more commissions followed.
Inspired by Picasso, Andy Warhol, and Jackson Pollock, Rios' work features painted portraits of well-known figures in sports, music, history, and pop culture. Color is added from a combination of airbrush, spray paints, house paint, and acrylic paints. Incorporating abstract techniques and mixed media, he describes his style as a combination of realism and pop art. Favorite murals of his include one in front of the Yorktown Library, honoring the five residents of the town who died during 9/11; another at Camp Smith in Peekskill, dedicated to WWI hero Sgt. Henry Johnson; one at Somers High School; and several for an Atlanta hotel.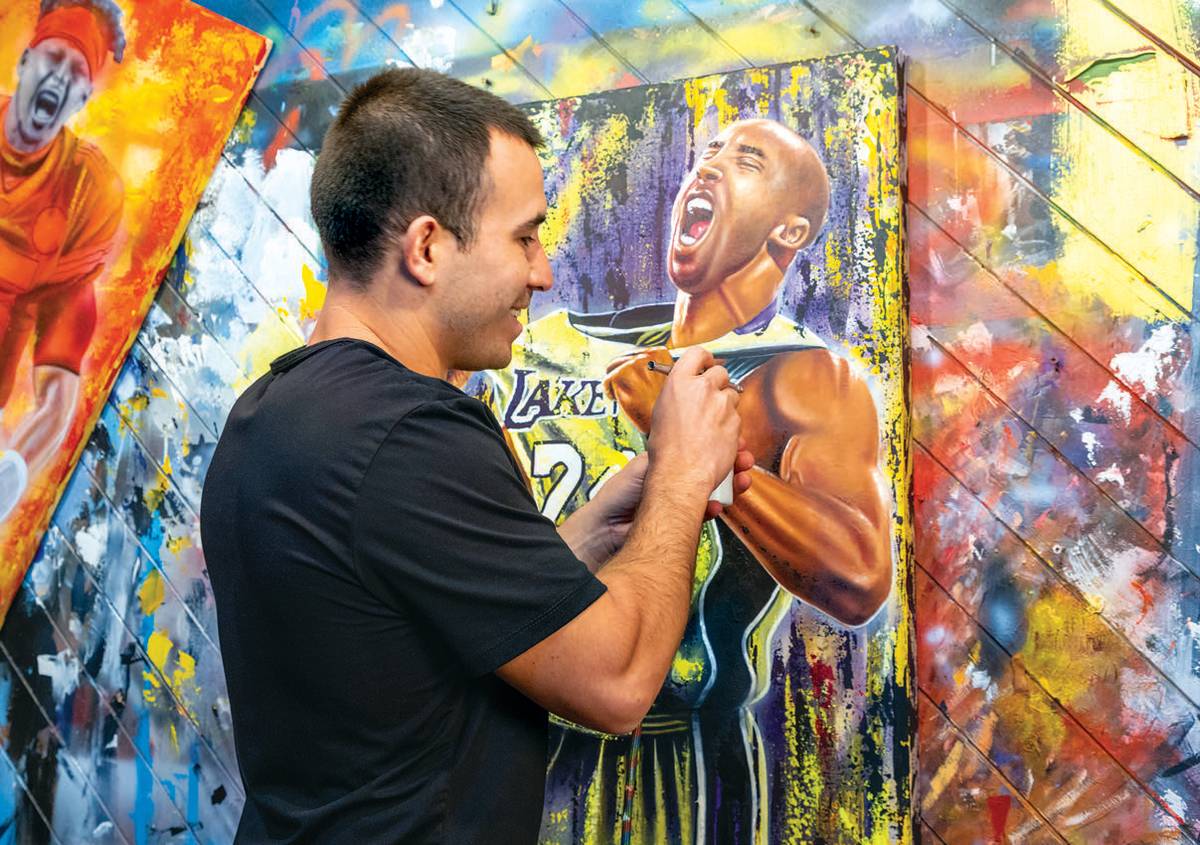 In addition to his commercial commissions, Rios has created murals in residential homes. He also creates canvases in the same media. "Being able to make someone else's vision come to life and see their joy" is his favorite part.
Aimee Hofmann
PAINTER
Tuckahoe resident Aimee Hofmann started her career as painter in a manner that is very different from most professional artists. A native of Queens, Hofmann received her business degree from New York University and then worked in marketing in Manhattan for a few years.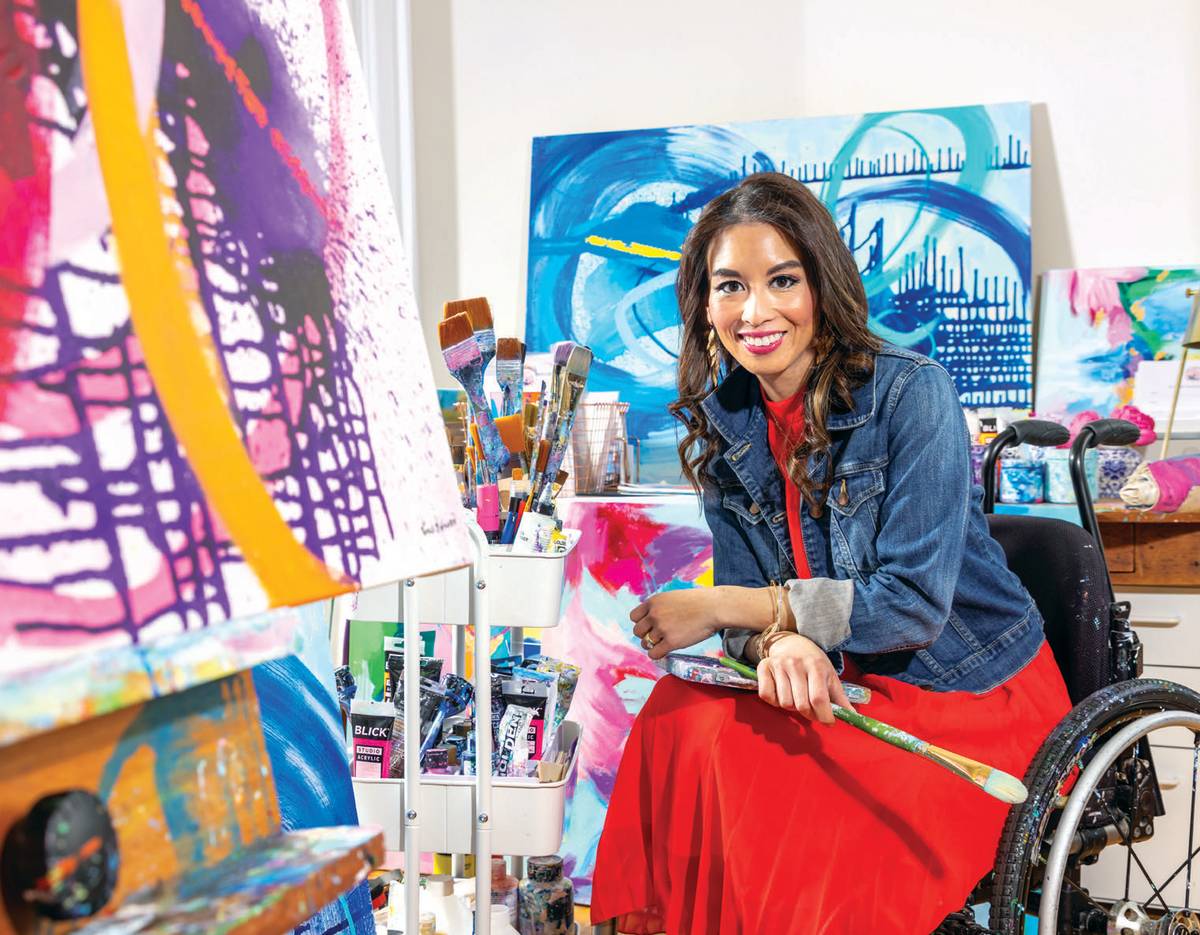 Hofmann was happily married and planning for a family when her life completely changed in 2006: At age 29, she was diagnosed with transverse myelitis, a rare inflammation of the spinal cord that left her partially paralyzed. During her two-month hospitalization for the condition, she participated in an art-therapy program and started painting right from her bed.
"When I found out I would never walk again, it was one of the scariest times of my life. I felt like someone punched me in the stomach. However, when I painted in the hospital, it took me to a place of peace, and it kept me present," says Hofmann. "Painting gave me a voice and an outlet to express myself, especially after the traumatic experience that I went through."
One of the first things Hofmann did when she got out of the hospital was to buy canvas, paints, and brushes. An avid swimmer before and after her paralysis, she began painting bodies of water. "While my work is more abstract now, I continue to paint in a lot of hues of blue. It's one of my favorite color palettes to work with and a reflection of the freedom and peace that water gives me," says Hofmann. As of late, she has been experimenting with other colors, including red, for its boldness, and violet, for its drama.
Always keeping a positive attitude, Hofmann continued to grow in both her artistic and personal lives. She and her husband have two children, and she just recently completed her first marathon on a handcycle last October. While always committed to her painting, she waited to pursue art as a business until late 2019, right before the pandemic started. "That's when I started a more disciplined art practice, committing to painting every day and sharing my work on my website and on social media," says Hofmann.
She has been selling her work online and was commissioned to create pieces for her growing base of patrons. In addition, she has recently exhibited at the Rye Arts Center, the Blue Door Art Center in Yonkers, and the Carriage Barn Arts Center in New Canaan. Her work will be on display at the Jamestown Art Center in Rhode Island in a group show opening March 18.
Hofmann's art continues to evolve, and she has created a number of new painting collections. She says she gets inspiration from nature and music, as well as from fashion, often getting ideas from her own wardrobe for color palettes. "I'm also inspired by nostalgia of the '80s, because that's when I grew up, and I love that it was so full of bright neons and pastels," says Hofmann.
Her latest collection is titled Verve: Unfiltered. "It's visually a lot more edgy and raw than my past collections, which have had more of a feminine style," she says. "It took courage to create this collection because I stepped out of my comfort zone. In the past, I would stick to one brush for the whole painting. This collection uses all kinds of tools, from a palette knife to the wheel from my old wheelchair, which I use to create track marks on the canvas."
"I've been letting the different paint consistencies react with each other, pouring and throwing the paint and seeing how the paint interacts and mixes organically on the canvas. It's a reflection of me letting go and embracing the beauty of imperfections," says Hofmann. She calls it a combination of grit with grace because it has her signature swirl designs, but this time around, she has deconstructed and broken them down.
"For me, the swirls are symbol of continuity and how life goes in twists and turns and upside down, but in the end, everything comes full circle. That's true in what I've been through in my past and what the world has been through with this pandemic," she says.
Simone Kestelman
SCULPTOR AND MULTIMEDIA ARTIST
Simone Kestelman grew up in Brazil, in a family with four girls. She was always running around and full of energy. When her mother was advised that she should involve Kestelman in art to give her something to focus on, she enrolled her then-10-year-old daughter in a class teaching how to paint plaster saints. She so excelled at painting the saints' eyes that her adult classmates asked her to paint the eyes on their saints too. It was the first time she made money from her art.
When she wanted to study art in college, her father told her to pick another profession. "Good women don't study art," she recalls him saying. So, she studied economics and worked in that field for 10 years before turning back to her first love. She established an art studio, where she offered classes to about 500 students and sold art products.
When she left Brazil in 2015 and moved to Scarsdale, she was determined to focus solely on doing her own work. "I knew I had to revamp myself; no one knew me or my work," she says. She decided to make her new house her "business card" while working from a studio in White Plains. Her new neighbors came to refer to her property, with its many outdoor sculptures, as a "mini-Storm King," an homage to the Storm King Art Center in New Windsor.
Kestelman says her work — with glass, ceramics, and photography — speaks to archetypal themes of life, death, love, violence, and ambition. Her subject matter, she says, "are the things I see, I feel, or the people close to me. I'm a very good observer; I like to see what people are eating, seeing, or discussing." Listening to opera or Gregorian chants while she works inspires her.
During the first year of the pandemic, Kestelman recalls feeling very lonely. "I thought I'd do something outdoors with my ceramic and glass flowers." When one passerby stopped to thank her for her artwork, she knew she was on to something. In 2020, she created her first local outdoor exhibition, ResiliART, or the art of resilience, not to sell anything but rather to "bring colors and love and happiness" to the community. Composed of her flowers and striking, contemporary warrior glass sculptures, the temporary installation included 17 homes and the Scarsdale Library, where she set up a field of 100 poppies. Kestelman's 2021 installation, called #restART, included 25 Scarsdale homes, and her 2022 exhibition (untitled at press time) is being installed in 15 homes in Bronxville in April.
Ranging in height from 5´7˝ to 6´ high, Kestelman's warrior sculptures grew out of her experience in the pandemic. "We had to find a way to fight," she explains. Made of colorful glass, "they are super strong," she says, "and together they show us that individuals are strongest when they accept their vulnerabilities." She elaborates: "I make outdoor art because I want my art to be free, vulnerable, and strong — all at the same time. I want my art to change like the seasons, like we do." Seven of her warriors are currently on exhibit at the Rockland Center for the Arts, in West Nyack. Her work has been widely exhibited in galleries and museums internationally and can be found in the permanent collection of the Newark Museum of Art, as well as private collections in Brazil, the U.S., and Europe.
Peter Rutkowski
PAINTER
As a young child growing up on a farm in Poland, Peter Rutkowski's earliest experience making art was drawing the chickens, trees, and leaves around him by tracing his finger in the dirt. His mother, a painter, bought him a set of colored pencils when he was about 5 years old. "I still remember the smell of those pencils," he says. After completing a five-year art program in high school, Rutkowski worked for a few years as a window-display designer while spending his free time copying paintings by famous masters, like Vermeer, Rembrandt, Monet, and da Vinci.
At age 25, Rutkowski moved to the U.S., settling in Brooklyn, and worked various jobs — as a busboy in Trump Tower and in a screen-painting studio — to support himself. About eight years ago, he received an associate's degree in visual art from Westchester Community College (WCC), where he found a mentor in teacher Carla Rae Johnson. As his work was exemplary, during his time at WCC, he became Johnson's teaching assistant.
Rutkowski specializes in small, traditional still lifes in a modern realist or representational style. Ranging in size from 6″ × 6″ to 12″ × 16″, the smallest take about 8 to 10 hours to complete. "With small paintings, you look at it up close, and it's almost like an illustration in a book," he explains. Rutkowski paints on wood panels rather than canvas because he believes the texture of canvas competes for attention with his brushstrokes. "On wood, there's a cleaner and smoother look, and my brushstroke is the hero," he says.
Rutkowski paints with oils, using an alla prima (aka wet-on-wet) technique, in which layers of wet paint are applied to previous layers of still-wet paint. Using a shadow box he created from an old desk, he creates a sort of miniature stage and puts objects in it before painting. "It's like illuminating the actors who will be on the stage in a play; the objects become the actors."
After reading Hal Elrod's The Miracle Morning, Rutkowski changed his schedule to allow for more morning hours to pursue his craft. "Painting is intellectual work, so the brain needs to be fresh," he explains. Now, he wakes at 4 a.m., and after some meditating, reading, and exercise, starts painting in his Hartsdale living room, listening to a mix of jazz, rock ("good for waking me up"), and classical music. Around 7 a.m., he turns to his full-time day job, as a superintendent of a residential complex. He goes back to painting from about 7 p.m. to 9 p.m., and then it's lights-out. Rutkowski says he doesn't paint only to sell ("I just paint to become a better painter"); his work is found in private collections locally and nationwide and has been exhibited at the Salmagundi Art Club Gallery in New York City. He was also a featured guest artist at the Arts at Denver Gallery, in Denver. His goal is to become a full-time artist, start a blog, and maybe create a digital course to help others to learn how to paint small still lifes.
Stefan Radtke
PHOTOGRAPHER
Stefan Radtke has photographed the most exquisite homes in Westchester County and beyond — the kind that grace many elite magazines. Not only does he shoot the exteriors constructed by award-winning architects, he also skillfully shoots incredible interiors. His portraiture features an elite yet eclectic group of people, including journalist Ann Curry and comedians Seth Rogen and George Lopez. But some of his most treasured photos are taken only a few miles from his home, in Rye, of the sun rising over Long Island Sound. It is these Rothko-inspired photos that clients clamor for to adorn their not-so-humble abodes.
Radtke's work is sought-after by leading commercial clients and media companies, yet he did not plan to become a photographer. Working in the entertainment industry in his native Germany, Radtke originally thought he wanted to work in film production. He enjoyed the creative collaborations but realized that film sets were "too complicated, with too many people."
A friend told him to consider studying at the International Center of Photography when he moved to the U.S. in his early 20s. Radtke sent in his small portfolio and soon found himself accepted and enrolled in a portraiture class taught by acclaimed photographer Amy Arbus. "She was a tough critic, but I liked that. She was able to critique without making a big story about it, and she was always to the point," he says. "She loved what I was doing," explains Radtke. Arbus encouraged him to "let go" in his work, which is most evident in his fine-art photography. When he's shooting homes, everything in the composition is micromanaged, and his focus is on capturing the intent of the interior designer or creating images to accompany a story. In contrast to this, his fine-art photography frees him to experiment with his camera. "I may not be focusing or holding the camera completely still," but he loves being surprised by what comes out of this technique.
His fine-art photography requires minimal retouching, but his other photos are processed in-house, at his Port Chester studio. Located in the Ernest Simons Building, a historic former shirt-factory building from 1876, his studio is one of many offices occupied by local creatives across a range of industries, from floral design and textiles to architectural model makers.
Although he has photographed many individuals against a white backdrop at his studio, he prefers to photograph them in a lifestyle environment. "I love to meet people who I would never meet otherwise." For Radtke, the perfect trifecta is shooting interesting people in their carefully curated, beautifully-designed homes, with great artwork on display. "That's when I'm at my happiest," he says.
Eileen Stodut
PAINTER
Eileen Stodut's art captures singular moments, like the glory of those found in nature, while energizing the viewer with vivid color and evoking nostalgic feelings of place and time. The intention, says the painter, is to elicit shared emotions about the mystery of the world around us.
The New Rochelle resident and lifelong artist taps into a common experience, one that occurs when we stop and observe a fleeting detail of our fragile surroundings.
"I kind of feel that society has given up on this. We are in such a rush every day, we kind of let those teeny moments slide by us, and we don't realize how rich they are," Stodut says. "Those moments are what I try to capture in my paintings — when the flowers are just starting to wilt and go over the vase a little bit, or their colors are starting to fade."
Born and raised in Manhattan, Stodut has been living in Westchester for 20 years and works in such media as acrylic, oil, watercolor, clay, collage, and pastels. She began her career as a textile designer and later became a set designer for the theater. After she earned a master's degree in art education, doors opened for teaching opportunities in New Rochelle, followed by Stodut's current position as an art instructor at St. Philip Neri n the Bronx.
When she is not teaching art to children, the artist can be found in her studio at White Plains' ArtsWestchester, where she says she likes to "create without limits and try not follow any fads," a mantra that allows her original ideas to manifest. Stodut spends upwards of 28 hours a week there, dedicated to bringing her creative visions into vibrant pieces of art. In her studio, she teaches fine arts and digital arts to adults and children.
"I am trying to connect with people," she says. "I use lots and lots of colors when I paint; I hear this symphony that is going on, and it is the symphony of the colors, it is movement, and all of this emotion happens. I hope that is the string that connects me to my audience."
Living in New Rochelle has been an inspiration for the productive painter, with Glen Island providing a gorgeous backdrop with plenty of boat and harbor scenes to draw upon. Such works have found a special audience in Mystic, CT, where she has sold multiple pieces to water-loving clients.
Her entire portfolio is a reflection of the artist's fascination with the beauty and wonder of the natural world: Canvases and murals prominently feature plants and trees, flowers, water motifs, along with wild and domestic animals.
"Animals are very important to me, and I have kind of realized that we are all the same," Stodut says. "They don't speak the same language we do, but we're all saying the same thing: We want to linger and enjoy as much as possible — we want to love as much as possible."
Related: 28 People You Need to Know to Do Business in Westchester