For Him 
Designer: Lisa McTernan
Lifestyles and Interiors by Lisa, Croton-on-Hudson
In this first apartment, Lisa McTernan transformed a blank canvas into a rustic, manly space just right for a single guy who loves the outdoors. Here, she shares how you can get a similar look in your own home and some tricks she used to overcome design challenges we all face at one time or another. 
Start with color.
"When I viewed the space and saw the stone walls outside, I decided that would be my color scheme," McTernan says. "The master is monochromatic. I wanted to keep it simple—serene yet masculine—so variations of the same color felt like the right direction."  
Add layers and textures. 
"The [herringbone] wallpaper [in the bedroom] added another layer and the texture I was looking for," McTernan says. When you work in a monochromatic color scheme, you need to find other ways of making a space interesting, so she used texture and repeating patterns throughout the bedroom: in rug and geometric
pattern on the dressers.
Put a bar in an unexpected place. 
"I wanted to do something a little different to make the room stand out as an office," McTernan says of the bar in the closet. "I figured my mister didn't really need another closet, but since he likes to drink, why not?" As long as you have enough depth to house a built-in, undercounter refrigerator, you can add something like this in any closet, according to McTernan. Have an electrician add an outlet, choose an interesting countertop (McTernan used reclaimed wood), and fill it with favorites everyone will enjoy. 
Add embellishments. 
McTernan added moldings to the walls in the office for dimension and interest. "Whether you use moldings, a bookcase, or panel work," McTernan says, "I think [woodwork] adds another layer, as well as adds character, so the room is more than a box."
For Her
Designer: Susan Anthony
Anthony-Wright Interiors, Irvington
Susan Anthony designed this second apartment with a young, single woman in mind. With furniture and color that show personality, this is a grown-up, whimsical abode perfect for a professional woman setting out on her own for the first time. Here, she shares how any homeowner can infuse the same type of style and charm.
Get inspired. 
One or two small pieces can set the tone for an entire space. Anthony found inspiration from and designed around the 1950s letters in the bedrosom (pictured above), a Jonathan Adler red owl, and paintings in the living room. 
Use color strategically. 
"When you begin with a strong color like tomato red [for accessories], you need to use it strategically," Anthony says. "For balance, I found an opposing color in the teal modern wing chair [in the living room]. I chose the graphite door color as a grounding color. It is a color that gives heft to a bright palette and brings it back to earth. I chose the taupe for the living space for warmth and the aqua blue on the ceiling to reflect the idea of water. In the bigger pieces of furniture, like the sofa, I chose white leather as a color bridge."
Create sophistication. 
To add sophistication but still keep a room youthful, add serious artwork and gilded furnishings—a mix of bright colors and off-beat accessories also works. 
Make one piece work twice as hard.  
In the living room, a table serves as both desk and dining table when more chairs are added around it. It's efficient because you can use it for "working, eating, or sharing a meal with friends," Anthony says.
Texture is more important than color. 
"A famous interior designer once said to me that a well-designed space must work in black and white first," Anthony says. "Color comes last, but texture starts with the origin of the idea itself."
Be prepared.
Make a list of everything you want to be
able to do in your home, recommends Anthony: Do your research by clipping things you like from magazines and using websites like Pinterest. Carry your ideas with you when you shop. Measure your space and the access that a mover will have when bringing in furniture. Know a store's return policy in case things go wrong. 
Shopping for handbags or T-shirts is okay to do online, but don't do it for big home purchases, she says. There is no substitute for seeing and feeling what you're buying in person. 
For Them 
Designer: Barbara Bell
Barbara Bell Interiors, Tarrytown
​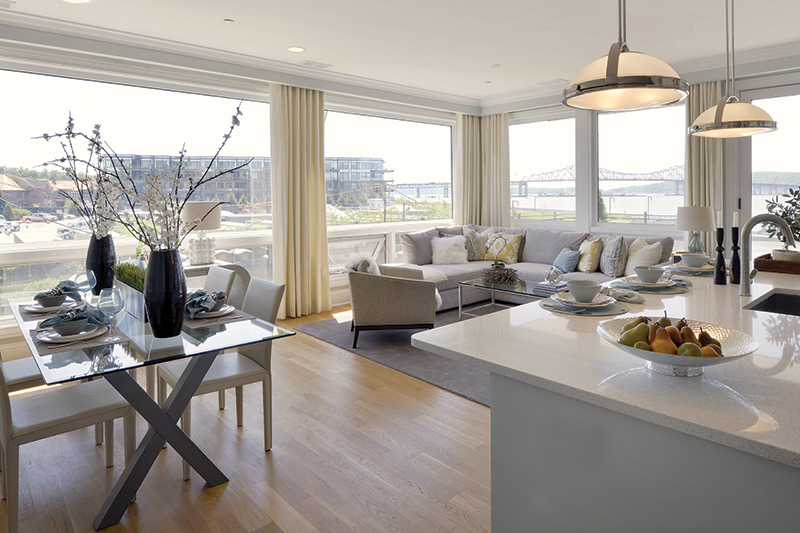 Barbara Bell created this apartment, the third, with empty-nesters in mind. She drew inspiration from the water for the color palette and created a space that is perfect for a couple that wants to have their own place by the water and close to family. Here's how she put it all together. 
Find inspiration.
If you find a fabric or piece of furniture you love, use it to inspire the rest of the space. Bell found a Kravet fabric that combined all the colors she wanted to use in a modern, watercolor stripe, which was her starting point. She used the fabric for pillows and accents, and it established the design elements for all three rooms—the kitchen/living room and two bedrooms.
Combine textures. 
"Among my favorite pieces is the soft gray, very comfortable sectional and the industrial metal stools at the [kitchen] island," Bell says. "Combining different textures, materials, and elements of design make a space dynamic and interesting."
Treat the windows as walls. 
"Because there were literally no walls [in the living room], we treated the windows as if they were walls," Bell says. "Placing the sectional in front of the windows draws your eye to the furnishings and beyond to the view, bringing the outside in and creating a feeling of great space."
Small space solutions. 
If you have a small space, don't be afraid to use large-scale pieces. "The use of a large sectional [in the living room] provides the bulk of the seating rather than a lot of different pieces," Bell says. "In small spaces, less is more. Fewer and bigger is the way to go for a feeling of harmony and serenity."
Add whimsical accessories. 
"Among my favorite pieces is the gray Buddha in the kitchen, which we have dubbed the kitchen goddess," Bell says. "And the [living room's] sheepskin pillows, textured coffee table, and tweedy fabric on the midcentury chair adds a contrast of textures and patterns."
Mix it up. 
Pull ideas and products from everywhere, and don't be afraid to mix periods, materials, and price ranges. This is the secret to an interesting room.
For the Hard Worker
Designer: Alan Tanksley
Alan Tanksley, Inc., Manhattan
Alan Tanksley created a space in this last apartment that could be for anyone who finds him- or herself working from home a lot. He transformed the second bedroom into an office with a view of the Hudson, and the living spaces are cozy enough for one, but modular enough to host a bigger gathering. Here, he shares some tips on how you can infuse a similar look into your own home.
Keep things versatile.
"Always have chairs that can be pulled around for larger groups or when an alternate seating location is desired," Tanksley says. The apartment has small tables in the living room that can easily be moved around, as well as chairs and stools that can be pulled into the living space from the kitchen, bedroom, dining area, and office for extra seating.
Layer artwork and accessories. 
"Rooms feel unfinished and lonely without layers of interest," Tanksley says. "Here, the 'interest' comes from well-chosen pieces on
walls, tabletops, and counters," Tanksley says. 
Add pops of color. 
The overall palette of this apartment is neutral, but there are surprising pops of color—like orange and blue—in the chairs, artwork, and accessories. This adds interest, but can also easily be changed out over time if the owner wants a different look. 
Work with the windows. 
If you have a lot of windows, let them work for you, not against you. "I introduced simple, translucent fabric hung floor to ceiling [in the living room, office, and bedroom] which gives the space a feeling of intimacy without sacrificing the views beyond," Tanksley says.