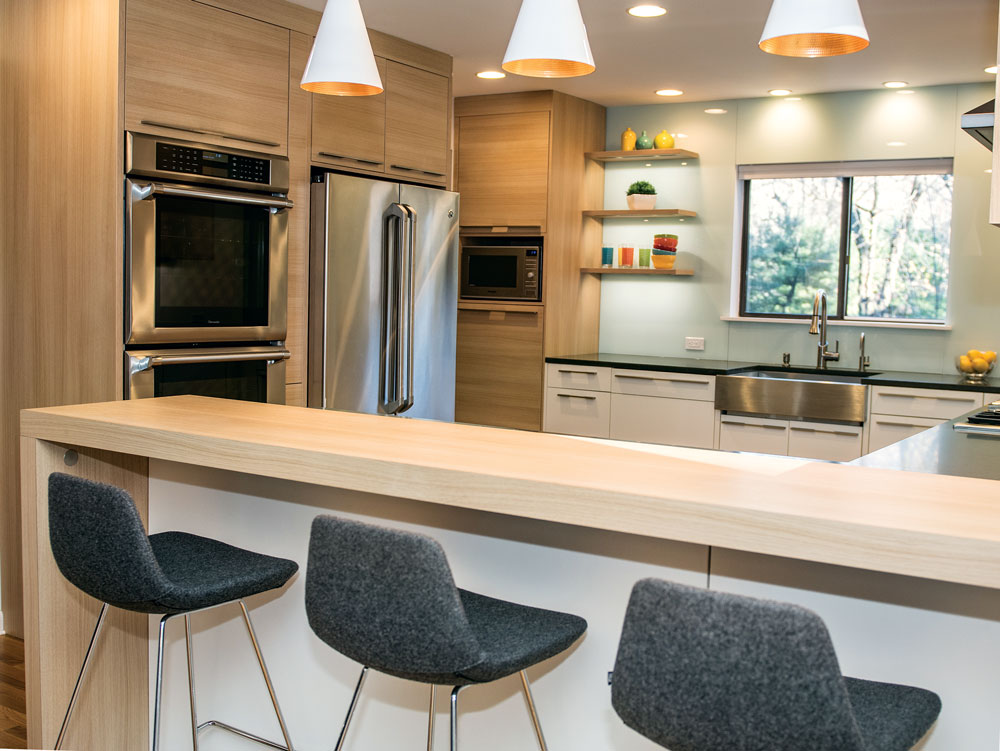 Photos by Alana Cohen
This modern kitchen is more than meets the eye. Inside are clever design twists and storage solutions that you may not see at first glance.
The homeowners, Cate and Stephen Harty, bought this house in November of 2014, started renovations in March of 2015, and moved in in August 2015, so the kitchen was somewhat of a blank canvas. New walls were being built and some were being removed, so designer Leah Diamond of Leicht had flexibility.
Diamond was also lucky in terms of the clients themselves. "[Cate] has a great eye for design and knows what she likes, so it was really fun to work with her," says Diamond.
"We removed a sliding door and replaced it with a single window, so we could enlarge the footprint of the kitchen," says Cate. "There is a double sliding door just behind [the kitchen] as well as a large window over the sink, which allow light [in]. The vaulted living room has upper-story windows, which [also] let a lot of light into the kitchen."
The first design element chosen after construction was underway was the blond wood and white cabinets, which provide a sleek, neutral canvas.
All of the natural light, combined with the lighter elements, make the space very bright and easy to cook and entertain in.
Cate says that she and her husband love the special features Leicht offered, including the lift from the bottom upper cabinets, a vertically partitioned cabinet for trays and large cooking sheets, and the soft-close doors and drawers. But what really sets the kitchen design apart from others, according to Cate, is the backsplash.
"The glass backsplash, made from large sheets of painted glass (Benjamin Moore Chantilly Lace) creates a soft, green hue offset by the warm hardwood floors and the dark Caesarstone counters in Piatra Grey," she says.
Diamond added a waterfall island, which really brings the look together. An unexpected element that works in this modern design is the use of a farm sink. A stainless steel version was chosen for its contemporary feel. "I love that twist," says Diamond of using a traditional element in a modern way.
Because the Hartys are very tall, they wanted tall cabinetry. Most average cabinets sit at 36 inches tall, but the Hartys' cabinets sit at 38 inches, making this a kitchen truly customized for the owners.
Tips for a Modern Kitchen Makeover

• Have a healthy contingency fund. Even with a newer home, you never know what you're going to run into in a renovation. It's better to plan for the worst and the unexpected.

• Expect delays or structural issues, even if you have a new home. "This home was built in 1984, so we never expected structural issues," says homeowner Cate Harty. "But the walls, floor, and ceiling were not straight, and the cabinetry wouldn't fit unless we totally reframed the room."

• Add a twist. One of designer Leah Diamond's favorite elements in this remodel is the stainless-steel farm sink, because it is a classic piece used in a modern way.

• Think about lighting. Whether under-cabinet LED lighting or thoughtful fixtures above a table or island, lighting in a kitchen is very important.

• Use all the space. The homeowners had a small hallway off the kitchen that they wanted to use. Together, the homeowners and Diamond came up with a small cabinet with a glass door, for wine and glassware to sit.