Many of our Westchester towns now have weekly farmers' markets where neighbors meet and delight in superb local produce, artisanal cheeses, fresh flowers, just-caught fish, homemade baked goods, and more from vendors who drive the long distances from their farms while most of us are still in bed. Thanks to them, we get to wake up to the best the season has to offer right in our own backyards. Here's an idea: Try one thing you've never had before every time you go. Not sure how to cook it? Ask the vendor for ideas—and before long, you'll have a whole new repertoire.
1) In the full spectrum of autumn colors, beautiful ears of Indian corn from J&A Farm at the Pleasantville farmers' market are ready to decorate front doors or brighten Thanksgiving tables. 
2) Visit Alex's Tomato Farm from Carlisle, New York, at the New Rochelle farmers' market where Kutik's honey sits alongside lush vegetables, flowers, fruits, and of course, tomatoes. 
3) Mead Orchards of Tivoli, New York, brings pumpkins of all shapes and sizes to the busy Pleasantville market—the wooden crates and stenciled name adds a touch of days gone by.
4) At Hastings' market, Margo Lorber makes one of her favorite stops at Taliaferro Farms for top-of-the-line organic produce. 
5)  The Lani's Farm stand at the Larchmont market is always jammed. The vendor not only educates shoppers about its unusual varieties, but also teaches how to prepare them, often holding cooking demonstrations. The petite Fairy Tale eggplant (shown), with stippled purple and white skin, lacks the bitterness of its larger Italian counterpart.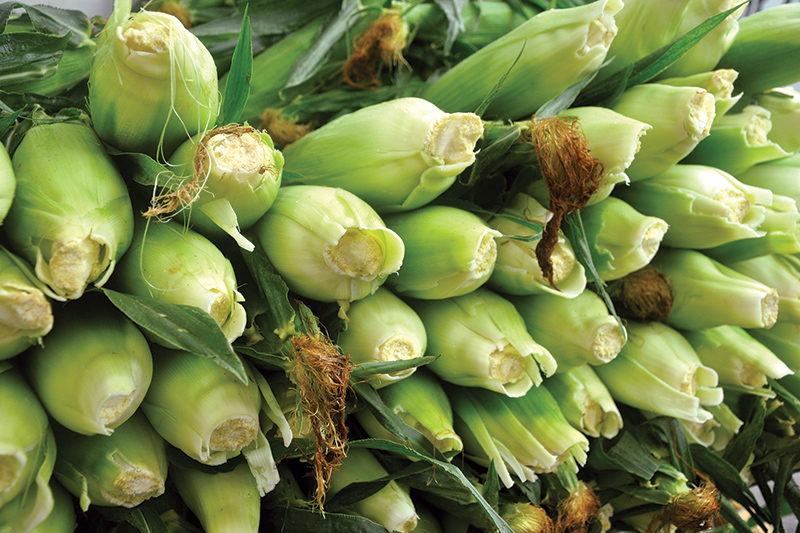 6) The just-picked corn at The Orchards of Conklin doesn't last long before being whisked away for afternoon or evening barbecues. Find it at the Chappaqua, Bronxville, Tarrytown, Larchmont, and Hastings markets. 
Get More Information: 5 Great Westchester Farmers' Markets And Their Locations
7) Lani's Farm stand is the place to go for the unexpected—as this late-summer display of heirloom tomatoes clearly shows.
8) At Migliorelli Farms, the rainbow Swiss chard is a colorful neighbor to the fresh celery nearby. Also known for its apples, cider, and donuts, the farm's wares are fixtures at the Rye and Scarsdale markets.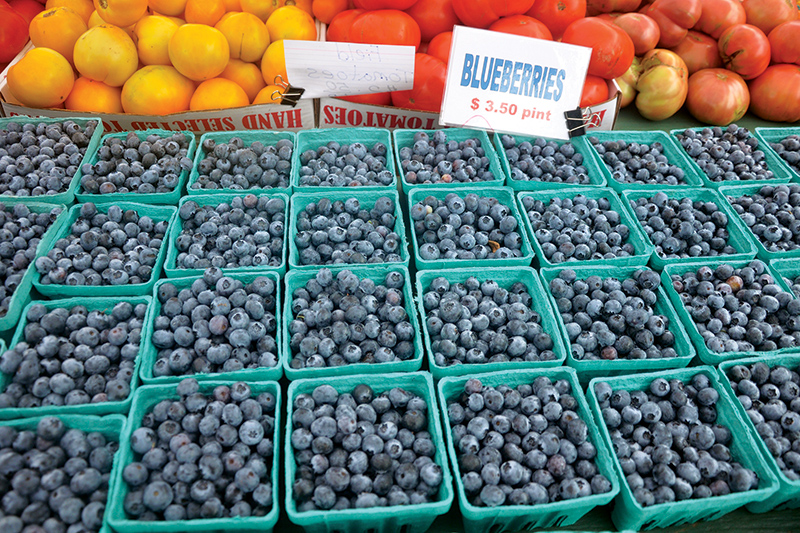 9) Throughout the summer, The Orchards of Conklin delights Larchmont customers with in-season fruits. Here, a sea of blueberries.
10) At the big, bustling Pleasantville farmers' market, Little Seed Gardens of Chatham, New York, displays its beautiful lettuce, peppers, and bok choy—a symphony of organic green. 
11) There's something about farm-fresh eggs that elevates anything from scrambled eggs to a soufflé. Feather Ridge Farm sells its superb varieties at the Pleasantville and Rye markets. 
12) Patrons at the Pleasantville market shop to the sounds of weekly performers such as the talented guitar trio Da Da Da. 
13)  The famed black dirt region of Goshen, New York, is home to J & A Farm where Jeff Bialas grows more than 250 varieties of vegetables, including these striking radishes. Stop by to see Bialas and his produce on Saturdays in Pleasantville.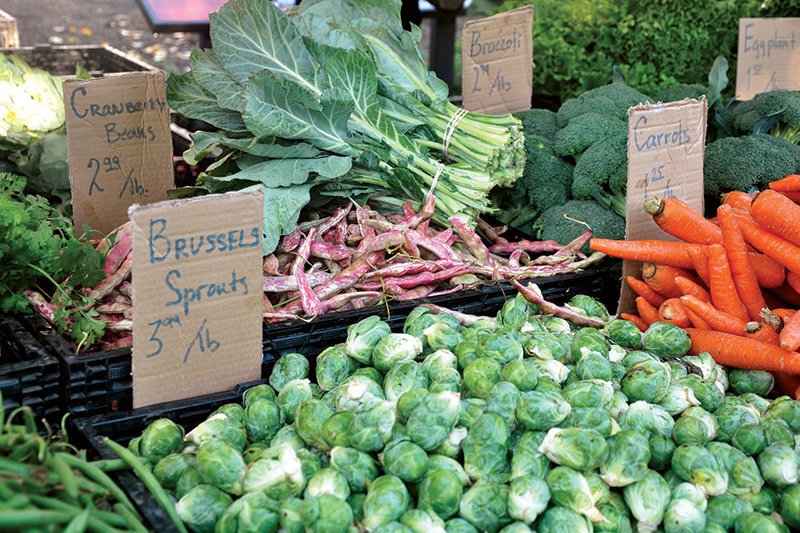 14) Alex's Tomato Farm fills its New Rochelle tables with beans, carrots, and Brussels sprouts, all grown on the 70-acre farm.
15) Fans of hot and sweet peppers flock to Acevedo's Farm stand in New Rochelle, where the colors and varieties are endless—and all grown on its Pine Island, New York, spread.
16) Dagele Brothers Produce displays a mountain of fresh red radishes at the New Rochelle farmers' market. Famous for its onions, the Dageles grow 20 other varieties of vegetables on their farm in Florida, New York.
17) Hummingbird Ranch sells a huge variety of honeys you're welcome to sample before you buy. They also have something you may never see anywhere else: honey cotton candy that looks like spun gold.
18) The Grenadine Crêperie has a whole lot of fans at the Hastings market where fresh crêpes come in several varieties, including this one with hand-grated Gruyère.
19) At the Bronxville market, Mostly Myrtle's sells rich and delicious vegan muffins. The ginger peach is as good as muffins get.
20) Follow your nose to North Winds Lavender Farm at the Bronxville market, where you'll find fresh plants and all manner of lovely, lavender gifts.
21) At the Rye farmers' market, Erik Wall and Olivia Peniston visit Newgate Farms where they choose an array of herbs for a patio garden.
22) Jacob Gross hopes for a bite of the warm Belgian waffles his friends Oliver and Audrey Meier are enjoying from Pika's Farm Table in Rye. Pika's other specialties include homemade quiche, soups, and dips.
23)  With 500 sheep, 100 goats, and 50 cows, Valley Shepherd Creamery uses traditional European methods to make many fine cheeses on its Long Valley, New Jersey, farm. Lucky for us, they're available at the Rye market.
Links for more information: