New dressing flavors from Cucina Antica Foods Corp.
Sterling Smith, once a lead instructor at the French Culinary Institute in Manhattan, is the new executive chef at Neméa Greek Taverna (599 E Boston Post Rd, Mamaroneck 914-698-6600; nemeataverna. com); area diners may know Smith as the former owner/chef of The Sterling Inn in New Rochelle. Neméa's menu features contemporary Greek dishes such as lavraki (grilled whole sea bass), braised lamb shank, and marinated char-grilled steak // The CIA (845-471-6608; ciachef.edu/diningseries.com) is hosting its annual themed lunches and dinners program, this year entitled Food Is Art. Through March 29, participants can attend lectures, tastings, demonstrations, and specially themed meals at the Hyde Park, New York, campus. The CIA is also celebrating the 30th anniversary of its American Bounty Restaurant on February 29. A four-course dinner ($19.82), will be served // The owner of Little Kabab Station is set to open nearby Little Spice Bazaar (27 Main St, Mount Kisco 914-218-3333; littlespicebazaar.com) sometime before spring.
Energy Kitchen's bison cheesesteak is fast but not fried.
The specialty market will sell international fair-trade spices and spice blends, premium loose-leaf tea and tea blends, lentils, and premium-brand rices. A lassi bar will serve up to 10 flavors of lassi (a chilled yogurt-based drink), plus fresh fruit juices // Now open in White Plains is the first county branch of EnergyKitchen (40 Mamaroneck Ave 914-422-3100; energykitchen. com), the fast-food chain that doesn't serve fried foods (only grilled, baked, or steamed). Every item—offerings include burgers, wraps, and salads—contains 500 calories or less. Locations in Rye and Bronxville are planned // Off exit 6 on I-95 North is Rizzuto's (1980 W Main St, Stamford, CT 203-324-5900; rizzutos.com), a new 160-seat, tri-level Italian restaurant with a marble antipasto bar, Neapolitan-style pizzas, and daily-made breads, soups, sauces, and stocks. On the menu: shrimp picatta, pesto chicken fettuccine, grilled organic salmon with pomegranate-mustard glaze, and grandma's three-meat ravioli. Pastas range from $15 to $22, pizzas $11 to $15, and entrées from $16 to $25. Rizzuto's is open for lunch and dinner everyday // New Italian restaurant Toscana Trattoria (33 Lewis St, Greenwich, CT 203-661-2354; toscanagreenwich.com) is headed by Executive Chef Matthew White, a graduate of Johnson & Wales University's College of Culinary Arts. Its owner is Paul Ardaji, architect, artist, and film producer best known for Ali (2001). Main courses include grilled Alaskan wild salmon, baked sea scallops, and Florentine cannelloni. Pizzas cost from $14 to $22; pastas, $16 to $24; and entrées, $24 to $36 // Taiim Falafel Shack (598 Warburton Ave, Hastings-on-Hudson 914-478-0006; taiimfalafelshack.com) has added items to its menu, including burekas (phyllo-wrapped pastries filled with spinach, spinach/feta, or potato); melawah (a Yemeni-style pita served with salad, hard-boiled egg, hummus, and tahini sauce); mushroom and basil falafels; and winter hummus (warm hummus with puréed fava beans, diced tomatoes, and topped with spicy pepper sauce) // The sixth season of the Ritz-Carlton,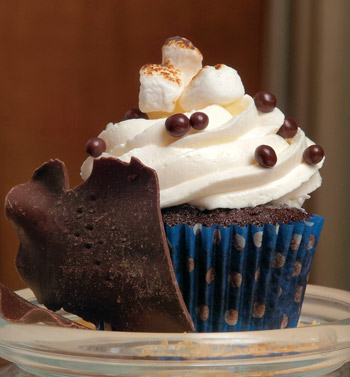 Cupcakes at the Ritz taste great and help a good cause.
Westchester's Cupcakes That Care is underway; the program gives 50 cents of every $3.50 cupcake purchased to a local charity; this year it's Blythedale Children's Hospital in Valhalla. This season's flavor is a chocolate Graham cracker cupcake filled with marshmallow cream and topped with vanilla icing and toasted marshmallows. To order, call the hotel's main number (914-946-5500) between 8 am and 6 pm // The Mount Kisco-based gourmet Italian food product company Cucina Antica Foods Corp. (914-244-9700; cucina-antica.com) has launched a line of organic salad dressings (Fat Free Tuscany, Low Fat Italiano, Balsamico, Red Wine Vinaigrette, and Caesar) and today offers organic ketchup // Bistro Latino (64 Main St, Tuckahoe 914-961-2233) is opening in the space that once housed Main Street Café // Hearth Wood-Oven Pizza 425 White Plains Rd, Eastchester) is opening
in the space that housed Martinis & Chocolates.