Wasabi
Japanese fusion
Perhaps nothing better sums up Doug Nguyen's Japanese fusion cuisine than his signature tuna pizza: sushi tuna topped with minced red onion and slivers of tomato on a fried wonton skin, drizzled with a spicy, creamy sauce. It's delicious as well as clever, and one example of how he marries Asian and Italian fare, incorporating ingredients like cream, cheeses, and fruits not typically found in Japanese cuisine. Dazzled diners have referred to Wasabi, Nguyen's stylish Nyack restaurant, as "Nobu north," comparing it to the legendary Manhattan spot.
A little history helps explain Nguyen's inspiration. Born in Vietnam, he wound up in a refugee camp in Thailand at age 12, until he was eventually adopted by a Rockland County couple, who introduced him to hearty Italian cooking. Before opening Wasabi in 2003, Nguyen worked in several Japanese restaurants where he learned the importance of beautiful presentation. At Wasabi, he says he experimented by accenting Japanese classics with the western flavors he enjoys, "and it came out good!"
Perfect, artful sushi and sashimi are a given. Skillfully made rolls include lovely-to-behold innovations like the Rock & Roll: tobiko fish roe outside, with shrimp tempura, eel, crab, avocado, and cream cheese inside. Or the Strawberry: thin slices of berry layered on the outside, with spicy tuna and tobiko within. East meets west in octopus carpaccio, seafood risotto with black truffle rice, and truffle gyoza—Nyugen's own favorite dumpling, which blends pork with a creamy mushroom and black truffle butter.
Sweet treats include green tea cheesecake, and the chef's black-rice pudding. "It's a holiday food, and a lucky dish for weddings," he says. "Here, we throw rice for luck. In Asia, we eat it!"
Wasabi (845) 358-7977; www.wasabinyack.com; prices from $75 to $150; In addition to off-site events, Wasabi can accommodate up to 200 wedding guests in its Nyack restaurant.
Nisa Lee Events
Eclectic
"My clients are often from different cultural backgrounds," says the Pelham Manor-based caterer Nisa Lee, "and what I do is join those cultures together through the culinary senses. They usually want some old-fashioned comfort foods to please their families, and I make them a little more sophisticated and add my own signature. It gives me wonderful challenges."
Okay, here's a challenge: What if one family's background is German and the other's is Indian? "Maybe bratwurst with curry-flavored sauerkraut," Lee responds, laughing and playing along. How about a Moroccan marrying a Filipino? "Perhaps banana cigars with cinnamon sugar in a spring-roll wrapper, drizzled with lavender honey." A Chinese and a Brit? "Bite-sized Yorkshire pudding topped with ginger-bourbon-glazed skirt steak, garnished with fresh chives," she fires back. And that's just off the top of her head.
Lee, who was born in Thailand, dresses up fresh, organic produce with bold flavors using exotic ingredients imported from all over the world—and takes pride in seeking out small, ethnic groceries to find the best. The results are elegant, creative combinations ranging from delicate seafood dishes like citrus-glazed scallops to robust Brazilian churrasco-style skewered meats, or chicken tagine with roasted almonds and fruits, served on sweet-potato mash. Dessert favorites include ginger crème brûlée; Mexican chocolate bread pudding with vanilla-rum anglaise; and coconut flan. Can't decide? Go for bite-sized desserts served at a buffet station, Lee suggests.
Halle Berry, Hillary Clinton, Vanessa Williams, and America Ferrera number among the luminaries on Lee's client list. But regular mortals can be sure of getting the star treatment, too. "My clients inspire me," Lee declares. "I enjoy making them happy."
Nisa Lee Events (914) 552-5258; www.nisalee.com; prices average from $65 to $95.
Cucina
Contemporary Italian
Chef Giovanni Scappin's mid-Hudson Valley restaurants—Cucina, Market St, and Gusto—are all known for their modern takes on Italian cuisine. But "modern," in this case, doesn't mean bewildering, deconstructed dishes. "I don't like to do fussy food—no foam, no gelatin," he declares. "Less is better. Ingredients are everything." Scappin brims over with examples: "Take a simple piece of bread, grilled and topped with good ricotta, lemon zest, and toasted hazelnuts, then drizzled with the best local honey—it's super simple, but one bite is like heaven."
Cucina's catering branch in Woodstock was launched about five years ago. Wedding fare may start with small bites such as Scappin's raved-about thin-crust pizza with pears, arugula, and fig-rosemary-shallot spread, or breadsticks wrapped in proscuitto, or grilled shrimp with salsa verde to dunk them in.
"The trend is away from heavy meats," he says. "But we can do a whole leg of pork, or lamb, or a whole animal, if people want to go crazy." A variety of pastas, or risotto with seafood or wild mushrooms are popular choices. "A whole big fish, maybe snapper or salmon, encrusted with salt and baked, is beautiful to look at," Scappin remarks. "You break the salt and everybody starts digging. With a squeeze of lemon and olive oil, it's a lot of flavor." Satiny butterscotch budino with toasted coconut crème fraîche, beignets, éclairs, or traditional tiramisu are winning desserts.
Most couples conjure the gaiety of a big Italian celebration by serving family-style, with guests seated at long farm tables. "It's better food, first of all, because individual plates get cold," Scappin says. "And big platters are very festive and theatrical. People say, 'Wow'—it's a very wow kind of thing."
Cucina (845) 679-9800; www.cucinawoodstock.com/hudson-valley-catering; $60 and up. In addition to off-premise events, Cucina caters at its newly restored 19th-century Barn at Cucina.
Swoon Kitchenbar
New American LocAvore
Hudson is smack in the middle of Valley farm country, one reason locavore chef Jeffrey Gimmel moved there from Manhattan a decade ago to open Swoon Kitchenbar (where his wife, Nina Bachinsky-Gimmel, provides the sublime desserts). From the start, whatever regional farmers could provide inspired the menu. Gimmel makes his own charcuterie and serves locally raised meats, but vegetables often take center stage. Cauliflower "steaks"—two-inch-thick slices of cauliflower, roasted and served over creamy polenta with a sequoia-pepper relish—are one example.
"People like the local, seasonal, vegetable-driven food that we do at the restaurant, and we started getting a lot of requests to do weddings," says Gimmel, who launched the catering division in 2010. "There are a lot of vegetarians these days, and for every wedding, we do vegetarian appetizers and entrées, with gluten-free options," he says. "If couples want seafood, we might roast a piece of hake with seasonal vegetables. If they want chicken, we'll use beautiful baby poissins from Northwind Farms in Tivoli. We brine them overnight, and then they're spice-rubbed and roasted, and served with grilled escarole and green olive tapenade."
Gimmel mentions that most couples choose family-style service. "A harvest table with big platters that everyone shares creates a country-style atmosphere," he says. "Nina does fabulous wedding cakes. She also makes a huge, beautiful free-form fruit tart with whatever is in season. We serve it cut into wedges, with whipped crème fraîche on the side."
"Weddings are fun," he continues. "Everybody's happy. And people are pleasantly surprised to find fresh, healthy food instead of rubber chicken."
Swoon Kitchenbar (518) 822-8938; www.swoonkitchenbar.com/catering.html; prices start at about $60. Swoon Kitchenbar can cater
weddings off-site, or in the restaurant's private dining room, which seats 55.
The Great American BBQ Co.
Barbecue
"Wedding" and "barbecue" may sound like two very different social occasions—white gowns and finger-licking food?—but barbecues are on the rise among couples looking for a less formal bash. "Many couples want their wedding to express their personalities in an offbeat way," says David Pellon at The Great American BBQ, a sister company of Caperberry Events, which caters more traditional affairs at the C.V. Rich Mansion in White Plains. "Barbecues are very down-to-earth, less stressful, no fuss, no muss, no worrying if it's all going to go right."
The mood may be laid back, but the food's still top-notch. "There's a real technique to preparing barbecue, with different sauces, different rubs," Pellon notes. Great American brines, dry-rubs, and hickory-smokes all the meats at its commissary, and finishes them on the grill at the site—most often a backyard or local park.
Clients mix and match from several menus listing all the crowd-pleasers. Cocktail hour stations can serve wings, tacos, or raw-bar fare. Passed hors d'oeuvres run from franks in puff pastry to fancier morsels like Brie and roasted shallot tart with caramelized fig chutney. Buffets serve up burgers (including a veggie version), hot dogs, steaks, pulled pork, ribs, chicken or cedar-plank salmon. Or you can go the whole hog with a Cuban-style pig roast. Finish up with ice cream sundaes, strawberry shortcake, cupcakes, brownies, or mini fruit parfaits.
"Everything's presented nicely," Pellon says. "It's a kind of higher-end, refined barbecue." Still, what about the wedding finery and the sticky sauces? "Most brides slip out of their gowns and into something else," he replies. "They tell their guests on the invite, 'Come dressed appropriately.' People are bowled over by how much fun it is."
The Great American BBQ Co. (914) 686-2277; www.thegreatamericanbbq.com; prices start as low as $32, but average $50 to $60.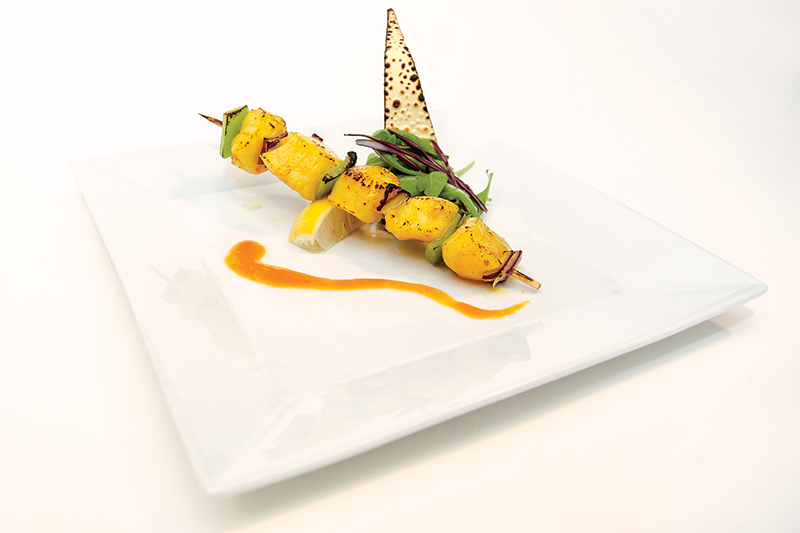 Cinnamon Indian Cuisine
Indian
Although Indian food is finally gaining in popularity in the US, many people are still under the misconception that it's all scarily hot and spicy. Even those who enjoy Indian fare may not venture beyond the familiar chicken tikka masala, and the like. But the elegantly presented, unusual regional cooking at Cinnamon Indian Cuisine in Rhinebeck is prompting more daring couples to choose it for their weddings.
Chaminda Widyarathna and his wife, Shiwanti, opened Cinnamon in 2011; they are originally from Sri Lanka and offer a few dishes from their homeland. But Chef Widyarathna's expertise is in the diverse regional cooking of India, where he has traveled extensively, gathering recipes. "We make traditional food with a twist," says Shiwanti. "That doesn't mean Americanized, but healthier and not so spicy, so that people who have less tolerance can still enjoy it. We add more flavor and take some of the hotness away."
Seafood and vegetarian dishes play as big a part as chicken and lamb, and even the standards come with updated flourishes. Popular specialties include appetizers like bagari shrimp or lasuni gobi (battered and fried cauliflower florets with aromatic spices); halibut in tangy tamarind juice; and kobbari lamb chops, cooked in the tandoor oven with ginger, garlic, and coconut.
Given Chaminda's talent for colorful, exotic presentation, most couples have chosen plated service for their weddings. But buffet is an option; dishes are tagged with the Indian name, the English translation, a list of ingredients, and a note about spice levels.
"We had one bride whose family had never tried Indian food, so we invited everyone for tastings," says Shiwanti. The family was surprised and delighted. "They said, 'We thought we couldn't handle the spices. We've been missing this for a long time.'"
Cinnamon Indian Cuisine (845) 876-7510; www.cinnamoncuisine.com; $40 and up. In addition to off-premise events, Cinnamon also caters at its Rhinebeck restaurant.
New World Catering
Global Bistro
Chef Ric Orlando is a two-time Chopped champ (try saying that twice) as well as a celebrity in his own neck of the woods. Since 1993, when he and his wife, Liz Corrado, opened New World Home Cooking and Catering just outside Woodstock, he's been a pioneer in the "clean food" movement, promoting sustainable and local produce long before it was the thing to do. Local meets global on the menu, which reads like a travelogue of the world's bistros—Thai crispy duck, Greek-style rack of lamb, ropa vieja, jambalaya with Andouille sausage—all spiced to taste on the "Ric-ter Scale." Vegans and vegetarians rejoiced from day one that they weren't treated as an afterthought, while meatless choices like wild mushroom Wellington, BBQ tofu skewers, and Orlando's award-winning eggplant "meatballs" are just as pleasing to carnivores.
The restaurant's festive, happy atmosphere translates to wedding parties, declares Orlando's daughter, Sidney, who manages the catering side of the business. Typical clients, she reports, tend to be "artistic types and foodies looking to meld their different backgrounds. They want the food at their wedding to say something about them as a couple, to find ways to make it non-traditional."
New World can prepare what Sidney calls "formal, catery-y dishes," but the cooking is generally more playful—"delicious but not showy," she adds. Sliders and mini wonton tacos are popular pass-arounds, as are retro wedding classics like lobster cream puffs and pigs in a blanket. For dessert, she reels off a drool-inducing list: "Chocolate-chèvre truffles, super-delicious lemon squares, beignets with strawberry-jalapeno sauce…We can please people with all palates, and we can accommodate dietary restrictions without taking anything away. Everything is made from scratch, in support of the Hudson Valley's agricultural producers. What we do is global, with local pride."
New World Catering (845) 246-0900; www.newworldcatering.com; prices range from $60 to $120. New World Catering handles off-premise events, and also holds weddings in its "totally Woodstock" location.