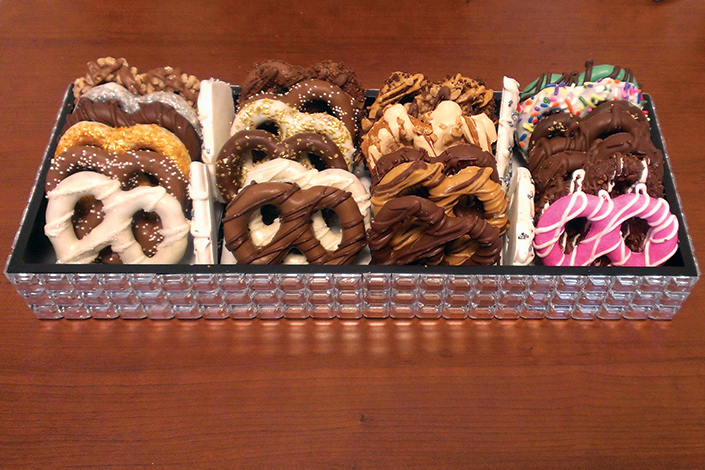 Talking to Irvington's AnnMarie D'Erasmo, it's easy to see how she got her chocolate-covered pretzels into Bergdorf Goodman during this past holiday season, where they're sold in gift boxes surrounding a rhinestone-studded broach centerpiece—and how she finagled them into soon-to-be Oscar winners' gift bags. She's incredibly persistent and hugely enthusiastic about her pretzels. Her Posh Pretzels, that is.
Her store, Posh Pretzels (7 N Broadway, Tarrytown 914-332-0400; www.poshpretzels.com), opened in late December, but D'Erasmo has been making pretzels out of her home as well as rented commercial kitchens for more than 20 years. "I just decided one day—I'm recently divorced and I decided at the same time [of my divorce]—that it was all or nothing," she says.
So she rented a space on North Broadway in Tarrytown and launched a retail operation. There she hand-dips and decorates pretzels, which are covered in colorful, lively Belgian and French blend chocolate. Flavors rotate but look for options like toffee chunk, peanut butter, mint, lemon, Creamsicle, and—get ready for this—cinnamon cheesecake. Spinoffs include chocolate-covered Rice Krispies treats, Oreos, marshmallows, and graham crackers. "You can find a chocolate-covered pretzel anywhere, but you don't find my flavors, and that's what sets me apart," she says. She's right. We tried them, and haven't seen anything quite like it in Westchester.
Oh, and those Oscar pretzels—they're decked out in red-carpet-worthy black and gold, dusted with edible glitter.