Once you've walked past the lobby of The J House hotel and into The Garden, you won't feel like you're in Greenwich anymore. In fact, you'll feel like you've left the Tristate altogether and have been transported instead to an oasis of whimsical swings, rose walls, and lush greenery, like a scene out of A Midsummer Night's Dream.
Reopened in June with a new menu and new décor, The Garden is an extension of Tony's at The J House, a full-service Italian steakhouse and bar. "We wanted to bring another dynamic to the hotel outside of Tony's," says Tony Capasso, managing partner of the restaurant. "People can come to the Garden and enjoy a sophisticated venue, have cocktails, and pick on different tapas items."
Capasso explodes with energy. He's the man you'll find zipping across the restaurant, greeting guests, bussing tables, and serving dishes alongside his staff. He's known as the Trivia Guy, asking questions like "What's the capital of Madagascar" immediately after placing fish tacos at your table. (If your guess is wrong, no worries.)
The beverage menu at The Garden is just as summery as the décor. There are craft beer selections, a global wine list, and handcrafted cocktails, like the Coco, a mix of rum, coconut purée, fresh lime juice, muddled mint, and club soda. Food is served tapas-style, and the menu includes selections like tuna ceviche, gyro sliders, and fish tacos made with tempura-battered halibut.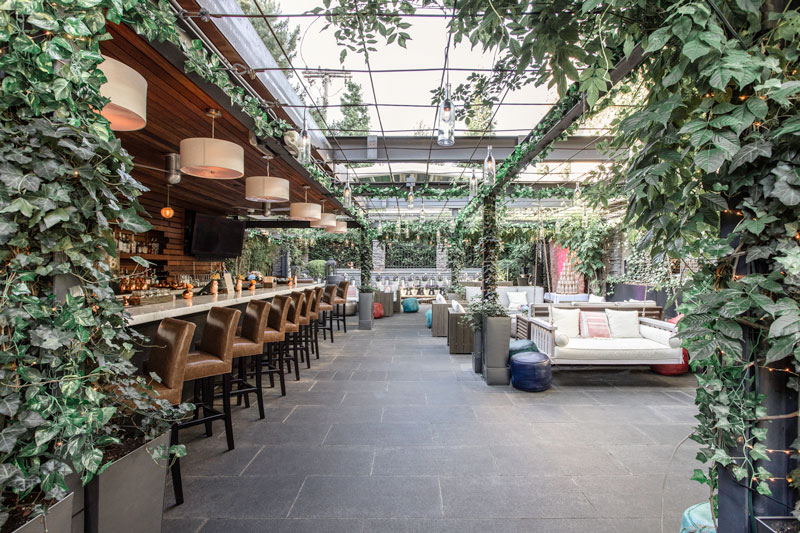 The idea behind The Garden is to create an inviting, sophisticated outdoor space for patrons to get dressed up, meet friends, and (if it's your style) take Instagram-worthy photos. While seasonal, the space will be open as long as weather permits, with outdoor heaters and a newly installed retractable roof to prolong the season.
"People come in and the space sells itself," says Capasso. "The feedback has all been positive. On the money, no question."
The Garden at the J House
1114 E Putnam Ave
Greenwich
203.698.6999
Curious for more insight into everything from weddings and local business happenings to golf and hearty Westchester eating? Surf through all of our daily blogs.