If you're anything like me, you've been counting down the days to oyster season (believed to be any month containing the letter "R"). Although most farmed oysters are safe to eat year round, many connoisseurs believe oysters taste brighter, firmer, and brinier in the fall, winter, and spring.
Now that it's finally September, there's a wider selection of the beloved bivalves available at the county's top oyster bars. Whether you're looking for an oceany, meaty Cape Cod or the subtle, melony aftertaste of a Kumamoto, both East and West Coast oysters can be found at peak quality and not-so-peak prices (happy hour, anyone?).
Here's are eight of our favorite oyster bars, with plenty of mollusks and classic and creative accompaniments.
55 Abendroth Ave, Port Chester; 914.939.2425
For oyster novices and connoisseurs alike, Les Barnes' Saltaire Oyster Bar is a great place to savor high-quality, expertly shucked oysters. With more than 40 years of industry experience, Barnes takes oysters and their sourcing seriously, often changing the menu when quality waxes and wanes.
For beginners, the oyster list includes notes on flavor profiles and salinity for more than 10 varieties, helping diners taste each one's unique terroir (sip the liquor first to get a sense of the flavor). Seasoned veterans, be on the lookout for the deep-water wild-caught Wellfleets — a rare treat.
49 N Riverside Ave, Croton-on-Hudson; 914.271.0702
Brian and Paula Galvin's homey Ocean House brings some of the best fresh seafood to the county, including raw and battered, deep-fried oysters. Raw bar varieties include Blue Point, Pemaquid, Pickle Point, Savage Blonde, and petite, lovely French Kisses (a must-try), served with the trinity of mignonette, cocktail sauce, and lemon.
Fried West Coast oysters are a decadent alternative — the light, crispy batter gives way to a sharp, briny finish — served with tartar sauce and coleslaw. Who says oysters can't be both appetizer and entrée?
169 Mamaroneck Ave, White Plains; 914.997.5600
Lilly's is known for its tapas and small plates, and what's an oyster on the half shell if not a small plate? Sourcing from Down East Seafood in the Bronx, Lilly's serves both East and West Coast oysters — currently Blue Points and Seattle. Served with mignonette, horseradish, cocktail sauce, lemon, and Tabasco, Lilly's oysters hit the spot without breaking the bank, especially during happy hour, when drinks go for just $5 and oysters are a buck a shuck, leaving plenty of room for a diverse meal to follow.
126-128 E Post Rd, White Plains; 914.437.8535
Just a two-minute walk from Lilly's is KEE Oyster House, a pearl of an oyster bar. KEE has an upscale atmosphere and more variety than Lilly's, with Blue Points, Wellfleets, Kumamotos, Cape Cods, Steamboats, and delicate, sweet Beausoleils on the menu.
Their mignonette has a delicious, sweet-onion finish, and oysters are served with cute little labels and a side of warm bread.

Photo by Karen Sims
100 Titicus Rd, North Salem; 914.617.8380
11 River St, Sleepy Hollow; 914.631.8380
Mike Kaplan is the "farmer" and Ed Taylor sources the "fish" for this duo of restaurants, with locations in North Salem and Sleepy Hollow. Taylor, also president of Down East Seafood, is committed to sustainability and quality sourcing. Available this time of year are Wellfleets, Mirada Bay, Chef Creek, Copps Island, St. Simone, and Top Neck oysters, served with lemon, cocktail sauce, mignonette, and horseradish.
In addition to the fresh, environmentally conscious raw bar, the clam pizza makes a great post-oyster dinner.
259 N Central Ave, Hartsdale; 914.761.0057
Although only two oyster varieties (Blue Points and Kumamotos) are available at this Japanese restaurant, Tsuru provides an unique slurping experience, serving raw oysters with a splash of soy sauce and rice vinegar, scallion, fish roe, and a light pink relish. The result is a tiny umami bomb.
These sweet, sour, and salty additions go especially well with the Kumamotos (if you've never had one, this is a great place to try your first), which have a slight melony aftertaste.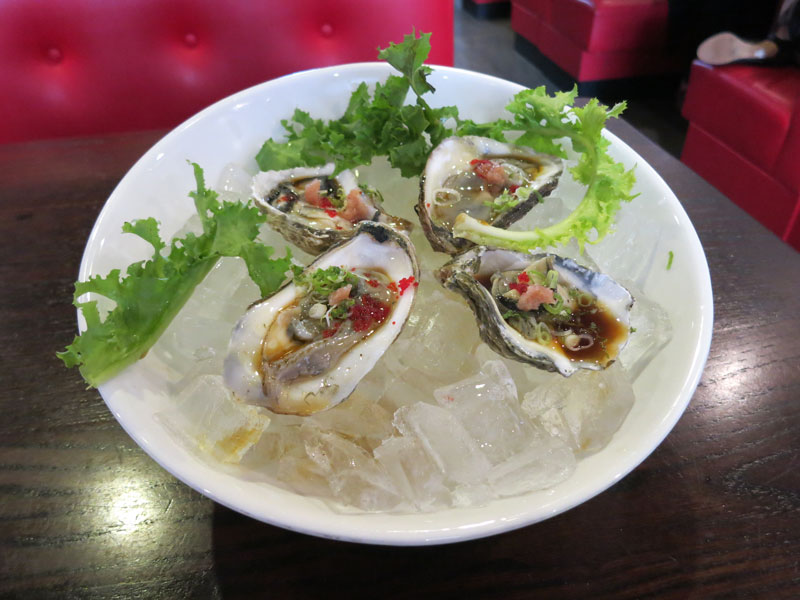 Photo by Karen Sims
19 Main St, Hastings-on-Hudson; 914.479.5243
With childhood memories of Maine, co-owner Jeremy McLellan has a deep love and appreciation for quality raw oysters. In addition to fresh, well-prepared oysters, the star of the show is the house-made pickle granita, which enhances the oysters' natural flavors and "gets that good salty character going," says McLellan. For the indecisive, there's the Chef's Choice platter, which always comes with at least one West Coast oyster and a variety of East Coast oysters.
Drop by during happy hour every Monday, Wednesday, Thursday, and Sunday, 5–7 p.m., for dollar oysters and killer cocktails.

Photo by Jeremy McLellan
Curious for more insight into everything from weddings and local business happenings to golf and hearty Westchester eating? Surf through all of our daily blogs.