It takes, for lack of a better word, chutzpah to open yet another Italian restaurant in Westchester. After all, as a county we're not exactly short on primi, secondi, and contorni; on bucatini cacio e pepe; or on pounded veal chops and garlicky broccoli rabe.
To muscle in on this already well-populated territory takes something special. Nonna Carola Ristorante + Bar, a new Mamaroneck eatery with a setting and offerings elevated well above the norm, fits that lofty bill.
Chef Gus Galvao, who among other things ran Manhattan's celebrated Trattoria Dell'Arte for a time, saw great potential in the property formerly inhabited by Molly Spillane's. "I was waiting for the right opportunity to open my own restaurant," he says. "This building is so well-built, and we're right on a corner [of Mamaroneck Avenue]. I worked hands-on with my designer, and we chose everything together." Out went the imposing wooden bar that was Molly Spillane's centerpiece — in its place are sleek velvet banquettes.
The bar, now cozied off to the side, features Italian marble with gold accents. Modish Sputnik chandeliers with Edison bulbs provide the lighting, making this a nice enough destination for date night, yet comfy enough for families. "We're high-end casual," explains Galvao, who named the restaurant for his grandmother.
Try starting your meal with the caponata, a bowl of warm eggplant punctuated by olives and the surprising addition of cranberries, which provide a sprightly citrus tang. Even better is the fritto misto, a shareable mound of fresh, greaseless fried calamari, shrimp, and eggplant, flanked by pomodoro and basil-ranch dipping sauces. (You'll likely find yourself going "team green" on the sauces, though the house-made pomodoro is exemplary.)
If the generously sized appetizers leave you feeling rather full, loosen your belt. An ample portion of risotto boasts umami-rich hen of the woods, portobello, and cremini mushrooms. Chicken parm, the radius of a medium-sized pizza, astonishes at presentation.
The addition of Muenster to the traditional mozzarella topping creates a distinctive nuttiness, though one might wish for a few more dollops of the whipped ricotta that sits atop the cheesy blanket. (Your doggie bag will be as hefty as if you'd made your weekly Trader Joe's run, and you'll be gratified to learn that the chicken tastes even better reheated.)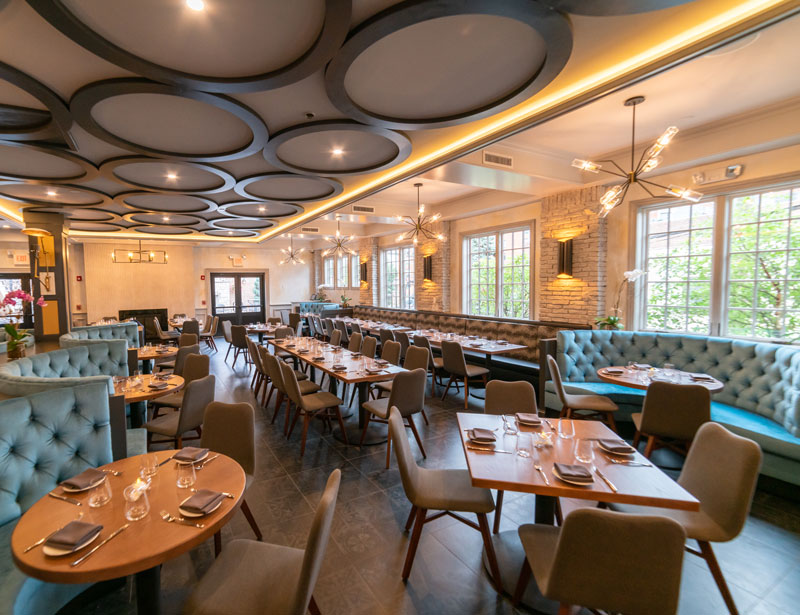 Isn't it funny that, no matter how stuffed you may be, there's always room for dessert? Thin slices of strawberry may be gilding the lily on the tiramisù, but the addition of dulce de leche — a nod to Galvao's Brazilian heritage — is an inspired upgrade. Keep yourself awake for the ride home by ending your meal with a Coffee Talk cocktail, made with vanilla vodka, freshly brewed espresso, and a twinkle of gold leaf on top. When you do dream (though it may not be for a while after that drink), it may well be of your return visit.
Nonna Carola Ristorante + Bar
211 Mamaroneck Ave
Mamaroneck
914.899.3130
Curious for more insight into everything from weddings and local business happenings to golf and hearty Westchester eating? Surf through all of our daily blogs.