By Liz Giegerich
Take a look at the latest additions to bartaco's menu—sweet and savory drinks and desserts that work perfectly with the existing menu. All the new drinks are between $8.50 and $11, and the desserts are $5 to $6. While we recommend testing out the new drinks and desserts, you'd be remiss not to try their margarita and churros, which are menu staples and long-standing favorites.
Leblon cachaca (sweet Brazilian rum made from sugar cane), limes and fresh pomegranate. Refreshing, light and pretty sweet.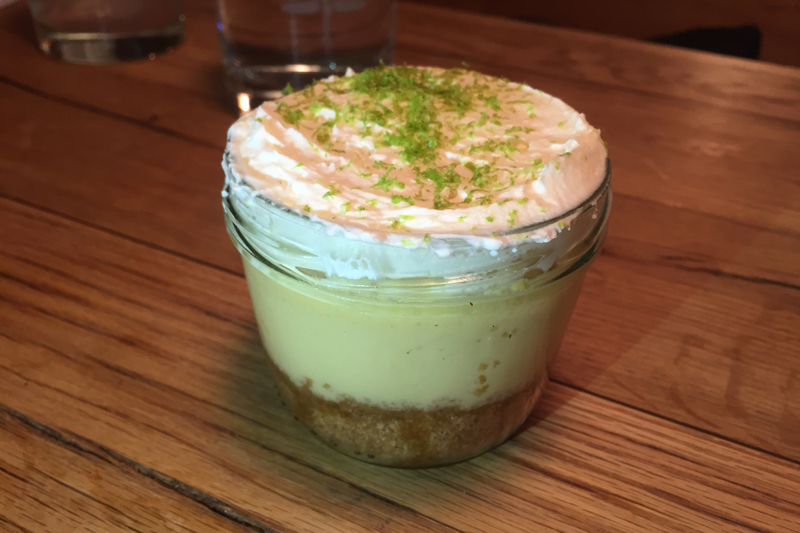 Bartaco's Key lime pie was so good, it beat out the Key lime pie I had just eaten in Florida a week earlier. Plus, it's fun to eat pie out of a jar.
Milagro single barrel reposado and Byrrh Quinquina (an apertif-type liquor with a slight bitter taste), ginger, jalapeno, lemon juice and Peychaud's bitters.
This might sound strange, but think of a Long Island Iced Tea made with tequila—in a good way.
Chocolate mixed with red pepper flakes. This smooth pudding is a terrific end to a delicious meal. The spice is very subtle, and the hazelnut adds to the richness of the chocolate.
St. George Green Chili vodka, tomatillo, cilantro, lime juice, ginger agave syrup, celery bitters
This was one of the most interesting drinks to try. The tomatillo is one of the strongest flavors you notice and the chili vodka is smoother than you might expect it to be, making for a well-rounded cocktail.
Maestro Dobel Diamante tequila, fresh pomegranate and ginger agave syrup, lime juice