Photos by Dave Zucker
What do Richard Gere, Martha Stewart, and I of all people have in common? We all enjoy the new menu debuted by Executive Chef Roxanne Spruance at Bedford Post Dining.
While other businesses are just starting to recover from pandemic closures and having to find new health and safety practices to reopen successfully, The Barn at Bedford Post Inn had an added challenge: completely reimagining the property and menus under a brand-new executive chef. Luckily, Roxanne Spruance has the pedigree to do it.
"We opened the week of February 14 because I'm a glutton for punishment," Spruance jokes. "We closed on [March] 15 and started takeout and are now trying to navigate this."
Hailing from NYC's WD~50 by way of Blue Hill at Stone Barns, Spruance opened her own Michelin Recommended French American restaurant Kingsley in Manhattan in 2016. Westchester successfully lured the Chopped champion and Chicago native to Bedford's Richard Gere/Russel Hernandez-owned Inn, and between the on-site vegetable and herb gardens and the subtle Asian flavors married into traditionally French-American dishes, Spruance's entire professional history can be tasted.
"No matter what you do have to start with the right ingredients," Spruance says. "There's something for everyone on the menu."
Appetizers showcase locally sourced veggies, seafood, and meats, from the raw bar and charred octopus to the bone marrow and grilled wedge salad. Tarte Flambée made with flatbread, crème fraiche, onions, gruyere, fontina, bresaola, lardons, and a drizzle of truffle oil make for an ideal family-style starter that elevates a bacon-pepperoni pizza to levels you couldn't imagine.
Asian influences are clearly present in the sweet and savory lobster Rangoon, but also in the togarashi seasoning of the octopus and the buckwheat and sherry-sake shot that accompanied our roasted bone marrow. (The tuna tartare melds East and West sensibilities almost effortlessly.)
Family style sides likewise respect both hemispheres' cuisines, offering house-cut frites with smoked aioli, "smashed" potatoes, edamame with a mushroom sweet-and-sour sauce, and blistered shishito with miso butter and lemon.
Entrées are even more eclectic. Summer squash pasta skews Korean, combining house-grown squash with white wine, kimchi, and jalapeno and ricotta stuffed squash blossom, while the striped bass toys with Japanese flavors, adding snow peas and snap peas, black sesame gastrique, shiso, and Japanese eggplant.
The hints of traditionally Mexican spicing from the jalapeno also come through in the otherwise typically European style Gloucester Spot pork roast: leg and loin are served with whole roasted carrots still bearing some greens and husk cherries — a relative of both cape gooseberries and tomatillos — over and rich ancho chili mole sauce.
More standard American fare is also available, like hanger steak au poivre, buttermilk fried chicken with spicy peach ketchup, and the house's Barn burger, topped with a fried egg, bacon, and heirloom tomato.
Dessert is also not to be missed. Even a simple cookie and milk is elevated at The Barn, loaded with chocolate chips, hazelnuts, and coconut with a milk frosty. Cherry claufoutis with amaretto semifreddo offers something a bit lighter, as does the passion fruit brulée nestled in its toasted meringue over coconut cream.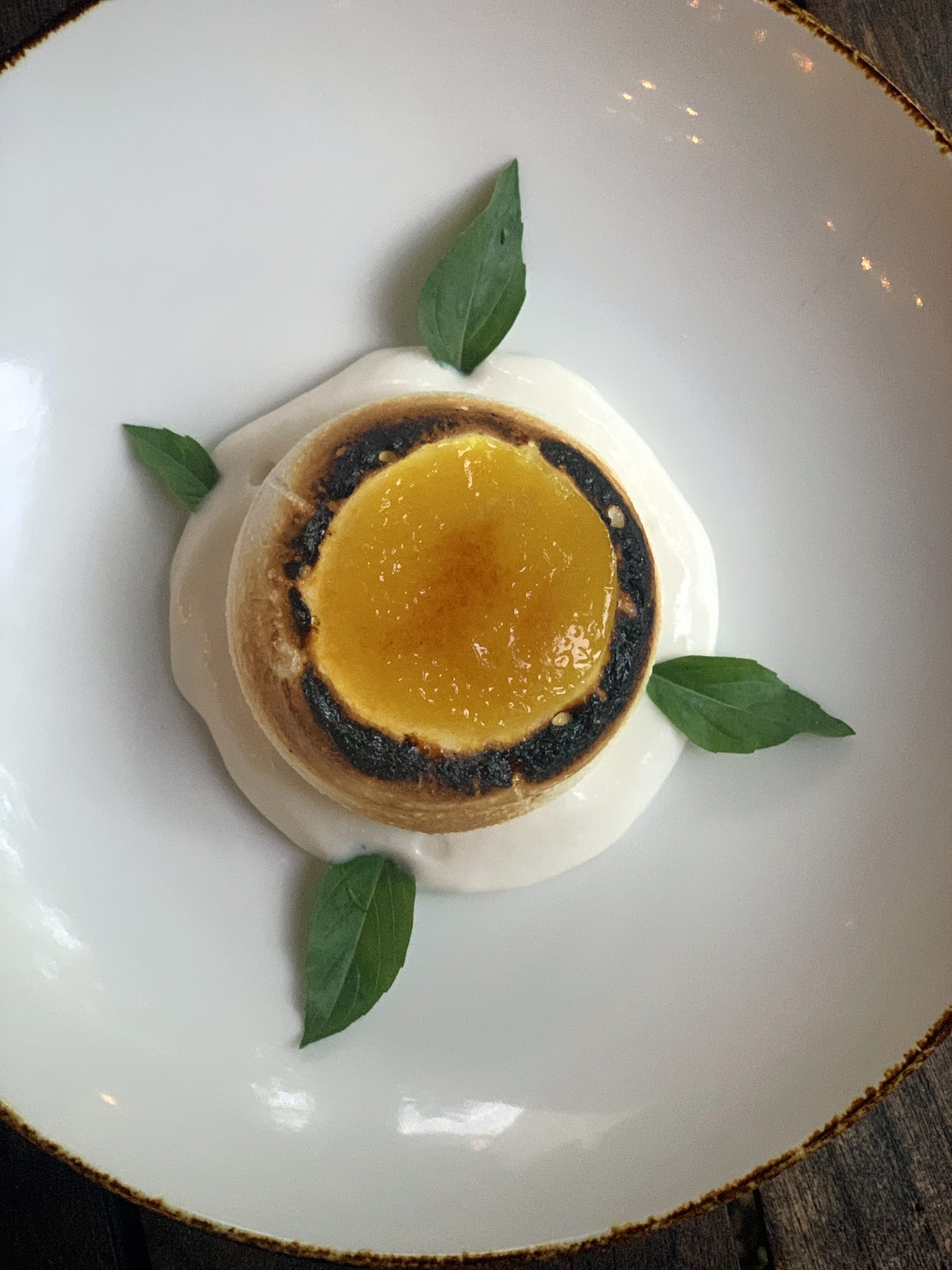 For something a bit fruiter, try the tropical sundae, which sports guava, mango, papaya, and salted caramel with lychee ice cream. Continuing the Asian-inspired through line of the menu, the matcha ice cream sandwich bookends green tea ice cream between matching fluffy cake with peach jam and a refreshing raspberry sorbet.
For our money, though, there is no more proper dessert than a decadent chocolate cake so sinfully rich that its taste alone allows you to forget where you are and simply exist in a state of hedonistic dopamine absorption. Chocolate pudding cake, prepared by Pastry Chef Luke Deardurff, is served with brown sugar ice cream, fresh berries, and raspberry crunch and garnished with chocolate mint and it's so frustratingly good that I am personally angry that I am not eating it again right now.
The Barn at Bedford Inn, the primary restaurant on site, has reopened with 46 outdoor seats and more on the way with a coming patio expansion. Reservations have hit capacity every weekend since and the restaurant is packed most weekdays as well, while still offering to-go service. Additional plans are also in the works for The Terrace, and outdoor arena geared towards cocktails and tapas plates sometime later this season with a full wood burning kitchen. The Farmhouse, the Inn's fine dining establishment, is expecting to reopen for prix fixe seating Spring of 2021.
Guests are already coming from far and wide, but the fact that the new chef and menu are both popular with locals is a very good sign, especially when those locals include high-profile foodies who know their stuff. (Yes, we really did sit next to Martha Stewart and yes, we absolutely were freaking out the entire time.)