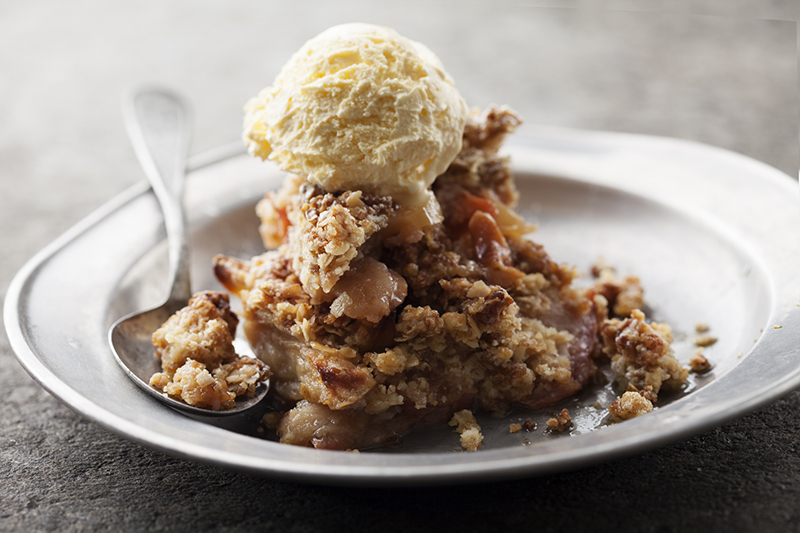 As the weather cools and the leaves change, it's time to bust out those fall desserts. From apple pie to specialty chocolates, here are seven Westchester spots you have to hit to taste the best of autumn.
Is there any fall dessert more comforting than pie? At City Limits Diner, Pastry Chef Tracy Kamperdyk Assue offers updated classics like pecan pie spiked with Wild Turkey Bourbon, pumpkin and Tahitian vanilla bean cheesecake, and a rustic, yet refined cinnamon apple crisp.
200 Central Ave
White Plains
(914) 686-9000
www.citylimitsdiner.com/
Photo by Paul Johnson, Provided by City Limits Diner
With Halloween around the corner, complete your festivities with gourmet sweets like candy corn-topped cupcake or a pumpkin- or ghost-decorated truffle. You can even learn how to make your own Halloween chocolates throughout October.
137 Purchase St
Rye
(914) 481-4840
http://www.bluetulipchocolates.com/
It's not getting any warmer outside, and ice cream is probably the last thing on your mind when you think of your favorite fall desserts. Penny Lick opened its first brick-and-mortar location in September, which will serve (among others) its special, fall-only flavors, like Drunken Pumpkin, made with pumpkin custard spiked with bourbon.
580 Warburton Ave,
Hastings-on-Hudson
(914) 252-1580
http://pennylickicecream.com/
This mouth-watering, fall pie-only menu gives you options in a pumpkin dominated season. Choose from flavors like pear with spicy ginger, sweet peach-plum, and a decadent apple and salted caramel crumb pie.
4 South Astor St
Irvington
(914) 231-7779
http://www.redbarn-bakery.com/
Caramel apple cupcakes, traditional pecan pie, apple turnovers, and a new cinnamon swirl bread are just part of what we love about Baked by Susan's fall menu. Enjoy a cup of coffee at a window seat while you indulge your sweet tooth at this Rivertown shop.
163 Grand Street
Croton-on-Hudson
(914) 862-0874;
http://bakedbysusan.com/
Whether you want to savor a warm almond cookie, or get cozy with a seasonal pumpkin muffin, By The Way Bakery proves that gluten and dairy free can be oh so sweet. Trust us, you won't even know.
574 Warburton Ave,
Hastings-on-Hudson
(914) 478-0555
http://www.btwbakery.com/
Harvest Moon Farm & Orchard
Apple cider doughnuts are a fall classic, and Harvest Moon is making them fresh. Make sure to grab a cup of cider to wash them down.
130 Hardscrabble Rd
North Salem
(914) 485-1210
www.harvestmoonfarmandorchard.com