Living in Norwalk, CT, it's easy to be spoiled by all the frequent trips to New York City. Occasionally though, the close proximity can make you inadvertently neglect some really great areas of the city. This happened to me with Arthur Avenue in the Belmont section of the Bronx, a 35 to 40 minute car ride from where I live, but so close I took it for granted like I had been there just the other day. The fact is I hadn't been in upwards of 20 years. Time sure does fly.
When the opportunity arose to take a walking group tour of Little Italy—and make no mistake, it is the REAL Little Italy—I jumped all over it with plans to basically go grocery shopping and stock my fridge full of Italian ingredients. It's no joke; I brought coolers and hot and cold bags.
Christian Galliani and Danielle Oteri, owners of Feast on History.
The experience came courtesy of the husband and wife team of Christian Galliani and Danielle Oteri who run Feast on History, offering wine-centric tours of Southern Italy, but of Arthur Avenue as well. The excursion is a delightful one that combines history, tips on where to get the best Italian goods, a little eating and wine sampling, and shopping if you so desire.
Our crew of writers and chefs met at 11 am on a chilly Saturday in March and off we went to explore the avenue of strong espresso, creamy cannolis, and plenty of pork.
I could brag about the whole trip but we'd be here a while. Instead, because this is a food post after all, I'll chat about my three favorite specialty stores we visited during the tour.
Calabria Pork Store
The sausage-lined ceiling at Calabria will surely make you stop and stare.
When you walk in and look up at the sausages hanging from the ceiling you'll immediately know you're in pork heaven. The meat cases are stocked full of the run-of-the-mill products like sausages, chops, and braciole, but there are also snouts, cheeks, and other spare parts that true carnivores will appreciate to the fullest. Don't leave without buying or trying the spicy sopressata and they have guanciale (cured pig's jowl) too, which I picked up in preparation for making authentic carbonara.
Fresh breads line the windowsil at Addeo & Sons
As soon as you crack the door—I mean, stand on the sidewalk outside—the smell of fresh baked bread smacks you in the face and encapsulates your senses. It's easy to lose control and buy up every last loaf of Italian bread, but take a second, calm down, and buy up a variety of things instead. Anisette cookies, bags of house-made breadcrumbs, crispy breadsticks, fresh pizza dough, and semi-sweet chocolate rolls; Addeo Bakery has lots of temptations. One thing you'd be a fool to pass up is a ring of lard bread (aka prosciutto bread); a buttery, flaky bread with a slightly chewy inside and a crusty exterior that's baked with salty chunks of cured pork in it. It's so good that our group practically cleared out the self-serve windowsill of the entire stock.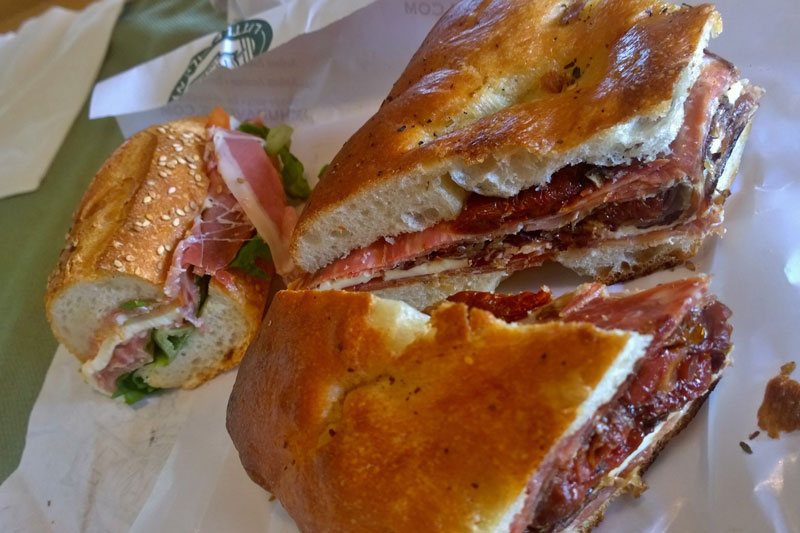 There's a lot of cured meat going on here.
Located in the Arthur Avenue Retail Market, Mike's Deli has been a staple for the past 50 or so years, and behind the cramped counter it's fast and furious. There's usually a steady line of customers at peak times and days so it would be wise to be ready to order to keep it moving. The Italian combo I ordered was mostly okay, but I opted for the focaccia bread that I found a bit too dense. They do however make all bread in-house (I liked the grinder roll over the focaccia), along with fresh mozzarella that is a must order. I was lucky to get a sample of still warm mozzarella when I waited for my order and its creaminess almost made my knees buckle, it was really that good. I also noticed that Mike's is a hotspot for folks ordering freshly sliced, imported deli meats. One word you'll hear a lot of here is "PROSCIUTTO!"