By Christina Farah and Tim Palmieri
February 25 is National Chili Day so tuck in your bib, grab a big spoon, and check out these 10 spots.
With the restaurant's name in its moniker, you know the chili at this North Salem pub is a house specialty. We even awarded them Best Chili in our 2003 Best of Westchester issue.
The Blazer Pub
440 Rte 22
North Salem
(914) 277-4424
www.theblazerpub.com
You can order a simple bowl of chili with cheddar cheese and raw onions at Piper's Kilt, but why not have it with one of their award-winning burgers? Set the calories aside for one night and order the Eastchester burger with bacon, cheese, onion rings, and a side of chili. Feel free to put the chili in the burger. No one will judge you.
Piper's Kilt
433 White Plains Rd
Eastchester
(914) 779-5772
www.piperskilt.com
No one does beef chili like Texans, but you can find a smoky bowl closer to home among the Cajun offerings at the Rye Roadhouse. In classic Texan style, the chili is made with chunks of steak, slowly braised with spices. You could also start your meal with chili sticks served with queso dipping sauce or opt for their chili con carne made with a blend of pork and beef.
Rye Roadhouse
12 High Street
Rye
(914) 925-2668
www.ryeroadhouse.com
Of course, you can't talk about Texas chili without bringing up the beans versus no beans debate. Chili purists say Lone Star State chili should be unadulterated by legumes, and that's exactly how's they're serving it up (smothered in cheese) at Q Restaurant and Bar.
Q Restaurant and Bar
112 Main St
Port Chester
(914) 933-7427
www.qrestaurantandbar.com
It's a bit unusual to find chili on the menu at a French bistro, but at Le Jardin du Roi they also serve some serious barbecue (and where there's barbecue, there's often chili). Several cuts of steak and five types of beans get a spicy kick from chorizo sausage and a variety of Mexican chilies, including poblano, serrano, jalapeño, and ancho.
Le Jardin du Roi
95 King St
Chappaqua
(914) 238-1368
www.lejardinchappaqua.com
Since barbecue and chili go hand in hand, why not put the barbecue in the chili? In the Tap Room at Crabtree's Kittle House, Chef Jay Lippin blends ground beef with chopped, smoked brisket for a distinctive barbecue tang. If you don't eat meat, there's also a Hudson Valley vegan chili made with beans, chickpeas, and lentils.
Crabtree's Kittle House
11 Kittle Rd
Chappaqua
(914) 666-8044
www.kittlehouse.com
Beef isn't the only choice for rich, meaty chili. At Bridge View Tavern in Sleepy Hollow, they're upping the ante on chili cheese fries by making their chili from housemade wild boar chorizo. As if that's not indulgent enough, it's also topped with a creamy cheese sauce, applewood-smoked bacon, and pickled jalapenos to cut through all that richness.
Bridge View Tavern
226 Beekman Ave
Sleepy Hollow
(914) 332-0078
www.bridgeviewtavern.com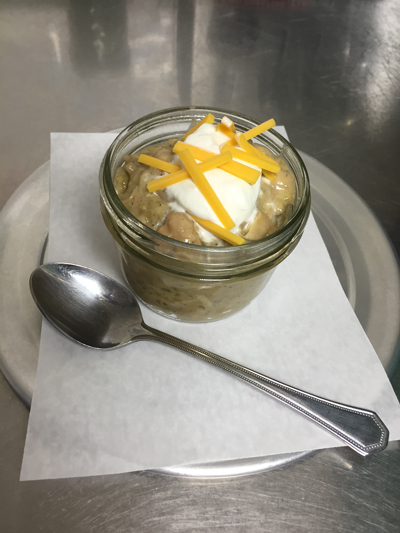 Maybe wild boar chili cheese fries are a little rich for your taste. Lighten up with a cup of white chicken chili with fresh herbs and cumin at the Tavern at Croton Landing, or pick up a quart next door at The Sidecar.
The Tavern at Croton Landing
41 N Riverside Ave
Croton-on-Hudson
(914) 271-8020
www.thetavernatcrotong.com
Chili's not exactly a health food, but Green Life in Mamaroneck is transforming it into a Southwest-inspired protein bowl. Their Lean & Meal bowl features turkey chili, roasted sweet potato, avocado, corn salsa, and Greek yogurt, and comes in at a waist-conscious 351 calories.
Green Life
266 Mamaroneck Ave
Mamaroneck
(914) 341-1725
www.greenlifeny.com
Still can't get enough chili? Head to Texas Chili in Port Chester, where just about everything—hot dogs, burger, onion rings, fries, wedges, and wings—comes with chili. There's no chili on the dessert menu, but that's probably a good thing.
Texas Chili
8 S Main St
Port Chester
(914) 937-0840
www.texaschilirestaurant.com