PHOTOGRAPHY BY CATHY PINSKY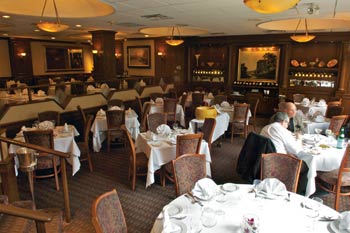 Mulino's classy retro sunken dining room.
Mulino's of Westchester is like those "special-occasion" Italian restaurants we went to as kids. It's big, almost country-club big, with minions of vest-and-bowtie-clad waiters servicing a bi-level dining room separated by three or four stairs.
The décor doesn't make the ambience here, though—the patrons and the staff do. Correction: at the holidays, fabulous amounts of holiday kitsch, including a three-foot moving Santa and eight reindeer heads bobbing in time to the music and lights, a cluster of six-foot-high candy canes, and uncountable tinselly, twinkling somethings that hang from the ceiling, have a significant impact on the ambience. Even the most sophisticated and urbane diner can't help but smile at the excessive visual cheer and good tidings.
Mulino's is never about restraint; it is a restaurant about "more." At times, this works in the patrons' favor, as in the lovely extras brought to the table with drinks. Small chunks of nutty, sharp Parmigiano-Reggiano are chiseled off an enormous wheel and served to each diner along with a few slices of mildly spicy soprassata. A moment later, you are served bruschetta: tomatoes magically flavorful in the middle of winter tossed with a hint of balsamic vinegar, extra-virgin olive oil, fresh basil, and a little red onion, soaked just far enough through the bread to leave a crusty toasted shell. These were followed in quick succession on one occasion by cold, thinly sliced fried zucchini that were tasty though soggy; another evening by a salad of marinated, meaty, small white mushrooms that our table of four gobbled down, only to have it replaced with another. All this, mind you, before we'd even been given menus.
The first-rate Renaissance dessert, yummy layers of almond meringue, chocolate cream, and mocha buttercream.
Service at Mulino's is smart and professional. We were handed menus and at the same time told of specials; far better than to be told after reaching a decision. There is always a waiter when you need one and the timing of courses is smooth.
The pacing and service were consistently good, and the prices consistently high. Of the 20 fish and meat entrées, 14 were over $30, and, of those, three passed even the $40 mark. Still, the place was packed. Why?
Certainly, the complimentary appetizers make you feel welcomed. Indeed, the staff does a good job of making everyone feel welcome, and it is an easy and comfortable place to visit, whether with family (including young children) or friends. Still, that can't fully explain the packed dining room. And then it hit us. Mulino's, with its Old World Italian menu, is the kind of place at which you're likely to find at least one dish you really love: one dish you'll come back for, because it tastes just like Mama's, or because you wish you had a mama who made you food like that. So what if there were some dishes you weren't quite as keen about? It's not as though you loved everything your Mama—real or imagined—cooked, either.
Our mamas never made artichoke-and-ricotta ravioli, but if they had, maybe they would have been like these warm, creamy pillows topped with just a little bright, rich tomato sauce. Tomatoes and cheese—that oh-so-Italian marriage—made passionate love when the cheese just happened to be burrata, the nearly oozy and very popular mozzarella, and the tomatoes in gorgeous, deep red and saturated yellow wedges of summer. Yes, at $17.75 it was costly for an appetizer, but, hey, we're worth it.
For about the same money, we also had two enormous shrimp whose inherent sweet, fresh flavor was obscured by an odd sweet brown sauce. In comparison, classic baked clams oreganata seemed like a bargain—until we tasted the chewy clams. If you're yearning for classic, go instead for a half-order of the ravioli with brown butter and sage as an appetizer (although it is almost enough for a dinner): four huge ravioli with a filling of ricotta, not grocery-store variety, but a cheese with texture and mild—but actually present—flavor.
Chicken scarpiello bore little resemblance to the dish we know, which sports bell peppers, big slices of garlic, and, often, sweet Italian sausage. Instead, tender morsels of chicken were cloaked in an appealing lemony frock, much like chicken Francese. Even better than the chicken was the accompaniment of a tender, creamy potato gratin that just melted in our mouths.
A generous portion of jumbo shrimp, small lobster tails, scallops, clams, calamari, and scungelli served in a light tomato sauce was disappointingly dull. The seafood had lost its sparkle and the flavors muddled.
There was nothing indistinct in the double-cut veal chop Valdostano stuffed with proscuitto and mozzarella and drenched in an over-the-moon brandy-cream sauce with shiitakes and peas. Not only would the portion feed a small nation-state, this dish was so rich it nearly hurt. This is for the boldest, fearless eaters among us. For the rest, a bite or two is all the heaven we can handle.
Desserts, in general, were less outrageous, but pleasing. Homemade zeppoles were more like slightly cakey donuts—not that that's a bad thing—than the usual fried dough. The Renaissance dessert was a gargantuan layered tower of almond meringue, chocolate cream, and mocha buttercream covered in fluffy sweetened whipped cream and toasted almonds. Ethereal textures and layers of sweet flavors made this dessert too deceptively light. A dessert ideally suited to sharing is the hot zabaglione, prepared tableside with finesse. Regardless of the enormous meal you've just ingested: the sight of the warm, fluffy sauce flowing into a goblet of fresh berries is bound to somehow allow you to find room.
★★★
99 Court St, White Plains
(914) 761-1818; mulinos.us
Lunch Mon to Sat 11:30 am–4 pm; dinner Mon to Fri 4 pm–11:30 pm, Sat 5 pm–12 am. Appetizers: $9-$24.50; pasta: 18.50-$38.50; entrées: $18.50-$44.50; desserts: $8.75.
★★★★—Outstanding ★★★—Very Good
★★—Good ★—Fair