Photos courtesy of respective eateries unless otherwise noted.
Why spend a fortune to get a superior meal in our well-heeled county? Here are some of Westchester's inexpensive — yet delicious — eats.
By Cristiana Caruso and Michelle Gillan Larkin
It's known that Westchester is a veritable and delectable font of finer dining, but when the appetite craves a meal that won't break the bank, the county offers a wealth of quality eats at a more palatable price point. For us, that dine-or-dash number is $14, preferably less, and it is entirely possible to fill up and do it well, with style. From chef-led fast-casual cafés and often-pricey farm-to-fork and vegetarian meals to lesser-known lunch specials, we think you'll find these options fit the bill for a solid, even elevated, meal, with a price tag that's easy to stomach.
Fast Casual
Affordable, sit-down-quality cuisine in pleasing, café-like surrounds or convenient takeaway carriers
Duke's Ramen
Mamaroneck; @dukes_ramen
On the other side of the spectrum from its burger-slinging sibling restaurant, Duke's Ramen is offering authentic Japanese ramen counter service with a Westchester twist. Like a lighthouse bringing you to safe shores, let the neon ramen sign guide you to a spot at the counter, but leave any thoughts about overpriced bowls in the rearview. Warming slurps of pork belly or chicken chashu ramen will run you $13, with plenty of wiggle room to add toppings like a soft-boiled egg or wood ear mushrooms for an extra buck or two.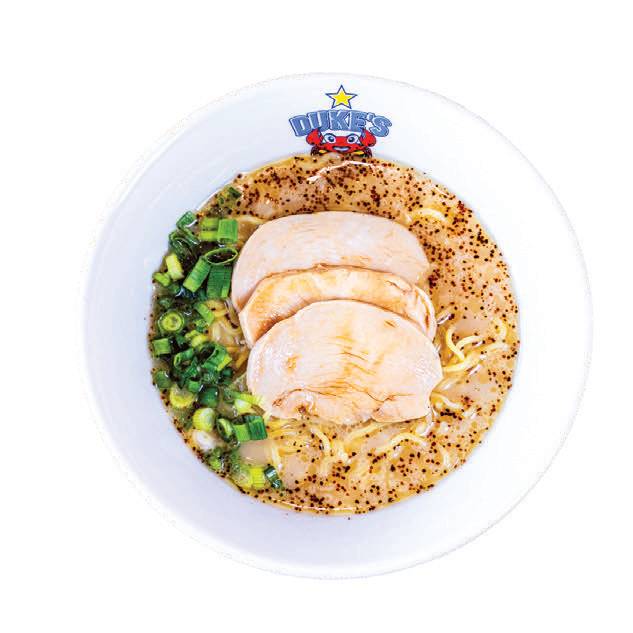 Latusion
Harrison; latusionfoodtruck.com
With a cult following for good reason, Latusion consistently produces Peruvian Latin fusion dishes with flair. There is no wrong way to order off the menu, but one of the most economical epicurious entrées is the boneless fusion wings. At just $14, you'll receive a massive tin of marinated boneless wings, fries, and blue cheese, to enjoy in their lushly decorated new brick-and-mortar space. It won't take long until you're transported somewhere else from the Harrison storefront.
Le Curry
Scarsdale; lecurryny.com
Hailing from Southern India and a master of both Indian and French cooking, Jose Kochuveetil offers the best of both worlds at his family-run, fusion-style establishment, where the mixed-grill lineup is a sleeper hit among pricier Provençales, Dijonnaises, and myriad curries. Marinated and grilled beef, pork, or chicken (or all three in one plentiful platter for the same cost-conscious price of $13.25) is served with basmati rice, salad, and house-made yogurt and mayonnaise sauces, for a filling and fully affordable entrée-esque experience.
Meat The Greek
Eastchester; meatthegreekny.com
The entire protein-packed menu (save one special burger) at this modern, white-tile-and-stainless-steel standby weighs in at less than $14, including the signature gyro and souvlaki platters, which come complete with fries and salad. Owner George Menegatos serves "real gyros," noting: "In Greece, gyros are always pork." Hand-stacked in the traditional manner, the pork (or chicken, if you must) is thinly sliced, marinated, skewered, and placed in a rotisserie, as opposed to Americanized gyro meat, which is simply ground beef molded with lamb. If you opt for one swaddled in a fluffy pita, expect fries tucked inside instead of lettuce (score!).
Tako
Yonkers/Harrison; takomexican.com
A succinct but plentiful menu covers all the Mexican street-food classics, like nachos, tacos (three per order), burritos, quesadillas, and rice bowls, with off-the-cob street corn and churros adding a dash of culinary cachet. Nearly every single cooked-to-order dish comes in at under $14, including on-trend birria burritos and quesadillas, and even a blooming rice bowl with steak. The ambience is intimately inviting and roomy, sporting hand-painted murals; at the Yonkers location, a wall of repeating Frida Kahlo faces presides over it all.
Vegetarian
With a reputation for sporting a hefty price tag, these vegetarian spots buck the trend.
Falafel Taco
Pleasantville; falafel-taco.com
Tucked in between two fluffy pillows of laffa bread, the "Mexighanoush" taco layers spice, flavor, and savings. Black-bean falafel, eggplant baba ghanoush, pico de gallo, and chipotle mayo make a meal full of fiber and vitamins for $10.39 — a meal you can feel good about from all angles.
Green Life
Mamaroneck; greenlifeny.com
Calling this upbeat, quick-serve stop a "destination focusing equally on nutrition and taste," the Caligiuri brothers (Anthony, Greg, and Mark), dish up a vast array of easy-on-the-wallet juices and energizing smoothies, protein- and super-food-laced bowls, craft sandwiches and wraps, blossoming salads, and all-day breakfast. Vegetarian, vegan, and GF options abound, but there's plenty of meat on the menu too.
Grass Roots Kitchen
Tarrytown; grassroots.kitchen
Locally sourced farm fare is the focus at this fast-casual hotspot situated in a petite shopping strip, regardless of whether you order from the meat-based or vegetarian side of the menu. The "burger" offerings shine brightest, particularly the signature beet burger, piled high with vegan Swiss cheese, watercress, pickled onions, and secret sauce, and includes change for a ten.
Jolo's Kitchen
New Rochelle; jolosrestaurants.com
Serving up healthy vegan meals for 15 years, this Caribbean-inspired hidden gem has unique takes on the standard. Grab Jolo's famous Philly Ribz sandwich, with lettuce, tomato, and vegan mayonnaise, for a hearty, meat-and-dairy-free meal that's only $14. Good for the environment, the body, and your bank account.
Masala Kraft Café
Hartsdale; masalakraftcafe.com
While many of the signature dishes come in just a tick over budget, the lengthy lineup of authentic dosas, paratha wraps, and roti rollups at this village vegetarian are a steal. Ten bucks, give or take, will fill your belly with healthful, protein-packed paneer, lentils, and chickpeas while tickling your taste buds with the seasonings and spices of India. "Our combination of chutneys provides a different flavor in every bite," says owner Jasumati Vaghji.
Handhelds
Easy-to-consume eats at a price that's even easier to swallow. (Look ma, one hand!)
Burritos
Tomatillo
Dobbs Ferry; mexchester.com
Boasting "farm-to-taco" ingredients sourced from Hudson Valley farmers, the same holds true for the dozen burritos in the lineup, half of which come in at $14 or less. Owner David Starkey's top pick is the La Flor, which involves an orb of freshly made organic wheat and cassava root dough hugging roasted cauliflower, kale, guac, cilantro pesto, and rice and beans. "When you slice it in half, you see all these beautiful colors," he says, with flavors to match.
Hot Dogs
The Dog Den
White Plains; thedogdenwhiteplains.com
Let's be frank: We all know the all-American hot dog isn't sending anyone to the poorhouse anytime soon, but did you know that the next-level dogs Dennis Rubich dishes out won't either? His staggering array of accoutrements — "from classic to fantastic [for] some fun on a bun" — includes toppings of Dalmatia fig jam, blue-cheese crumbles, guacamole, fried pickles, red-onion sauce, chili sauce, nacho cheese, and good ol' classic kraut. Even an upgrade to hot sausage or a veggie dog won't leave you broke.
Sandwiches
The Bahn Mi Shop
White Plains; thebahnmishopny.com
These thin, airy baguettes that eat like a meal are traditionally layered with Vietnamese ham and roasted ham, plus pickled veggies and mayo-like condiments, but at this cash-only quick-stop spot, they can also be stuffed deep with highfalutin fried shrimp, catfish, grilled tofu, or short ribs while still managing to stay on budget ($8–$11) and be overly delicious. (Not for nothin': Protein-packed pho and rice bowls are also a steal.)
Pik Nik BBQ
Tarrytown; piknikbbq.com
Say "cheap" about chicken 'til the cows come home, but the buttermilk fried chicken sandwich at this distinctly Southern corner nook is an on-budget standout. "You don't usually see fried chicken made with an organic bird," says owner Hassan Jarane. Plus, the delicate, crunchy coating (fashioned from rice flour) boasts every bit of the finger-lickin' goodness carnivores crave. Eight other sammies ($13 or less) feature smoked, crispy pork belly with garlic aioli and freshly sliced Prime beef brisket sure to placate committed beef buffs.
Tacos
Little Mexican Café
New Rochelle; littlemexicancafe.com
A hotspot with a special place in the hearts of downtown NewRo dwellers, Taco Tuesday will get you the signature tacos starting at just $1. If you show up on any of the other six days of the week, you can still indulge in the soft tortillas and tender meat. For $10, the mini taco platter awaits, made up of a combo of al pastor, roast pork, steak, chicken, and chorizo.
Taquerio Taco Bar
Yonkers; taquerio.com
Perched at the very edge of the Hudson, with sweeping liquid vistas as a mesmerizing side dish, Jimmy Rugova's upmarket taco lineup beckons with ingredients and kitchen twists unheard of at such an easy-to-stomach price point. Nine pockets of perfection (served two per order, priced $9–$12) are on offer, from hearty slow-cooked beef birria with avocado mousse and chicken in citrus confit to blackened monkfish, Spanish octopus with chorizo, and the showstopping poached shrimp with eel sauce in a crisp wonton shell.
Mason Sandwich Co.
Eastchester; masonsandwiches.com
Mason Sandwich Co. is rife with creative sandwiches stacked to the high heavens. With nearly half the 'wiches on the menu coming in under budget, the crispy eggplant with Oaxaca cheese and the buttermilk battered chickwich are calling your name. And how could we pass on the house-made potato chips?
Walkables
Take your food for a sunny-day stroll with these affordable mobile meals that hold up well on the go (even in the car).
Noble Pies
Rye; noblepies.com
Dishing up as many savories as it is sweets, this local pie shop is a sleeper hit for a stellar, filling, and fast meal that may flash you back to Grandma's kitchen. At $6.95 a slice (which obviously means get two), it's impossible to pass up favorites like the buffalo chicken, sausage and cheddar, shepherd's, and mac 'n' cheese pies. Even picking only two is a monumental task.
Gyro Gyro
Hartsdale; gyrogyroonline.com
Chow down on a massive tin of the Greek hotspot's namesake: Gyro Gyro fries. Crispy, well-seasoned French fries are topped with a choice of protein (get the beef-and-lamb gyro meat), mozzarella, and the joint's special pink sauce. The dish works as a one-two punch of cheesy goodness and comfort without any pains to your wallet, running you $11.95 for a simple, satisfying meal.
Caribbean Thyme
White Plains; carithyme.com
A buffet with endless options and only running you $7.99 a pound, there is truly something for everyone at this Jamaican restaurant. Offering homestyle cooking with love in each bite, pack your plate with foods like jerk chicken, plantains, pepper steak, seasoned rice, and candied yams. While you can easily stay within budget, we won't judge if the smells of goodness make you go a bit overboard.
Shirley's India
New Rochelle; shirleysindia.com
Out of a small walk-up window framed by eye-catching neon, you'll be served home-cooked Kerala fare with a price tag that may have you doing a double take. The Street Box, reminiscent of Southern Indian street food, comes with your choice of five proteins — including a cauliflower option — banana chips, street-cart fries, rice, and chopped naan. Depending on your meat choice, this'll run you $10 to $13, but for an extra $5, you can splurge and get double meat, because double the goodness, natch.
Halal Guys
Yonkers; thehalalguys.com
You know it; we know it; the people in the line at 53rd and 6th know it: This now-iconic, yellow-and-red umbrella-clad cart serves some of the best cheap eats, especially if you were a commuter back in the day. If you've got a chicken-and-rice hankering (or beef or falafel), no MetroCard is required: Bounce over to the Yonkers location for their signature platter, for $12.99. Extra white sauce, please.
Lunch Specials
A savvy way to sample the cuisine and avoid the pricier dinner menu.
Gustico Latin Kitchen
Yonkers
Siblings Fernando and Yolanda Tiaeo muster "memories of home" with nostalgic favorites from the Dominican Republic, providing ample opportunity for fellow immigrants and newbies alike to get a taste of it all. "When Dominican people taste the roasted chicken, the flavors will right away remind them of their grandmothers' cooking," says Fernando. Roasted or stewed, with a side salad, plantains, or rice and beans, that chicken platter will set you back less than $10 at lunchtime; the goat stew, pepper steak, ribs, salmon, and pork chops won't do much worse.
Kiku Sushi
New Rochelle; kikusushigrill.com
A bento box is kind of like meal prepping… if someone else put it together, and it was full of delicious food you didn't have to make yourself. Find the solution to your daily kitchen dilemmas with a $10.25 box that comes with soup or salad, shumai, edamame, rice, and protein options, such as chicken katsu or shrimp tempura. Yes, that is enough food to double as dinner. Talk about stretching a buck!
La Hacienda Meat & Grocery
Yonkers; lahaciendameats.com
Let your nose guide you to a vibrant, colorful booth at the back of La Hacienda Meat & Grocery — a spectacular specialty market and immaculate luncheonette — for tender pork and a heartwarming testament to home-cooking and family vibes. The soul-soothing pernil (pork shoulder) is marinated for two days, then slow-roasted for four hours and served up with rice and beans — an impossible value for only $11. Grab a Jarritos to wash it all down, and give our love and respect to Rich and Frankie Magana, the Jalisco brothers, who are the brains and heart behind it all.
La Herradura
Mamaroneck; laherradura-mamaroneck.com
Festive and bright, with blue-and-yellow decor, this is a taco- and burrito-lover's paradise, particularly at lunch, when you can get it all on one plate, alongside rice, beans, and salad for $9 per combo. Carne asada and fajitas of chicken, shrimp, and steak are served for a song, as well.
Panka Peruvian Bistro
Port Chester; pankabistro.com
Around noon, dive into the essence of Peru without swimming south or selling your firstborn, with $11.95 specials that run the gamut, from fresh, succulent ceviche and traditional fish Milanese with yucca fries and salad to a simple and soothing free-range rotisserie chicken, served by the quarter, with soup, rice and beans, and salad or plantains.
Tomo Japanese Cuisine
Yonkers; tomoyonkers.com
It's hard choosing just one sushi roll, so Tomo has found a solution: You can have three delectable rolls for $13 at lunchtime. With options like the spicy crunchy tuna, yellowtail jalapeno, and eel banana, it's still a tough decision, but at least every single one will be the correct one.
Is a hot dog a sandwich?
According to Merriam-Webster, a sandwich is "two or more slices of bread or a split roll having a filling in between." By technical definition then, the hot dog is a sandwich, yet some of us choose to look past society's labels and declare that the concept of a sandwich is more metaphysical than architectural. In fact, some proponents have even gone so far as to say that hot dogs are actually tacos (wild claims, we know). Here's what our readers had to say:
18% YES
84% NO
Related: Savor Greek Cuisine at These 6 Westchester Restaurants