Culture vultures' best bets for dance, film, music, and more. Editor's Picks
New View (Pictured)
RiverWalk at Croton Landing Park
Croton-on-Hudson
We're greedy for scenic vistas. We want to see the Hudson from every angle, to inspect every inch of the Palisades that we can spy from across the River. The newest section of the County RiverWalk, which opened last year, gets us right up to the shore of the Hudson for prime view-drinking. It also links up with an existing section of the RiverWalk, so now you have two miles of sidewalk for strolling. Believe us, the awe-inspiring panoramas are much more motivating than anything you can spy from the treadmill at the gym.
Homage to a Bygone County
Mad Men Ossining
Others watch Mad Men for Don Draper's steamy exploits or to gawk over fabulous mid-century interiors. We, on the other hand, have a deeper appreciation for the show since we're all Draper neighbors. We get a thrill whenever we see them talking about antiquing in Tarrytown, worrying over the inmates at Sing Sing, and sending their children to Ossining's public schools. Some of us can even compare the show to our own memories of Westchester in 1963. (Did you really smoke and drink that much?) For those looking to walk down Memory Lane, the fourth season starts July 25.
New Annual Event
Westchester Pride
Playland, Rye (914) 948-2932
Better late than never, right? Last year was the first Westchester Pride event, when our county's LGBTQ community headed to Playland for a day of rides, meet-ups, a Pride Pavilion of information and vendors, and an after-dark party. This year, we're especially, well, proud to see that it's all going to happen again. Mark your calendars: this year's Westchester Pride at Playland takes place on September 11.
Haven't you heard? Westchester residents pay the highest property taxes in the country. We feel a huge sense or relief, then, when someone gives us a break on the price of entertainment. ArtsWestchester has done just that with Free Arts Day. Each year in December, the County's cultural institutions open their doors for free museum exhibitions, music performances, art workshops, children's storytelling, and more. Cheapskates and fence-sitters get the perfect excuse to hit the town—without opening their wallets.
New Dance Series
Emelin Theatre Mamaroneck
(914) 698-0098
The Emelin Theatre is already well known for its bluegrass music and theater series, and now it can add dance as another area it's conquered. This year marked the Theatre's first dance series—and what an inaugural season it was, with performances by big-name contemporary companies such as Doug Elkins & Friends, the Misnomer Dance Theatre, and the Soul Street Dance Co. "From flamenco to modern to street dancing, we wanted to make the dance series at the Emelin both accessible and sophisticated," says Lisa Reilly, the Emelin's executive director. Look for more of these innovative, artsy—and entertaining—dance performances in the future.
The art of winging it: For CrossTalk, the speaker series sponsored by the Katonah Museum of Art and the Katonah Village Library, experts in different fields are thrown together, and a conversation between them evolves naturally. The process is totally engrossing. "There's no telling how their themes will intersect, or how the participants will click. It's the fun of letting go of and trusting that our experts will create a great mash-up," says Allison Chernow, director of development for the Katonah Museum. Look for a CrossTalk with founding artistic director of The Hudson Valley Shakespeare Festvial Terrence O'Brien and The Peak's on-air personality Jimmy Fink on July 15.
At the beginning of fall, just when we're starting to miss summer most, Caramoor gives us one last summer-like hurrah. Its Fall Festival, this year from September 24 to October 3, gets us out into the beautiful Spanish Courtyard, Venetian Theater, and the Music Room at the Rosen House one last time for a performance by the Bill Frisell Trio, Patti LuPone, or Yo-Yo Ma and the Knights Chamber Orchestra. "We figured we have this gorgeous concert venue, and the weather is still so good at the end of September, with the leaves just beginning to turn," says Caramoor CEO Michael Barrett. "It's a beautiful time in Westchester."
How often have we proclaimed our woe over the fact that our county doesn't have a single second-run theater? The Irvington Town Hall Theater and RiverArts have come up with something even better. Their "Best Of" film series not only gives you the discount afforded by other second-run theaters (just seven bucks a ticket), but the movies they show are pretty fantastic—indie, foreign, and documentary films like An Education, The Messenger, Fish Tank, The Last Station, and The White Ribbon. Opera buffs can also enjoy two filmed operas per month (often thematically linked), which are preceded by a pre-opera lecture.
Can't tell your Twitter from your Tumblr? Through his website, twitterprofessor.com, Chris S. Cornell helps people and businesses not only make sense of the crazy social media jungle—but he teaches them how to have fun there, too, by trying to get us all online together as a community. "My original goal with social media was to use it for the benefit of my businesses, Cornell Gallery and BaseballArt.com," he says. "Along the way, I saw how useful social media could be for individuals, organizations, and businesses. There has been a surge in the use of social media in the Westchester area. I believe we've hit the tipping point." And Cornell is leading the way!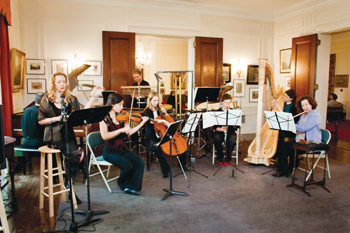 When Copland House set about transforming an empty historic property into an oasis for musical artists-in-residence, it was looking "to establish a unique artistic hub that may nurture the next Copland, Gershwin, or Bernstein," says Michael Boriskin, Copland House's artistic and executive director. And we're all the better for it. We get to see works-in-progress, up-and-coming talent, and the acclaimed Ensemble Music from Copland House, often with a chance to chitchat with the artists involved afterward. It's intimate and innovative—and all ours.