| | | | | |
| --- | --- | --- | --- | --- |
| | | | | |
Food & Dining
If there's one thing you can say about the county—it's that we eat well, thanks to these local restaurants.
Aberdeen
White Plains
(914) 288-0188
It's hard to find truly authentic Chinese food in Westchester. We're grateful to Aberdeen for saving us from the sugary Americanized dishes with its traditional Cantonese fare. (It serves some great Sichuan plates, too.) Aberdeen has turned dim sum from something that should only be done in New York City's Chinatown to a local must.
Photo coutesy of Bedford Post Inn/Quentin Bacon
Bedford Post Inn
Pound Ridge
If there's one thing we love, it's to have options, and the Bedford Post Inn is really two restaurants in one. The Barn is a casual, no-tablecloths affair when you want just a quick (but delicious) breakfast or lunch and—or perhaps we should say, "especially"—some sweets to go. The Farmhouse is really more of a showcase for an ingredient-driven, innovative New American menu. Trust us, once you get a forkful, you'll want to a skip the à la carte options for the five-course tasting menu. And, okay, fine, we'd be lying if we said we weren't excited about the restaurant's other dish, too—co-owner Richard Gere, who often can be spotted among the diners.
Photo by Cathy Pinsky
Peekskill
(914) 930 1880
At Birdsall House, two super-hot trends are united in a single restaurant: craft beer and locavorian cuisine. In fact, Birdsall takes it one more step—its taps feature locavorian beer (most of the brews are sourced from within a day's drive). Yet our favorite hipster hang—full of plaid shirts and guys with facial hair—also serves some thoughtful, Hudson Valley cuisine. Look beyond Birdsall's checked linoleum and high, wooden beer pews for locally raised produce whipped into hearty, yet elevated, fare. Sláinte!
Photo courtesy of Blue Hill at Stone Barns/Jonathan Young
Blue Hill at Stone Barns
Pocantico Hills
(914) 366-9600
This American icon put Westchester on the culinary map, drawing foodie pilgrims from every corner of the world. They come to experience the perfect synthesis of restaurant and farm, the seamless uniting of ethical foodways and finesse. No other American restaurant can boast the beauty of a Rockefeller estate, complete with rolling pastures and heritage-breed livestock. Sure, a meal at Blue Hill is an investment, but the takeaway is priceless: you'll learn how scumptious locally raised food can be.
Buffet de la Gare
Hastings on Hudson
(914) 478-1671
Mais, oui! If you're looking for a Paris sojourn on a staycation budget, stop into Hastings-on-Hudson's intimate French bijou. With its tin ceilings, candles, and plenty of glinting mirrors, you'll think you've stepped onto the Belle Époque Rive Gauche. Yet instead of absinthe and Gauloises, all you scent is luscious cassoulet, prepared with love by the expert hands of Chef Gwenael Goulet.
Captain Lawrence Brewery
Pleasantville
(914) 741-2337
Move over, Brooklyn—your brewery has nothing on ours. (Especially when you consider that many of the Brooklyn Brewery's beers are actually made in—gasp!—Utica.) The Captain Lawrence Brewery's six year-round and 11 seasonal brews all come straight from Pleasantville. And they're good enough to be served in restaurants like BLT, Crabtree's Kittle House, and Peter Pratt's Inn. What's even better is the way brewer Scott Vaccaro gets the community excited about his creations. Need proof? Try one of the (free) weekend brewery tours, beer dinners, or tastings he hosts around town.
Candlelight Inn
Scarsdale
(914) 472-9706
To say that the Candlelight has developed a following for its wings is to make an egregious understatement. From the sweet teriyaki to the tear-up-if-you-smell-'em Chernobyl hot wings, Candlelight wings are more of an obsession. Local college students have confided (or is it declared loudly?) they crave the plump little treats more than a home-cooked meal. High school students make late-night take-out runs, and barflies and families alike pack the dining room (and it's not for the décor). It's no surprise, then, that the bar goes through 6,000 to 7,000 pounds of its wings every week. We could go for a pound or two right now.
Chutney Masala Indian Bistro
Irvington
(914) 591-5500
This isn't your mother's curry house. Gone is the kitschy sitar-and-sari shtick of endless South Asian spots—Chef Navjot Arora's Indian restaurant alludes to his Punjab roots with style. Its brick walls are lined with Raj-era photos, which perfectly illustrate the confluence of British and Indian cultures. Similarly, Arora's menu makes thoughtful dips into Western culture (like gin-perfumed cocktails). We especially love summer evenings at Chutney Masala, when Arora takes his tandoor oven outside and demonstrates his fierce tandoor skills by the Hudson.
City Limits Diner
White Plains (914) 686-9000
Stamford, CT (203) 348-7000
If your idea of diners is stainless-steel lunch counters and greasy spoons, then you will marvel at City Limits, Westchester's favorite family restaurant. Imagine a bogglingly democratic menu that offers something for everyone in your family, where house-made pastas yield to steaks, great seafood, sandwiches, wraps, burgers and house-baked desserts. (In fact, even in the back of the house, City Limits is a family affair: not only are its owners the famed Livanos family, but Tracy Kamperdyk Assue flips pastries while her husband, Peter Assue, mans the pans.) Plus, its cool, '50s inflected décor and Atomic Age color scheme manages to be fun without ever feeling hokey.
Crabtree's Kittle House
Chappaqua
(914) 666-8044
The country house that Crabtree's Kittle House inhabits is more than 200 years old, and the Crabtree family has been serving some of the best progressive American cuisine in it since 1981—and things have kept on improving since then. (We adore the airy lightness in the new, spruced-up dining room.) County oenophiles know it as home to the most extensive wine list around—try 6,000 bottles, out of 65,000 in the cellar—which is varied and impressive enough to have earned the restaurant the Wine Spectator Grand Award and Award of Great Distinction.
Cocoa
Larchmont
(914) 834-6464
We're distrustful of people who claim not to like chocolate, and we'd bet that one of Angela Ingrao's guilty-pleasure-worthy chocolate barks can make converts out of them. She starts with Belgian chocolate (dark, milk, or white) and mixes in a host of other tasty (and, often, surprising) add-ins: marshmallow and graham crackers, sea salt and lavender, chipotle and cayenne peppers, or gummy bears. Her mixtures can satisfy a sweet tooth, a spicy tooth, a sour tooth, and pretty much any other taste sensation you may crave.
Coffee Labs Roasters
Tarrytown
(914) 332-1479
Starbucks: The Brand officially jumped the shark when it opened more outlets than there are U.S. mailboxes. We, in Westchester, would rather get our caffeine fix from Coffee Labs Roasters, because—unlike Starbucks—this Tarrytown nook roasts its beans onsite. In fact, it's so dug into the neighborhood that the shop actually nourishes our soil—Coffee Labs Roasters composts its coffee grounds at the Stone Barns Center for Food and Agriculture, plus it runs on 100 percent renewable energy. Coffee Labs offers a water bowl for dogs outside and, often, live music—and who wants ubiquity when there's uniqueness in Tarrytown?
The Cookery
Dobbs Ferry
(914) 305-2336
Stripped down and focused, Dave DiBari is Westchester's answer to David Chang, where the aesthetics of great cooking and good value outweigh the usual front-of-house frippery. The Cookery's workers wear mechanics' uniforms, tables are bare, and napkins are kitchen towels, yet the innate quality of DiBari's craftsmanship makes the Cookery's excellence shine through. While we're fans of DiBari's house-made pastas—and his grandmother's Easter pie is a cult among local chefs—we'll always keep an eye out for DiBari's puckish fried calves' brains, deep-fried duck tongues, and crisp veal tails. If anyone can make a silk purse out of these sows' ears, it's gotta be Dave DiBari.
Eastchester Fish Gourmet
Scarsdale
(914) 725-3450
There's only one word you want to hear in regard to a fish market: fresh. Eastchester Fish Gourmet? The freshest. Staffers travel to the New Fulton Fish Market every day and select fish from the recent catch, which they filet in-house for maximum freshness. And, if you don't want to broil your own fish, they do a pretty great job of cooking it, too. Try the garlic-laden tagliatelle, or the surprisingly greaseless fish 'n' chips.
Emma's Ale House
White Plains
(914) 683-3662
Emma's has everything you could want in a cozy Irish pub/restaurant. There's the dark wood and clubby feel. There are comforting dishes, like chicken pot pie and beef stew. There are sliders, too—five different kinds, that you can mix and match in perfect trios. And, best of all, the Irish heritage of Emma's isn't the only thing that's green. Emma's Ale House has been certified green by the Green Restaurant Association.
Fairway Market
Pelham Manor
(914) 712-0011
Never before did we imagine shopping in 75,000 square feet of groceries. We never thought we could look upon a wall of 200 kinds of olive oil. Fairway wows us with sheer volume and range. The butchers work onsite, ensuring you access to almost any cut from nose to tail. And you can find your basic Kellogg's cereals and Tropicana OJ across the aisle from organic, specialty, and altogether fancier items on your list. It's as if your local A&P and Whole Foods somehow set up shop within each other—eliminating the need to go to either of them.
Frank Pepe Pizzeria Napoletana
Yonkers
(914) 961-8284
No more pilgrimages to New Haven for Frank Pepe's famous pies. We snagged Frank Pepe's first non-Connecticut location, and the flavor has lost nothing in the border crossing. The pizzeria packs much flavor into its yeast dough through its two, white-tiled, coal-fired ovens, which cook pizzas at temperatures of 700°F. Now that's a hot—if oddly shaped—slice.
42
White Plains
(914) 761-4242
One of the biggest changes the county has seen in the past decade is unmistakable from 287: we now have a skyline. And, sitting atop that skyline, on the top floor of the tony Ritz-Carlton, Westchester, is restaurant 42. But the bird's-eye view of Westchester and beyond is hardly the only draw here. Chef Anthony Goncalves peppers his menu with a mix of new and classic dishes, staying true to his Iberian roots. Hotel dining has never been
so good.
Frankie & Johnnie's
Rye
(914) 925-3900
Separately, throughout the years, this magazine has bestowed honors upon Frankie & Johnnie's for its porterhouse (2007), its ribeye (2008), and its sirloin steak (2009). Suffice it to say, the meat is good. Real good. Dry-aged cuts come cut and seared to perfection and with a bottle of house-made steak sauce so tasty you can buy it and bring it home with you.
Greyston Bakery
Yonkers
(914) 375-1510
Greyston was founded by Buddhists, not bakers. Its motto is: "We don't hire people to bake brownies; we bake brownies to hire people." Well, either way, its brownies are scrumptious. It turns out you don't have to go to a highfalutin culinary school to create heavenly confections. The proof is in Greyston's goodies. Rich, moist, and chewy, the "Do-Goodie" brownies are made from all-natural ingredients and have no preservatives, and choppers are really superfluous—the darn things melt in your mouth. Is it any wonder that Ben & Jerry's uses Greyston's brownies in its Chocolate Fudge Brownie ice cream?
Hubba
Port Chester
(914) 939-7271
Night owls on the county's Sound Shore side don't need us to enumerate Hubba's good points. They already know. But for those of you who haven't yet had the good fortune to be clued into its advantages: we'll start with the great hours, especially if you're a barfly. Hubba is open until 4 am on weekdays and 5 am on weekends. But you don't have to be a night owl to appreciate what it is slinging: chili. Bowls of chili, chili fries, chili dogs, and at prices you'll be able to afford with what's left in your wallet after a long night.
Iron Horse Grill
Pleasantville
(914) 741-0717
Who doesn't love chef and restaurateur Phil McGrath? Unlike many top-notch chefs, McGrath doesn't hide behind a kitchen door or run around town like a food celebrity. He's in his kitchen—cooking. And before, after, and during, he's yakking—with you, your neighbors, patrons at the bar. He loves to talk, and he loves to cook. And boy, are we the better off for it. Ever tasted his timbale of peaky toe crab? Let's just say, we go nearly deaf hearing its constant praises being sung by satisfied diners.
Johnny's Pizzeria
Mount Vernon
(914) 668-1957
One of the county's oldest pizzerias—Johnny's opened in 1947—is also one of its best. The crust on Johnny's pizzas is crispy and thin-to-perfection, and not overpowered with sauce and cheese; all the ingredients sit in a delicate balance. You can't get individual slices here, but, after tasting the pies, you wouldn't want to.
Kam sen Asian Market
White Plains
(914) 428-4500
In need of XO sauce? Lotus-seed-paste cakes? Marinated duck feet? Lychee ice cream? Bubble tea? Kam Sen has all of these—and it boasts 30,000 items in total—with groceries that cater to Chinese, Japanese, Malaysian, Korean, Thai, Indian, and Filipino cuisines. There are racks, boxes, stacks, and bins full of beans, vegetables, fruits, and fish. Or, you can take the easy way, and get prepared meals of dumplings, buns, and sushi.
The Kneaded Bread
Port Chester
(914) 937-9489
Jeffrey and Jennifer Kohn's Port Chester bakery is artisanal in more than just name. The Kohns use a 13-year-old yeast "mother" and scour the country for carefully sourced grains. Their French-inflected breads, muffins, rolls, and pastries are handcrafted daily and displayed in luscious variety behind glass on wide marble counters. (It's a good thing, too, because there are plenty of salivating folks with their faces pressed against the barrier.) We love to stop in for rich hot chocolate—frothed in the cappuccino machine and perfect to pair with tender brioche—though fans mob here daily for egg-salad sammies and archetypical American moist yellow cupcakes. French, American—either way, The Kneaded Bread is divine.
Lefteris Gyro
Mount Kisco (914) 242-8965
Tarrytown (914) 524-9687
Lefteris doesn't have diners. It has devotees. Be it the tangy dressing on the (huge) Greek salads, the creamy house-made hummus, or the tzatziki-spiked gyros served on warm pitas, dishes across the menu have fans who say that Lefteris's creations are simply the best they've ever had. (No wonder it started bottling its famous Aegean salad dressing and selling it solo.) Plus, unlike other popular Westchester hotspots, Lefteris is not the place people go to see and be seen, so you don't have to feel sheepish walking in even in your rattiest jeans. (And, if you are, there's always takeout—the dining room is perpetually packed, anyway.)
La Panetière
Rye
(914) 967-8140
We adore fine French cuisine, but we love it even more when it loosens up a little. This year, La Panetière opened up its Provence-inspired menu to more than just the special-occasion diner, with a $35 prix-fixe dinner and new bar menu. And the positively best thing about La Panetière is that you can now bring it home for your own parties. The restaurant won a Best of Westchester award this year for its new catering service, which skips stuffy mainstays for more offbeat creations like citrus-infused spinach-and-leek dumplings.
La Tulipe Desserts
Mount Kisco
(914) 242-4555
When Chelsea Clinton needed a gluten-free wedding cake for her Rhinebeck wedding, she went to the same place we would for expertly created, refined desserts: La Tulipe Desserts in Mount Kisco. (It was reported that the Clinton cake was decked out in 1,000 sugar flowers.) But we'd skip all the tiers and sugar flowers for a bite of the Chocolate Extreme Cake: a glistening dome of chocolate cake, chocolate mousse, and chocolate ganache. If that sounds too decadently intense, you can always pick up a tasty cookie or macaron for the road.
The Little Mexican Café
New Rochelle
(914) 636-3926
Don't let the diminutive name fool you—there are some big flavors going on at this authentic Mexican restaurant. We go there to enjoy guacamole made tableside while perusing the list of tacos—though, in the end, we always end up choosing the roasted pork and pineapple. What you won't find at the Little Mexican Café are big egos. There are no affectations here—the wooden counter is worn, the pool table is used, and those tacos…only two bucks a pop.
Longford's Own-Made Ice Cream
Larchmont (914) 834-0207
Old Greenwich, CT (203) 637-0480
Rye (914) 967-3797
Keep your Cold Stone. To heck with your Häagen-Dazs. The richest, creamiest ice cream we've ever tasted is concocted right in Port Chester. Unlike those mass-produced brands, Longford's makes its ice cream and sorbet in small batches, with seasonal ingredients and dairy high in butterfat to ensure the silky texture that calls out to us on summer nights.
Lulu's Cake Boutique
Scarsdale
(914) 722-8300
Lulu owner Jay Muse could quite possibly be the county's best asset. There's nothing he can't bake—and absurdly well—from fun two-hands-required whoopie pies to tiered, Vera Wang-inspired wedding cakes that are so artful they're almost a shame to cut into. With his soon-to-open venture in Tarrytown, he's working on revolutionizing the county cupcake. His creations have graced magazine pages, his bakery's been featured on the Food Network, and his sweets have been touted by big-name celebs. Even his Twitter feed (@everythinglulu) is highly entertaining (and can sometimes get you discounts on those whoopie pies). But none of that would matter if the sweets didn't taste so darn good—which, thankfully, they do. Muse uses the freshest and, when possible, organic ingredients and builds from there, baking treats that will leave you scrounging for the crumbs after the last forkful.
Lusardi's
Larchmont
(914) 834-5555
Lusardi's is an Italian restaurant for people who love Italian food. There's no heavy red-sauce, no fusion, no strange ingredients like veal cheeks or duck tongue, to pretenses towards staying on the cutting edge—just timeless Northern Italian dishes presented elegantly. Just the way we like them.
Mint Premium Foods
Tarrytown
(914) 703-6511
For those grab-and-go lunches and dinners, Mint owner Hassan Jarane has you covered. If you haven't already heard about his rotisserie chicken, you probably haven't lived near Tarrytown long enough—it's a nightly sellout. The Moroccan-born Jarane is also praised for his worldly selection of cheeses—there are about 40 to 45 to choose from on a single day. We say go for the truffled pecorino.
Mulino's of Westchester
White Plains
(914) 761-1818
We're not the biggest fans of Mulino's restaurant—you are. Readers of Westchester Magazine have bestowed Best of Westchester awards on the Italian mainstay a whopping seven years in a row. (Distinctions have included "Best Italian Restaurant," "Best Service," and "Best Waitstaff.") And, who could blame you, with such excellent versions of traditional Northern Italian cuisine on the menu? Of course, we have our own favorite dish, the nodino di vitello valdostana, a dense, rich, double-cut veal chop stuffed with proscuitto, herbs, and grated Parmesan braised in a brandy, shitake mushroom, and pea cream sauce. Molto bene.
Ocean House Oyster Bar & Grill
Croton-on-Hudson
(914) 271-0702
There's a reason diners queue up for a table in this 19-seat, no-reservations restaurant. (For starters, the New England clam chowder rivals anything you could find in actual New England.) Chef Brian Galvin seeks out the best fish he can find, including both common favorites and lesser-known varieties, and brings out their flavors in simple, unfussy presentations. Ditto for the oysters: leave your yen for the same-old Bluepoints at home and take in his selection of East and West Coast bivalves that may not have name recognition but sure taste good.
Outhouse Orchards
North Salem
(914) 277-3188
Yes, this 200-acre farm can bring you all of the delights of fresh, locally grown produce: tomatoes, apples, peaches, plums, squash, and corn. But we'd be lying if we said that was the main reason we stop by on a crisp fall afternoon. We go for the unhealthy stuff: the cider doughnuts, served warm. Kids love Outhouse Orchards, too, taking part in pumpkin- and apple-picking as well as the fun hayrides.
Peniche Tapas
White Plains
(914) 421-5012
Spain was fabulous way before Gwinnie and Mario traversed it, and Peniche was there to show Westchester the way. Expect chic, young crowds and sexy flavors, like super-expensive jamon de Belotta paired with vintage Madeira. Madeira, you say, isn't that in Portugal? The good news is that Peniche covers the whole Iberian Peninsula, and all with incredible style.
Peter Pratt's Inn
Yorktown
(914) 962-4090
No other restaurant in Westchester has been able to integrate the old with the new as well as Peter Pratt's Inn. The old: the building's foundation dates back to 1780, and the dining room still gives off that cozy Colonial vibe. And the tradition of serving the Pratt family's regional American cuisine goes back to the mid-'60s. But what's just as exciting is chef/owner Jonathan Pratt's ability to look forward. He's converted his kitchen to one that cooks locally grown food in efficient appliances—even his truck runs on veggie oil. And, even better for us, he started Table Local Market to support sustainable farming—and give us access to fresh produce.
Piper's Kilt
Eastchester
(914) 779-5772
You don't always want a refined burger, made with a specialty blend of Waygu beef. Sometimes you want a fat, juicy burger, and you want it with giant onion rings, and you want to wash it down with a beer. Piper's Kilt—an Eastchester institution—caters to all of these whims, with a relaxed, pubby atmosphere full of folks who won't judge you for craving ground chuck over Kobe beef.
Q Restaurant and Bar
Port Chester
(914) 933-7427
Q is as close as Westchester comes to a communal backyard, where everyone hunkers on picnic benches and dives elbow-deep into Americana fare. Texas brisket, St. Louis ribs, and succulent Carolina pulled pork, all cooked to low and slow perfection in a garage-sized Southern Pride. 'Cue geeks admire perfect purple smoke rings, though that's strictly for connoisseurs—we just love Q's classic flavors, roomy sides of mac 'n' cheese, and crisp, house-made slaw. Best thing? There's bourbon and Mason jars of sweet tea and not one single mosquito to ruin your down-home evening.
Rainbeau Ridge Farm
Bedford Hills
(914) 234-2197
Mark and Lisa Schwartz were once just like us, going about their suburban lives. Then, they decided to buy the farm—literally—and we get to experience the benefits of their hard work in the form of Rainbeau Ridge's award-winning, locally made cheeses. (Our favorite: the ChevreLait goat's milk cheese.) And, should you want to follow in their footsteps, the farm now hosts classes for kids and adults in cooking, canning, baking, and other seasonal chores.
Red Hat on the River
Irvington
(914) 591-5888
Yes, the food is good, with French bistro staples like steak frites, mussels, and ratatouille. But it's the "on the River" part that really kills. The restaurant sits Hudson-side on the formerly industrial Bridge Street in Irvington, and it takes every advantage of its waterfront view. Come warmer months, you can dine outside on ground level—or skip the entrées and opt for grabbing a drink on the 50-seat rooftop cocktail bar.
Riviera Bakehouse
Ardsley
(914) 693-9758
If there's one reason to head just past the main drag in Ardsley, it's the sweets offered at this "whimsical bakehouse," as its cookbook is called. The muffins, scones, lemon bars, cookies, and rugelach—all made from scratch without preservatives—are reasons to stop in every day. But the shop really shines with its special-occasion cakes. The bakers can make intricate designs, cakes in the shape of other objects (like a 3D Coke can), and the coolest, most colorful, off-kilter tiered cakes that look like they came straight out of the Mad Hatter's tea party.
Sonora
Port Chester
(914) 933-0200
Rafael Palomino is the area's authority when it comes to Nuevo Latino cooking and, at his Port Chester restaurant, his dishes span Latin American cuisines through Mexico, Peru, Spain, Portugal, Ecuador, Argentina, and his native Colombia, among others. We keep returning for his spicy ceviches—and his drinks, which include the best Capirinha that can be found at a Westchester bar.
Star Diner
White Plains
(914) 684-8702
The Star Diner doesn't have free Wi-Fi—in fact, it doesn't have a website. You can't get yellowfin tuna salad here, and the coffee is not from Stumptown Roasters. That's what's so great about it—it's a diner for diner lovers, not gourmands. It's where you go when you want to sidle up to a stool in front of a shiny counter and order no-frills eggs, toast, and pancakes—at any time of the day and at throwback prices (we're talking $3.50 for a cheeseburger).
Stew Leonard's
Yonkers
(914) 375-4700
Sure, the barn-like supermarket—perched on a hill overlooking the Thruway—may seem like a huge carnival, with all the bells and whistles like costumed characters roaming the aisles. But, once you look past the gimmicks, you'll realize Stew Leonard's offers a carefully selected stock of 2,000 items, each one specially chosen for freshness, quality, and value. In other words, you come here for the food, not the animatronics. Plus, it stays true to its dairy-store roots, selling the best super-fatted, pasteurized heavy cream we could find in the area. Tip: not only has the store been lauded in our pages as a great place to shop, but it also landed on our list of the top 10 places to work in Westchester.
Sushi Mike's
Dobbs Ferry
(914) 591-0054
Crazy, man! Sushi Mike's is no hushed temple to raw fish—it's an all out sushi party where anything goes. Look for Chef Mike Suzuki's Out of Control Roll (spicy tuna, avocado and topped with eel and scallions) or his huge kitchen sink affair, the awesome Fantastic Roll (white seaweed, tuna, yellowtail, salmon, cucumber, avocado, Japanese mayonnaise, and flying fish roe). Given its theme of ocean-going excess, this joint is usually mobbed with lines snaking out the door. Nevertheless, your wait is appreciated—Mike himself serves freebie rolls to fans on the queue.
Photo byJohn Fortunato
Sushi Nanase
White Plains
(914) 285-5351
You'll find no Out of Control Rolls at reverent Sushi Nanase—Yoshimichi Takeda takes his sushi seriously. And this former chef at Masa and Nobu is about as controlling of his diner as his kitchen. Don't try to walk in without a reservation (you'll be turned away), don't order the omakase unless you've pre-ordered (you'll be refused), and don't be the 21st at lunch (because he'll only take 20). Still, we shut up and just obey all of Takeda's rules, because this temple to sushi is the best Westchester's got.
Joe Bastianich and Mario Batali: the duo who launched Tarry Lodge
Photo by Kelly Cambell
Tarry Lodge
Port Chester
(914) 939-3111
Though Tarry Fine Foods and Tarry Wines are now grabbing the headlines, the dynamic duo of Bastianich and Batali launched their Westchester empire at Tarry Lodge. We love these folks for their la dolce vita one-stop shopping: we'll hit Tarry Lodge for fabulous wine, baccala and guanciale and sunnyside-egg pizza, then walk off the calories (and pick up dessert) at Tarry Fine Foods. To soothe us afterward, we'll tuck into a nightcap from Tarry Wines—it's a Bastianich/Batali-led Italian tour, and right here in Port Chester.
Tomatillo
Dobbs Ferry
(914) 478-2300
Tomatillo makes us forget the greasy burritos oozing with cheese and preservative-laden meat we can get at any Mexican joint. You can actually taste the freshness in Chef David Starkey's "Mexchester" cuisine, made with organic produce from Stone Barns and other Hudson Valley farms. Think of burritos and enchiladas positively stuffed with fresh spinach, grilled Portobello mushrooms, or skirt steak. Just remember to save room for the cilantro ice cream.
Walter's Hot Dogs
Mamaroneck
What is Walter's secret? There's got to be a reason he's been able to lure customers to his roadside pagoda for one of his split dogs since 1919. There's just something about his proportions of beef, pork, and veal, some addictive ingredient in his secret sauce, or something about the way he blends mustard and relish that rival any hot dog put forth by any hotshot chef in the biz. (Danny Meyer's Chicago dogs at Shake Shack have nothing on Walter's.) Even the venerated Gourmet rated Walter's the best hot dog in the country—something every Mamaroneck resident already knew.
Photo by Andre Baranowsky
The Willett House
Port Chester
(914) 939-7500
This is the best kind of throwback steakhouse, with a clubby feel to the dining room—which is housed in a 19th-century granary building—and huge cuts of aged prime beef that could feed up to four people. (Yes, there is a porterhouse for four on the menu.) Fine, there are chicken and seafood dishes, too, including Maine lobster, but those don't have the same appeal as sitting down with a big glass of wine and a perfectly cooked steak.
X2O Xaviars on the Hudson
Yonkers
(914) 965-1111
When X2O opened in 2007, after years and years of baited-breath anticipation, all we could think was: Hallelujah! (We even put über-chef Peter Kelly on the cover of the magazine.) Finally, we could dine out on Kelly's unparalleled cuisine without having to cross the county border—or the Tappan Zee Bridge. And Kelly did not disappoint. Not one bit. Jutting out into the Hudson River from the historic Yonkers Pier, nearly every table can take in a stunning view—even the ladies' bathroom looks out onto the George Washington Bridge. The menu features his world-class, high-Zagat­-scoring cuisine, a seasonal mix of classic French technique with global embellishments, and just-plain-fun food, like retro butterscotch pudding. And, for a more casual vibe, there's always the restaurant's Dylan Lounge, which serves up the finest sushi and sashimi.
Zephs'
Peekskill
(914) 736-2159
There's one word for Zephs' restaurant: homey. This isn't the place to find a sleek, loud dining room and a menu stuffed with dishes of the moment. Instead, expect a cozy, downplayed dining room with global, seasonal food that makes you feel comforted—and full. Think hearty cassoulet, Moroccan lamb spices, and a duck confit that's inspired a fiercely loyal following for 20 years.
Zachys Wine & Liquor
Scarsdale
(914) 723-1033
In the county, wine has been synonymous with Zachys. After all, if the Mets's Citifield trusts Zachys to run their high-end wine program, you should be able to pop into the store and walk out with a bottle of something, too. Oenophiles consider the Zachys website to be a reliable source for wine information, and newbies like stopping in the store for tastings, classes, and other events.
Zuppa
Yonkers
(914) 376-6500
Zuppa deserves credit for recognizing Yonkers's up-and-coming potential early, and being one of the first institutions to pioneer its revitalizing waterfront. And, it did so with style, serving contemporary Italian cuisine (now courtesy of Executive Chef Daniel Van Etten) in an appropriately urbane setting, bringing in the city cool by hosting live jazz musicians on weekends.
Shopping
Keeping ourselves, our homes, and our lives in up-to-the-minute style.
A.I. Friedman
Port Chester
(914) 937-7351
This 30,000-square-foot emporium is the place we run to for anything and everything having to do with arts and crafts. We parents know to drive straight to A.I. Friedman when our kids remember that they need to build a diorama of the solar system out of oak tag and Styrofoam—and it's due tomorrow. But even those who no longer have an endless need for markers and poster board check out the store for scrapbook supplies, adhesives and cutting tools, and—the store's specialties—photo albums and frames, including custom framing.
Beehive Co-Op
Mount Kisco
(914) 218-8700
There's no reason to settle for mass-produced merch when Beehive is buzzing with a rotating display of expertly crafted and one-of-a-kind items from local and emerging designers. It's hard to pass by the store without doing a quick pop-in to pick up some homemade lavender oatmeal soap ($6) or a set of Laura Macchia's graphic note cards ($14). Great gift-givers make a beeline for Beehive's higher-end items, such as Brumi Design's sparkly aquamarine earrings ($364) or Element Clay Studio's nesting scallop bowls ($180). Maybe you never knew your neighbors were so talented—but be glad they are.
Belkind Bigi
Tarrytown
(914) 524-9626
We watch Mad Men—not for the storyline or characters but to catch a glimpse of those amazing mid-century interiors. Then, we found Belkind Bigi and realized we could re-create the look in our very own homes. (No wonder the Drapers went shopping for home accessories in Tarrytown.) The 4,000-square-foot store carries furniture and home décor items from the top designers of the period: Edward Wormley, George Nelson, Milo Baughman, Eames, and others. And it's the real deal, not a Hollywood re-creation.
Danny's Cycles
Mohegan Lake (914) 526-2453
Scarsdale (914) 723 3408
Biking is huge, and we couldn't be more pleased—especially because we know we have the most knowledgeable bike professionals in our corner. Just starting out? Choose from the giant selection of bikes, including Specialized, Trek, and Raleigh bikes. The pros at Danny's will fit you and have you off and riding. More experienced cyclists go to Danny's to find information on trails, races, and other events (the website alone is a font of knowledge).
Churchills of Mount Kisco
Mount Kisco
(914) 666-4800
We were beside ourselves when Churchills opened its doors a year ago. Finally, a to-die-for women's and men's clothing shop in Northern Westchester. County fashion-lovers shop here for styles from their favorite Madison Avenue designers, such as Ilaria Nistri, Kiton, Rag & Bone, John Varvatos, Robbie & Nikki, and other classic American and European designers. The store also hosts trunk shows and designer appearances, letting true fashion devotees meet the designers without haggling for a seat at Bryant Park.
Elephant's Trunk
Mount Kisco
(914) 666-7666
No cookie-cutter couture here for when we want to look fabulous—and unique—at a formal or semi-formal event. Here we'll find airy confections and gorgeous gowns from Constance McCardle, Ania Zofia, and Paula Varsalona; then accessorize with the shop's wide collection of jewelry and handbags. Love the service here, too; when the original store burned down in 2000, the owners found replacement gowns for all their customers (including 80 brides).
Heller's Shoes
Mount Kisco (914) 241-3777
Pleasantville (914) 769-9767
When it comes to quality shoes for real working and walking feet, no shop comes close to Heller's. It stocks brands such as Rockport, Clark, Merrell, Birkenstock, and Dansko in a huge array of sizes and widths for both men and women. It also has a large selection of slippers, sneakers, and boots, and Uggs in every style. The best thing about Heller's, though, is the competent, patient, experienced sales staff. The Pleasantville store will work with you to find the perfect fit—even if that means trying on dozens of pairs of shoes, adding a heel lift, cutting an innersole, accommodating orthotics, or special-ordering. We've yet to see a foot massage, but we wouldn't be completely surprised if we did.
Siblings Lauren and Anthony Lanza keep Harris in tip-top shape.
Photo byJohn Fortunato
Harris Restaurant Supply
Port Chester
(914) 937-0404
Psst! Don't tell others about the deals you can find on kitchen gadgets, gizmos, and supplies here. Right now, keep it between us—and the professional chefs and restaurant owners who shop here. And here you can find the tools, pots, pans, serving pieces, and more that the real pros use—not the for-show pretty stuff from Williams-Sonoma, or the goods that bear a smiling celebrity chef on the package. What's even better than outfitting your kitchen with these industry-quality goods is the wholesale prices you can pick them up for.
Hickory & Tweed
Armonk
(914) 273-3397
When you're looking to buy bikes or ski equipment, you want to talk to people who regularly hit the slopes, test new snowboards, and pedal on the county trails. At Hickory & Tweed, outdoor junkies buy from real, tried-and-true sports enthusiasts. The staff has a genuine passion for bikes, skis, and the Great Outdoors. Leave it to owner Skip Beitzel, who began working at Hickory & Tweed in high school, and his team of experts to outfit your next skiing or cycing expedition—just look for the bright red buildings (after half a century, they're a landmark in Armonk).
Klaff's
Scarsdale
(914) 740-1800
Walking through Klaff's 19,000-square-foot showroom is not like slugging through the aisles at Home Depot but traversing the Museum of Excellent Kitchens and Baths. As you walk through, you'll want to wrap up each vignette whole and bring it home. But start small; why deny yourself the pleasure of checking out the store's impressive selection of tiles, decorative hardware, and other home décor items?
Brothers Jeffrey and Jonathan Landsberg have a long history with jewelry.
Photo by Cathy Pinsky
Landsberg Jewelers
Rye Brook
(914) 510-8920
A stunning selection and the warm, attentive service you'd get if you had a family member in the jewelry biz are the twin hallmarks of this elegant, fine jewelry boutique. Brothers Jeffrey and Jonathan Landsberg grew up working in the family's flagship in Manhattan's diamond district, owned by their dad, Norman. You don't hang out around diamonds that long without picking up a thing or two. The extensive selection is studded with names like Christopher Designs, Gurhan, Penny Preville, Sethi Couture, and others that you won't find just anywhere. Not sure if something is just right? You'll be encouraged to take it home for a day to see. And, just like family, they also lend pieces to wear for big events.
Neiman Marcus
White Plains
(914) 428-2000
We know, we know—it's a chain. But, come on, would Westchester be Westchester without our Neiman? We'd be remiss to leave off our list this heaven-on-earth-for-fashion-junkies department store. (The shoe department alone deserves entry into Best of the Decade.) And with designers like Carolina Herrera, Proenza Schouler, 3.1 Phillip Lim, and Marc Jacobs, who can blame us for considering the store one of the best places from which to stock a wardrobe?
Mary Jane Denzer
White Plains
(914) 328 0330
There are special occasions, and then there are special occasions. The kind that require an Oscar de la Renta or maybe a little something from Christian Dior. Mary Jane Denzer has been dressing Westchester women for these occasions for more than 30 years, carefully choosing gowns, cocktail dresses, and black-tie outfits that bear names like Carolina Herrera, Elie Saab, Monique Lhullier, Reem Acra, Zac Posen, and Valentino. The stuff isn't cheap, but, as the saying goes, you get what you pay for.
March
Briarcliff Manor
(914) 923-2100
March isn't big, nor particularly easy to find. But take our advice and make the effort to wend your way to this boutique. It is a true gem. Enter, close your eyes, head to any rack, choose something at random, and…perfection. Owner Lynn Puro knows how to stock her shop with clothes that are elegant yet hip. And the best part? The cost: surprisingly reasonable.
Parkers
Rye
(914) 921-6400
Going on a trip? Before you do anything else, head to Parkers. This is one truly unique store for travel fans: in regards to luggage, the choices are as stylish as the clothing you plan to fill them with.
R&M Woodrow Jewelers
Rye
(914) 967-0464
At this jewel box of a shop in downtown Rye, you can find items that are intricate and gorgeous enough to stand up to your gala-worthy gowns, or refined and elegant enough to make a statement. Plus, the shop carries all the eye-candy, top-of-the-line jewelry names you'd be looking for: Aaron Basha, Breitling, Roberto Coin, Marco Bicego, and Judith Ripka.
Rothman's/Lubin's
Scarsdale
(914) 713-0300
Who wouldn't want to dress like Rothman's owner Ken Giddon? He's up-to-the-minute on menswear trends and understands timeless, classic styles. It'd be almost impossible to find a better-edited selection of menswear in the county. And, now that formal-dress institution Lubin's has moved into the retail space, younger fashion plates can go there to get dressed for their first suits and tuxes, too. Soon, they'll be lifetime Rothman's fans as well.
The Westchester
White Plains
(914) 421-1333
Try, just try, to keep us out of The Westchester. Eleven million of us each year may lose our cars in the lot and resent having to pay parking fees for the privilege of shopping here. But the actual shopping? We adore it. Our favorite stores—more than 150 of them—all in one place. A no-brainer.
Scarsdale (914) 723-0327
Mount Kisco (914) 241-4500
In Westchester, couples don't say "I do" without saying "hello" to Michael and Matthew Wilson first. The two Gemological Institute of America grads are experts at appraising diamonds and carry stunning lines of engagement rings—in addition to their own handcrafted line. The Wilson brothers also boast an impressive selection of men's watches and their shop is the only authorized Rolex dealer in the county.
Health & Beauty
Where to go to feel beautiful—inside and out
Numi & Company
Scarsdale
(914) 574-6402
Not only do Numi owners Gabriel Abrams and Nuriel Abramov work magic on hair, they'll perform their magic whenever you need it. Got to make a plane in the morning and want to look good when you land? They'll be there at 6 am to help you out. And you will look good when you land.
Photo by John Fortunato
Oasis Day Spa
Dobbs Ferry
(914) 409-1900
Oasis has its fans—hardcore ones. Enough blissed-out patrons have extolled its praises that Oasis was named the best day spa in the whole country by the readers of Spa Magazine. And, after visiting ourselves, we can see why. The massages melt the muscles; the facials completely refresh. And the cool rooftop garden—often the site of parties and special spa events—has a funky, Zen-like charm, even while overlooking the Saw Mill Parkway.
Nevine Michaan is a local yoga legend.
Photo by Cathy Pinsky
Katonah Yoga Center
Bedford Hills
(914) 241-2661
This is not yoga for the dabbler or the faint of heart—it's a serious workout taught by serious yogis. Around for decades, Katonah Yoga is headed by Nevine Michaan, who arguably has done more to promote yoga in the county than anyone. It's safe to say that a majority of the teachers in the region learned their downward-facing dog, tree pose, and dolphin from Nevine or one of her many protégés. She's legendary for a reason: she is the best. So is her center.
Paulo's Atelier
Hair Salon
Bedford Hills
(914) 666-2800
There is hair color and there is hair artistry. The color pros at Paulo's—owner Paulo Gregorio, Derrek Hawkins, and Best of Westchester-winning colorist Kathleen Troy—can transform drab and mousy into sexy and sensational. Each has an uncanny knack of conjuring up the perfect potion to complement your complexion and style. Who knows—you may be suppressing your inner redhead or brunette. Trust one of these three to coax it out.
Pink on Palmer
Larchmont
(914) 833-8955
Shopping at Pink on Palmer is like talking to that friend with the flawless skin and great makeup—the one who's tried every product out there and can tell you what to skip and what to slip into your purse right away. Owner Judy Graham fills her crisp white shelves with products by Kiehls, Bliss, Mario Badescu, Darphin, and T. LeClerc, plus sweet-smelling perfumes, candles, and soaps. Graham knows her products and has chosen her stock well, so chances are anything you pick up here will be an essential addition to your makeup bag.
The Saw Mill Club
Mount Kisco
(914) 241-0797
Membership has its privileges. In this case, you get top-of-the line equipment, trainers and teachers so good they develop loyal followings, spa-like locker rooms, access to the newest workouts (Zumba kickboxing, anyone?), and, if you're into it, the chance to see some celeb working out at the treadmill next to you. (Admit it—you're into it.)
Shine Salon & Spa
Ossining
(914) 762-6675
Shine Salon is one of those rare salons that seems to be good at everything, from perfect pedicures to as-gentle-as-humanly-possible waxing. The salon has racked up heaps of Best of Westchester awards, including "Best Brazilian Bikini Wax" (2004), "Best Wax" (2005), "Best Manicure" (2007), and "Best Eyebrow Shaping" (2010). And, chances are, we'll keep finding reasons to bestow awards upon it, just because, well, Shine has never let us down.
Vasken Demirjian Salon
White Plains
(914) 285 0800
Ready to have aficionados stop to admire the sheen, color, and precise cut of your hair? Book an appointment with Vasken Demirjian, whose name is forever associated with hair color (and for good reason). Not just any hair color—color that shines, that sizzles, and that inspires envy among us all.
Home & Garden
These shops and stores help turn nesting into an art form.
Artistic Tile
White Plains
(914) 422-0041
We thought of tiles as being pretty, yes, and striking even—but works of art? Visited Artistic Tile lately? Imported from around the world, its tiles are works of art, art that you can own and even walk on.
Berger Hardware
Hawthorne
(914) 769-2400
Do-it-yourselfers love their local hardware stores. Berger Hardware gives tinkerers—and pros—a lot to love. The store, which has been in business since 1937, is stocked with all the equipment, tools, nuts, bolts, paints and painting supplies, plumbing supplies, garden supplies, lighting fixtures, accessories, and hard-to-find items you could possibly need for a home-improvement project—and is staffed with people who can tell you how to use them.
California Closets
Hawthorne
(914) 592-1001
With California Closets, bedroom closets, garages, mudrooms, home offices, and other storage rooms are transformed into showroom-worthy spaces with custom racks, rods, shelves, and drawers made from high-quality materials (no cheap IKEA cardboard here).
Davis & Warshow
Mount Kisco
(914) 666-5127
The folks at Davis & Warshow have designed, crafted, created, and installed their wares for some pretty high-profile places: think Yankee Stadium, the Ritz-Carlton, and the Empire State Building. Now think of what they can do with your kitchen or bathroom. You might be pondering it for a long time. The store offers 150 product lines, from sleek pedestal sinks to rustic kitchen cabinets, and its Mount Kisco location is a premier Kohler showroom.
Hi-Light
Yonkers
(914) 779-6628
There's no need to run off to the Bowery for lighting fixtures when we have Hi-Light right in Yonkers—the area's premier destination for all things lighting for almost four decades. Why? Not only can you find 7,500 square feet of space filled with every type of light fixture available, you can pick up items on the cheap. Most items can be had for 20 to 50 percent off the manufacturer's pricing. Our taste in lighting may change, but we never get tired of a great deal.
Katonah Architectural Hardware
Katonah
(914) 232-7796
Katonah Architectural Hardware's owners understand that, just like a necklace can make an outfit, little details like drawer pulls and cabinet knobs can pull together the look of a room. And, if these levers and hinges are a home's "jewelry," then Katonah Architectural Hardware is Tiffany's. Classic and timeless, sleek and modern, or intricate and ornate. This store has all you need to dress up a dreary room.
Landau Ethan Allen
Hartsdale
(914) 684-0360
Ethan Allan stores can be found all over the country—and for good reason. The name is synonymous with classic (but not stuffy) designs, high-quality inventory, and superb design services. No wonder Westchester homeowners make a beeline to this home-furnishings standard-bearer for whenever they find their dwelling needs a little boost.
Leibert's Royal Green Appliance Center
White Plains
(914) 949-5999
Don't just ask us why Leibert's. Ask your contractor. Or your interior designer. Or your architect. The pros swear by these all-things-appliance experts. Leibert's is a one-stop shop for Viking stoves, Liebherr refrigerators, Bosch microwaves, GE washing machines, and more. Expect to pay a premium for this kind of merchandise? At Leibert's, you'll find most products at a discount.
Owner Mark Mariani and his incredible offerings at Mariani Gardens.
Mariani Gardens
Armonk
(914) 273-3083
We'd never contemplated going to a nursery just to browse before we saw Mariani Gardens. Maybe that's because it's so much more than a nursery. Mariani Gardens sells beautiful, rare, exotic and unusual plants, for sure, but it also has a design boutique, flower shop, gift boutique, and even a café. It's the only place where we can imagine walking in empty-handed and walking out with a fully mature boxwood tree. We don't use the word "paradise" lightly, but it's the first word that comes to mind when gawking over Mariani's offerings.
| | |
| --- | --- |
| | Photos by Cathy Pinsky |
Soho East Home Collection
Irvington
(914) 693-7296
Once you see owner Stacy Higgins's unusual tabletop offerings, you'll never want to look in a Crate & Barrel again. Higgins's plates, bowls, and serving pieces are handmade, one-of-a-kind items that you certainly won't find in every franchise home-goods store across America—beautiful items in bamboo, recycled glass, ceramic, and other funky materials.
Sun Valley Nursery
Ossining
(914) 762-6161
Who wouldn't be charmed being greeted by a hand-painted ceramic rooster? Sun Valley Nursery owner Vincenzo Bomba is the county's foremost expert in Tuscan ceramics and carries quite a few prized lines: Porte Leona, Faenza, Deruta, Gubbio, and Orvieto, among others. One platter instantly cheers up any tablescape.
Terra Tile & Marble
Briarcliff Manor
(914) 923-4295
Terra Tile & Marble is a haven for perfectionist homeowners looking for just the right tile. The store boasts 60,000 square feet of warehouse space, stocked to the brim with tile from Italy, Spain, Brazil, and Mexico—and, if that's not enough, it also does custom work. But, with a gorgeous selection of tiles made from ceramic, glass, porcelain, metal, marble, and stone, chances are it won't come to that.
Arts, Leisure, & Nightlife
What's kept culture vultures entertained for the past decade.
The Bayou
Mount Vernon
(914) 668-2634
You don't have to be born on a bayou to have a good time there. No other restaurant in Westchester can get us dancing like we're in the Big Easy. Every weekend, the joint is filled with the sounds of blues, bluegrass, zydeco, and good old rock 'n' roll, spanning the musical gamut from authentic acts straight from New Orleans to Italian tributes to the Rolling Stones. And what goes better with N'awlins sounds than hush puppies, mudbugs, and BBQ 'gator?
Liz and Bob Hyland preside over sports-gazing at the Bob Hyland's Sports Page Pub in White Plains.
Photo by John Fortunato
Bob Hyland's Sports Page Pub
White Plains
(914) 437-8721
Who knows how to do a sports bar better than an actual professional athlete? Now in its new location, the Sports Page Pub, owned by onetime New York Giant Bob Hyland, is hooked up with a grand total of 46 TVs and 14 DirectTV receivers, so you always have a good view of the game—practically any game. (College football fans rejoiced that the bar broadcast every televised college game available through Cablevision and DirectTV.) On the rare nights that sports are slow, there is Guitar Hero and Rock Band to take its place.
Brazen Fox
White Plains
(914) 358-5911
A decade ago, who would've thought that White Plains would become so in? Credit Brazen Fox as one of the hotspots that revived downtown WP nightlife. The bar gets the crowds going by putting music first—there's a stage front and center to showcase local, fun, bar bands. But, if that's not your scene, there are three levels of space (and some outdoor seating, too) for you to move on to.
Bronx River Parkway Bicycle Sundays
White Plains to Yonkers
It's easy to see why Bicycle Sundays have been so popular since 1974 (before fixed-gear bikes became a trendy must-have). More than 13 miles of the prime highway is cordoned off for bikers, skaters, and even strollers, allowing for plenty of open-air coasting on easy turf. It's much more fun to enjoy the scenery when you're not stuck in traffic.
Caramoor International Music Festival
Katonah
(914) 232-5035
For some, summer is set off by beach visits, barbecues, or camp carpools. For us, summer doesn't officially begin until Caramoor's International Music Festival gets underway. It can't get much better than that: world-class acts—think Yo-Yo Ma, Joshua Bell, and Audra McDonald—perform outdoors in the take-your-breath-away beauty of Caramoor's Venetian Theater. And, in 2009, we got even luckier with Caramoor's introduction of a one-weekend Fall Festival—one last hurrah right when the scenery is at its most inspiring and the weather is at its most comfortable.
The Castle on the Hudson
Tarrytown
(914) 631-1980
Who cares if it's an authentic castle or not? The AAA four-diamond hotel has everything you could need for a romantic getaway—secluded turrets, marble baths, four-poster beds, a four-star restaurant, and views of the Hudson River.
Clay Art Center
Port Chester
(914) 937-2047
We loved it dearly before it added to its size, with a new 650-square-foot gallery dedicated to showcasing works by the leading clay artists in the field. Now, we adore it even more.

Clearwater Great Hudson River Revival
Croton-on-Hudson
(845) 418-3596
Our own mini-Woodstock— without the clogged Portosans and brown acid. Instead, we've got the roaring river. And environmental activism. And folk's elder statesman, Pete Seeger, who founded the festival, which planted roots in Croton Point Park in 1978. Today, the festival has grown so that almost every inch of the park teems with activities and performers: storytellers, dance troupes, craft artists, green-living vendors, puppet shows, jugglers, and clowns—plus two stages of music performances, which feature some of the top acts in the business. And it works; thanks to funds raised through the festival, Clearwater has been credited with leading the way in passing environmental laws, making our Hudson clean again.
Copland House's Artistic and Executive Director Michael Boriskin keeps classical music vibrant in the county.
Photo by John Fortunato
Copland House at Merestead
Mount Kisco
(914) 788-4659
Copland House had us at, well, Copland's house. But now we've got Copland House at Merestead, which burst onto the county's cultural landscape in 2009 with claims that it would establish a new center for American music and the arts. Lofty goals—but we don't doubt they all will be achieved. The historic (but previously little-used) Merestead Estate in Mount Kisco is now home to a slate of performances from both emerging and established performers. Last year, for example, you could have seen cabaret superstar Andrea Marcovicci—and her protégé, Jennifer Sheehan.
Donald M. Kendall Sculpture Garden
PepsiCo HQ, Purchase
Kudos to PepsiCo for not locking up its impressive art collection in some employees-only location—and instead making it free and open to the public. There are few places in the world where you can see sculptures by Alexander Calder, Max Ernst, Henry Moore, and Auguste Rodin without paying a dime (even for parking). Plus, the layout—the 45 works of art are spread out across 168 acres of sprawling lawns, wooded paths, serene ponds, and other beautifully manicured landscapes—makes it the most perfect picnic spot.
Photo by Kevin Birmingham
Grand Prix New York
Mount Kisco
(914) 241-3131
Grand Prix New York is a great place to visit when you need a little (or big) thrill. Visitors suit up like NASCAR drivers, get behind the wheel of a 6.5 horsepower Honda kart, and speed down the quarter-mile tracks the way they wish they could do on our highways. It's the quickest way to inject some adrenaline into the daily routine. Kids get to race, too, on kid-sized tracks, in kid-sized vehicles.
Photo by Matt Gillis
Great Jack O'Lantern Blaze
Croton-on-Hudson
(914) 631-8200
You can carve pumpkins, you can cook pumpkins—but you've never really seen what pumpkins could do unless you've been to the Great Jack O'Lantern Blaze. More than 4,000 pumpkins are carved, lit, and incorporated into intricate Jack O'Lantern dioramas. The Blaze has made Westchester the area's premier Halloween destination, attracting 65,000 visitors last year, putting us on the spooky map for something other than that famous Headless Horseman.
Hudson River Museum
Yonkers
(914) 963-4550
Of course, the Hudson River is inspiring to artists—Hudson River School of Painting, anyone? So it makes sense that there'd be a museum dedicated to the area and the artists it influenced. It's the place to go to gawk at our own beauty—even the parking lot has a terrific view of the River. (Check back soon for an exhibition of Susan Wides's Hudson Valley photographs, inspired by Hudson River School painters.) The Museum also has one eye out for our skies, being home to the county's only planetarium.
Jacob Burns Film Center
Pleasantville
(914) 747-5555
The Jacob Burns Film Center is not just the best film center in Westchester—it's one of the best anywhere. Otherwise, how else would it have attracted more than a million visitors since its opening in 2001? And it's easy to see why crowds of cinephiles flock to it. Not only does it present the most engaging independent movies, foreign films, and documentaries—it also brings filmmakers in to keep the discussion rolling. (Visitors to the center have included Werner Herzog, Harvey Weinstein, Danny Boyle, and Salma Hayek.) And, just down the street, it recently opened a state-of-the-art Media Arts Lab to train future filmmakers and to ensure great programming for years to come. Consider yourself lucky.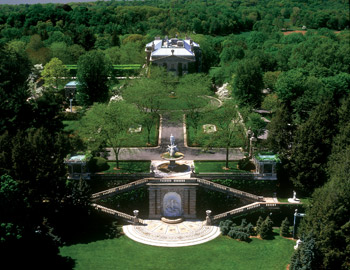 Kykuit
Sleepy Hollow
(914) 631-8200
Man, those Rockefellers sure knew how to live. And aren't we fortunate that we can live out our Rockefeller daydreams by touring Kykuit, home of John D. Rockefeller and the next three generations of the Rockefeller family? If you're not into seeing how the other half lived, the tour is worth it just for the collection of art that can be found on the property. It rivals many museums, with works by Pablo Picasso, Alexander Calder, Isamu Noguchi, and Louise Nevelson.
Lazy Boy Saloon
White Plains
(914) 761-0272
One word: beer. If you're a beer drinker, there's no greater variety in Westchester than at the Lazy Boy Saloon. On tap, in bottles, from Japan or the Czech Republic, Lithuania or Louisiana, there's a beer for every mood, taste, or desire (yes, even if you just want to sit back with a Michelob Light). Because the massive beer list is constantly in rotation, it's never quite the same experience twice.
News 12 Westchester
Yonkers
(914) 378-4855
News 12 Westchester is indispensable. Tune in to this hyper-local news source at any time for a primer on the good (and, sometimes, bad) stuff: headlines, weather reports, traffic updates, and school closings—covering places like Vista and Mount Kisco, not Manhattan and Hoboken.
Old Croton Aqueduct State Park Trailway
Yonkers to Croton-on-Hudson
(914) 693-5259
We don't need a treadmill or a gym card when we have the Old Croton Aqueduct Trailway, a favorite of hikers, bikers, and dog-walkers from Northern Westchester to the Bronx border. Along the easy-to-hike, 26-mile path, you'll pass Irvington's cool Octagon House, the Rockefeller State Park Preserve, and plenty of Hudson River vistas. The family-friendly walk is also absolutely free—something else you can't say about your gym membership.
Photo by Dan Shearer
Paramount Center for the Arts
Peekskill
(914) 739-2333
When Paramount Pictures built this movie palace in the 1930s, it probably never figured that it would still be the center of Peekskill's cultural nightlife 80 years later. And, yes, the landmark building is still home to movies—good ones, too, like Winter's Bone or The Kids Are All Right. But it has expanded beyond film to showcase innovative theater, experimental and established music, and cutting-edge comedians. This fall alone, they've had comedian Lewis Black, Jethro Tull's Ian Anderson, actor John Lithgow, and jazz legend Pat Metheny on its stage, keeping us current without having to leave the county borders. We applaud that heartily.
The Peak
White Plains
(914) 397-0127
We love The Peak not just because it provides the soundtracks to our day—from older, forgot-about-it tunes with the "10 @ 10" to brand-new, haven't-heard-them-yet songs on Next. We adore it because it's our local station, and we can treat The Peak like a neighbor. Love a song you heard on Next? Let the DJ know by voting in his weekly online poll (or by sending a friendly tweet @NextMusicShow). Wanna give the station more feedback? Join the "Listener Advisory Board," where members often win cool prizes and get to attend intimate concerts with the station's staff. Still hungry for more? Mingle with listeners at the periodic Happy Hour/Mix CD Swaps. You can't do that with your favorite satellite station.
The Performing Arts Center
Purchase
(914) 251-6200
Where would we be without the PAC? The offerings at the Performing Arts Center are so consistently strong that it might prompt classical music fans to dream of boarding on the campus of Purchase College. The roster is full of world-renowned orchestras parading in and out, with master solo performances thrown in there as well (with some dance and film for good measure). Not convinced? Look for upcoming performances with New York's Orpheus Chamber Orchestra, Japan's NHK Symphony Orchestra, British violinist Daniel Hope, and Broadway legend Bernadette Peters.
The Picture House
Pelham
(914) 738-3161
No, the offerings here are not yet as extensive as its counterpart to the north, the Jacob Burns Film Center. But the fact that the Picture House is even still here is remarkable. The 1921 theater found itself—after surviving the Great Depression and World War II—on the chopping block, before a group of concerned citizens deemed it worth saving. Today, the theater is in the midst of a top-to-bottom renovation. And, if you build it, they will come. Indeed, stars like Richard Gere, Alan Rickman, and Charles Grodin already have. We plan to drop by as often as time allows. You'd be foolish not to do the same.
Playland
Rye
(914) 813-7000
There's a reason we all have Playland bumper stickers on the back of our minivans (and it's not just because they're given out for free). It's that a summer trip to Playland is one of Westchester's most hallowed traditions, and taking a spin on the Dragon Coaster is a rite of passage for every local youngster. (And you can picture it being like that all the way back to 1927—we love seeing historical photos of men in hats and ladies in pearls enjoying the rides.) Sure, Playland's future is in doubt, but you've made it known that you value the amusement park: in a recent online poll conducted by us, an overwhelming 79 percent of you want Playland to remain open, no matter the cost.
Rockefeller State Park Preserve
Pleasantville
(914) 631-1470
Sometimes, we're not looking for a night out or a great meal. Sometimes we just want…quiet. Enter the Rockefeller State Park Preserve. The park offers more than 1,400 acres of serene scenery. There are trails to hike (carriage roads courtesy of John D. Rockefeller, Jr.). There are birds to watch (it was named an Important Bird Area by the National Audubon Society). There are bass to catch, and, when you feel like rejoining society, the fact that it abuts the Stone Barns Center for Food and Agriculture doesn't hurt, either.
Spoken Interludes
Irvington
(914) 307-1683
Author readings can sometimes be a very sober affair. The writers get up, they clear their throats at the podium, and read their very serious works of fiction. Produced by the friendliest host this side of the South, DeLauné Michel, Spoken Interludes is our favorite reading series because it breaks the stuffy atmosphere. Instead, you're more likely to think of it as a cocktail party—a very fashionable one, where authors happen to drop by and read their recent work. Folks who have recently dropped by include Frank Bruni, A.J. Jacobs, Sloane Crosley, and Marilyn Johnson. And, man, do their words go down nicely with Chutney Masala's samosas.
Tarrytown Music Hall
Tarrytown
(914) 631-3390
In a time when many cultural venues are struggling, the Tarrytown Music Hall is thriving—and it's easy to see why. The Hall books the acts we most want to see, from indie musicians like Neko Case and Andrew Bird to critically acclaimed acts like Brandi Carlile to crowd-pleasers like Cyndi Lauper and Barenaked Ladies. Add to that roster children's school shows, classic movies, and even a few comedians. It's hard to find someone who wouldn't be smitten with the Hall. Any wonder attendance is up 400 percent since 2005?
Teatown Lake Reservation
Ossining
(914) 762-2912
We love the Teatown Lake Reservation in summer, when the two-acre Wildflower Island bursts with more than 200 species of flowers (some endangered). We love Teatown in the fall, when it's best to take a quick loop around the pond to appreciate the vibrant colors of the foliage. We love Teatown in winter, when it's fun to see the pond frozen over with ice. Teatown also has acquired more open space that was made available across the street from its nature center, and, if the current Reservation is any indication of how it will be maintained, we're all for it—in any season.
Union Church of Pocantico Hills
Pocantico Hills
(914) 631-8200
The church is teeny; the art is major. Yes, stained-glass windows by Henri Matisse and Marc Chagall. There's never been a better reason to go to church.
Ward Pound Ridge Reservation
Cross River
(914) 864-7317
The county's largest park also happens to be one of its loveliest. It's easy to lose yourself—in the good way—among the park's more than 4,500 acres of wooded terrain. Bikers and hikers sing the praises of its trails, and our county's writers and artists often cite the Reservation as the place they go to for inspiration, Thoreau-style. (There are two galleries and a museum on-site for another boost.) It's basically our Central Park—only five times larger and 10 times prettier.
Westchester Broadway Theatre
Elmsford
(914) 592-2222
Dinner theater is one of those retro pleasures, like drive-in movies or really good malted milkshakes. Sure, the tablecloths are vinyl, the seats roll like your desk chair, and the dinner portions are unfathomably huge—but we wouldn't want it any other way. Plus, when it comes to the talent that performs at the WBT, there's nothing retro about it. For shows, which have recently included Rent, Aida, Nine, and Phantom, the WBT always rustles up a mix of Broadway vets and astonishing up-and-comers. People who got their start at the WBT include Chicago director Rob Marshall and The Producers director Susan Stroman, and the next big thing just might be on stage after they clear away your giant plate of food.
Westchester Philharmonic
White Plains
(914) 682-3707
Itzhak Perlman is one of the most celebrated violinists in the world, performing for everyone from Queen Elizabeth II to Sesame Street fans. And, when he picks up a baton, he does it for us. Since 2008, the maestro has been the artistic director for the Westchester Philharmonic (which, in our opinion, was already pretty darn good). In addition to having a world-class musical director, the Philharmonic keeps us up-to-date on the classical music scene by introducing us to new musicians and new works, while mixing in the timeless classics of Mozart and Beethoven.
Kids
Making the county a great place in which to grow up
All Dressed Up
Rye Brook
(914) 690-1593
Shopping with kids, teens, and tweens can be, like, so not cool—but not at All Dressed Up. Why? Young fashion plates positively love the racks of dresses. And who wouldn't, with designs from BCBG, ABS, and Betsey Johnson? If there's any complaint, it's not that your girls won't be able to find something to wear—it's that they'll find too much.
Greenburgh Nature Center
Scarsdale
(914) 723-3470
No, petting your Labrador doesn't count as communing with nature. Give your kids a real taste of the natural world by bringing them to the Greenburgh Nature Center. The manageable, 33-acre property has an easy, third-of-a-mile trail that loops around a pond, giving them a chance to spot frogs and insects, rabbits, chickens and ducks, prairie dogs, and even birds of prey. Inside, there's even more—check out the live animal museum. And, in the summer, take them to the greenhouse to walk among butterflies—something that's eternally sold out at the American Museum of Natural History.
Steiner's Last Licks
Armonk (914) 273-3551
Rye (914) 315-6688
Scarsdale (914) 725-5932
Nothing is better than grabbing a beer and watching the game—unless you're under 21. Steiner's Last Licks gives young sports fans a place to gather, bond, and talk about sports, with ice cream and candy taking the place of beer and wings. That would be great enough, but Last Licks also gives kids a chance to meet their sports heroes with frequent in-store signings and other events. (Tiki Barber, Mike Richter, and Walt Frazier recently stopped by for Steiner events.) If there's no star athlete in town, there's still plenty of memorabilia for sports fans to pore over.
Lester's
Rye
(914) 908-5688
Young fashionistas—and their parents—breathed a hearty sigh of relief that their favorite clothing store was no longer relegated to New York City and Long Island when, in 2008, Lester's opened its first Westchester location. With 10,000 square feet stocked with 3,000 brands, it's easy to replenish a child or teen's wardrobe in one stop. And, with up-to-the-moment fashions and red-hot designers (think Ed Hardy, Juicy Couture, Free People, J Brand, and Ben Sherman), you can do so without witnessing too much eye-rolling, too.
Photo courtesy of Muscoot Farm
Muscoot Farm
Somers
(914) 864-7282
Baby animals. Our lips crack smiles; our hearts melt just thinking about them. There's nothing more adorable than seeing little lambs chasing after calves, goats, and sheep. Of course, there are adult animals, too—cows, horses, pigs, turkeys, and donkeys—plus gardens and a farm museum to get us back to our agrarian roots, and all free-of-charge. Informative, yes—but not nearly so adorable. We'll come back again and again just to see the little babies.
Photo by Cathy Pinsky
The Voracious Reader
Larchmont (914) 630-4581
Blogs and Seventeen have their place, but the best way to make sure those are not the only reading materials your kids will get their hands on is to take them to The Voracious Reader. Since 2007, parents have flocked to this indie shop to find books for their kids, from babies through teenagers—and yes, sometimes for themselves, too. (Who among us hasn't dipped into Harry Potter?) But the books aren't the only attraction here. The staff understands what gets young readers excited, knows the hot books (Mockingjay, anyone?), and throws parties, brings in authors to read, and hosts book clubs to make reading a fun, social thing to do. Blogs seem boring in comparison.
Services
Where to go when you need a pro
Abigail Kirsch
Tarrytown
(914) 631-3030
BMW, Coca Cola, Tiffany, the New York Times, the Museum of Modern Art, and even the Culinary Institute of America have used Abigail Kirsch's catering services—for good reason. First and foremost, she and her staff know how to cook: ever tried her "deconstructed" duck pastrami, truffled orzo salad, and porcini-dusted salmon? Then, her staff is expert at executing events, on-site at the historic Tappan Hill or off-premises, from intimate dinners to grand-scale galas. We know our hearts flutter every time we're handed an invitation to an Abigail
Kirsch event.
Hastings Video owner Joyce Patone has a recommendation for you.
Photo by John Fortunato
Hastings Video
Hastings-on-Hudson (914) 478-0203
There are many threats to the local video store: On Demand, Netflix Streaming, Xbox Live, etc. But do Netflix and XBox smile at you and tell you they just got a movie in that they know you'll love? The staff at the independent Hastings Video has been able to survive—even expand—in the digital age by maintaining a well-edited collection of top-notch films that aren't the first to be splashed across your browser as a must-have addition to your queue. The staffers also know films and, yes, can recommend titles that are right for you.
Kelloggs & Lawrence
Katonah
(914) 232-3351
You don't last more than 120 years in the hardware business without having good customer service. Sure, the charming Victorian building and old-timey touches (check out the barrel of peanuts by the door) help draw customers in, but you've really got to know your stuff to keep them coming back. And the folks at Kelloggs & Lawrence do. Whether you need the tiniest screws or are looking to buy a top-of-the-line Weber grill, all you really need is to wave over a staff member. You'll leave with the right screws, tools, and hardware.
Occhicone Fine Leather Goods
Port Chester
(914) 937-6327
There's a reason well-heeled Manhattanites trek to Port Chester to get their leather goods repaired at Occhicone. The store has been in business for more than 60 years, and owner Giuseppe Occhicone—who made his first custom pair of shoes at age 14—and his staff know how to repair the finest leather goods: shoes, handbags, luggage, and even clothing and furniture. County clotheshorses and city pilgrims aren't the only ones who swear by Occhicone and his staff's skills, either—local high-end department stores have called upon Occhicone to rescue their upscale wares.
Pet Rescue
Larchmont
(914) 834-6955
We have to acknowledge the more than 100 volunteers who give warm foster homes to pets in need. And not just the cute, young, healthy pets, either. Pet Rescue volunteers spend their own money to care for sick animals. It's hard to find people who will make such a commitment to the most vulnerable cats and dogs out there—and we're glad we have those rare and wonderful folks right here.
Vaccaro's
Scarsdale
(914) 723-1308
Fact: Luke Vaccaro once
fixed Mother Teresa's sandals. If he's good enough for her footwear, he should be good enough for your shoe repairs, too. Won't take Mother Teresa's word for it? Then you can rely on years of experience—the shop has been around since 1929, and its staffers are true craftsmen who have honed their trade for decades. The shop also prides itself on using the highest quality materials in its repairs.
Yorktown Woodworking, Inc.
Yorktown Heights
(914) 962-2130
There are times when store-bought furniture just won't do. For custom work—country-club-worthy cabinets, intricate entertainment centers, built-in bookcases that would make any bibliophile swoon, and more—it's best to head to the experts at Yorktown Woodworking. The craftsmen at the shop have more than 60 years of experience in cabinetmaking—and it shows.