Just about everyone has dreamed of having a luxury closet in his or her home. Now, the trend is to transform an entire room into a spacious, extravagant dressing room where you can showcase your clothes while mixing and matching the perfect ensemble.
More and more homeowners are opting to build a bespoke closet that doubles as a dressing room. So let's take a look at why this trend is taking off and how it can benefit your personal style, closet and wardrobe.
More Space, Less Problems: Small closets are a thing of the past. There's no longer a reason to try and fit all of your beautiful, expensive clothes into a small area — especially if you live in a custom home where you can design a space to accommodate your precious wardrobe items. Integrated with a generous amount of storage, all of your belongings stay beautifully organized.
The "Retail Space" Effect: Dressing rooms tend to be very aesthetically pleasing because they can resemble your favorite retail stores. Imagine walking into your closet and seeing all of your favorite clothes showcased on hangers with everything arranged perfectly on racks and shelves? Modern valet rods and velvet lined jewelry drawers can make you feel like you're shopping in an elegant boutique every day of the week.
The Endless Possibilities: The sky's the limit when it comes to designing a custom dressing room. That means you will be able to organize your garments, shoes and accessories in ways you never thought were possible.
Keep in mind that a functional key to closet design is being able to visualize and conveniently access items. There's something very appealing about having your items neatly displayed – especially when it comes to shoes. A shoe wall with wide shoe shelves allows you to identify and grab your favorite footwear quickly and easily. A custom center island is also a perfect addition to any dressing area because it provides a place to relax while spreading out accessories and visualizing more possibilities. If you're going for the true experience, you might want to install a champagne fridge so you can enjoy a glass of bubbly while picking out evening attire. Or, of course, a humidor for the guys.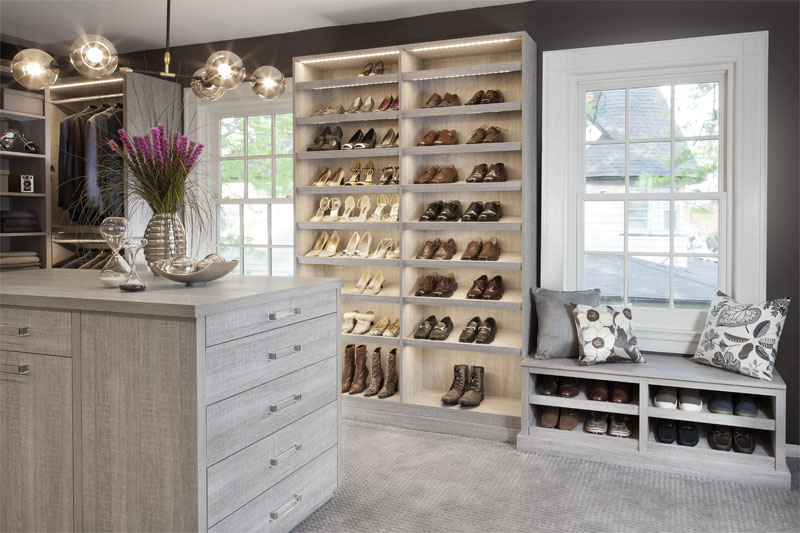 Life in the tri-state area is all about living in the lap of luxury, and one of the best ways to elevate your lifestyle is to have a beautiful, bespoke closet where you can indulge all of your fashion dreams. Don't waste any more time cramming your stuff into a tiny corner closet — it's time to have the elegant boutique dressing room you've always dreamed of.