Photo by Adobe Stock | Zef Art (House photo) & Doomu (Sign photo)
Strange stuff has happened in my Yonkers house. Staunch believers in the paranormal would say it is inhabited by ghosts.
I take the safe position that there are things in this world I simply cannot explain. In other words, I keep an open mind. Anyway, if there were such things as ghosts, you would think an old, history-rich Rivertown, like Yonkers, with all its mossy graveyards and Victorian fixer-uppers would be lousy with them.
My house, built in 1906, is a three-story domicile featuring several architectural eccentricities, including winding staircases in the front and rear. It is supposedly haunted by two spirits, an elderly married couple who had previously owned the house and loved it so much, they simply couldn't leave after their natural deaths. This was revealed to me many years ago by a psychic, who, while taking an investigative tour of the premises, sensed that one of the invisible ghosts was mischievously hiding behind the shower curtain in the upstairs bathroom. Holding a candlelit séance, she gently coaxed the couple to complete their journey to "the other side" — or at least claimed she did.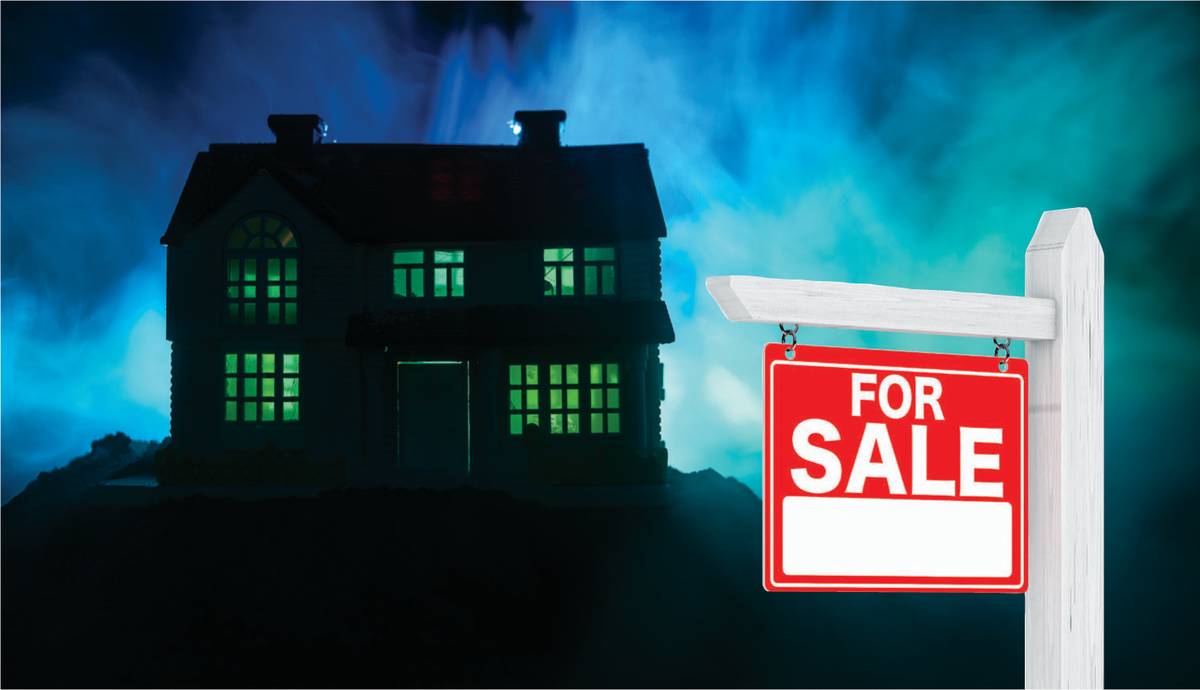 Well, it didn't quite work. Long after the psychic had departed, the strange stuff continued. Like nesting squirrels and wood-eating termites, ghosts are apparently not all that easy to expel.
The odd goings-on are never malevolent but can be loud and a bit startling. Most of the disturbances would be diagnosed as poltergeist activity — proverbial bumps in the night. It should be noted that we've never heard voices, been touched, or physically harmed in any way. Nothing was ever levitated, and no one ever actually saw what could remotely be termed a ghost…except one time.
It happened in the summer of 2009. And yes, it was a dark and stormy night. Adding to the hoary cliché, we lost our electricity just at the stroke of midnight. That's when my son, who was home from college, saw a shadowy figure of a man lurking in the upstairs hallway. He thought it was me. Only it wasn't me, which became evident when I walked out of the bathroom.
After he told us what he had seen, I became convinced my son wasn't kidding. I grabbed a flashlight and a baseball bat and searched the house, looking for an intruder. But I knew I wouldn't find anyone — and I didn't. The shadow man vanished and hasn't been seen since.
I wrote a humorous story about it at the time, which I now realize may have been a mistake that could have easily come back to, well, haunt me. For this Halloween season, I present this as a word to the wise. According to a judge's decision in the 1991 New York court case Stambovsky v. Ackley, if I ever decide to sell my house, I must disclose that it is "legally haunted," regardless of whether I believe in ghosts or not. This is troubling because many people are freaked out by haunted houses and won't buy them no matter how much of a price discount is offered.
If I ever decide to sell my house, I must disclose that it is "legally haunted," regardless of whether I believe in ghosts or not.
Oops.
Shelby Green, a professor of law at Pace University in White Plains, told me that Stambovsky v. Ackley, popularly referred to as the Ghostbusters ruling, is discussed in many first-year property texts and taught in classes on real estate. The case centered on a stately riverfront home in Nyack that was said to be occupied by three ghosts.
"Apparently, the owner had marketed the home as such and gave public tours of it," Green says.
The haunted house was also featured in a Reader's Digest story and in several local newspaper articles. It seemed that everybody in Nyack knew about the house and its ghosts. The buyer, Stambovsky, who was from New York City, knew nothing.
When he found out, he sued.
Green said that under the principle of caveat emptor, sellers at that time were not obligated to divulge "defects about the condition" of a property — except in instances when the conditions were created by the seller and might affect the value. In Stambovsky, the court — in a decision riddled with ghost puns — noted that the house was reputed to be haunted, a condition that was created by the owner, who joyfully blabbed about it to the press. According to the ruling, that condition needed to be disclosed to the buyer.
Earlier this year, the Nyack house sold for $1,795,000, almost three times the asking price from 30 years ago. Not bad.
Still, there is a lesson to be learned: If you think your house is haunted, save yourself some trouble and keep it to yourself.